Written by LATIN ASIA - Destination Wedding Decor
Your wedding is certainly one of the most special days of your life, a day that both you, your husband-to-be and the rest of your family & friends are going to remember for years to come. Whether you're celebrating in a ballroom, terrace or at the beach, there are bottomless opportunities to include personal characteristics into the details that reflect your own singular style and tastes.
Here are three tips that will help you create a wedding experience that is totally "you."
1. Identify one or two elements of your personality that you would like to reflect. Don't get crazy and try to include hundreds of different traits that identify you. Better yet, focus on one or two elements that truly represent you. Are you a relaxed and worry-free woman? Then start with easy seating arrangements. Assigned arrangements during the wedding ceremony and reception are highly regimented, so why not to offer your guests the opportunity to seat themselves? Simple right? It makes for a more festive and relaxed situation and you will save yourself from hours of pondering whether or not your aunt should be seated next to your cousin-in-law.
2. Selecting Your Wedding Colors. Your wedding colors will be visible throughout the details of the décor like linens, centerpieces, lighting, favors, and you can also incorporate them in your wardrobe and even with the flowers in your bouquet. The idea is to create a look that is consistent. If you are a high energy and fun person, then go for bold and bright colors with unusual combinations like bright blue and yellow for linens, or you can wear those beautiful red high-heels you love, they will look amazing with your ivory wedding gown.
3. Think outside the box. If a big part of who you are is your love for movies, you don't necessarily have to decorate your tables with stacks of DVD cases or film rolls but you can have fabulous white and black table settings, simple but elegant white floral centerpieces and lovely table names with your favorite films of all times.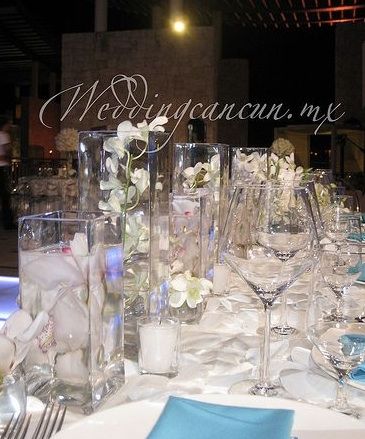 What aspects of your personality would you like to insert into your big day? Share your thoughts and ideas at latinasia.flowers@gmail.com
For more information on LATIN ASIA's services, visit their website at: www.weddingcancun.mx
Sakurako Yakushiji, COO, Master Florist & Decor Expert of LATIN ASIA, has impeccable logistics knowledge, extraordinary floral design skills with a Masters degree and international license in Japanese floral art. Having her own Hindu wedding ceremony at Agra India, she and her team understand the deep meaning of what it takes to create a dream Destination Indian wedding regardless being Hindu, Sikh or Ismaili Muslim. Saku has trained people from scratch not only to execute great performances, but to make every member of LATIN ASIA a better person creating new opportunities every day.
---