Cabo San Lucas
Luxury Living at Its Finest
This is a review of: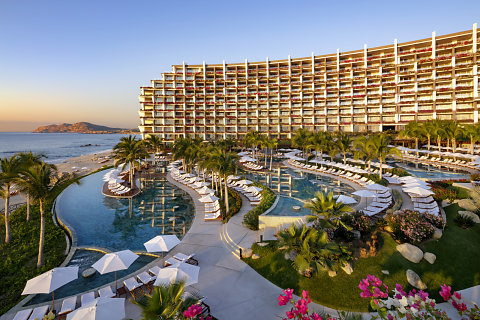 Detailed Ratings
Pros:
While I only had a few days here, it was clear why the Grand Velas brand is held in such high regard when it comes to those looking for a opulent vacation experience. This property offers incredible dining experiences, the suites are heavenly and the grounds are exquisite — it is luxury living at its best.
Cons:
The Grand Velas experiences comes at a cost — so expect to invest a considerable amount of money if you want to vacation here. I'm not sure if it was because we were there during a slow week, but the resort also has more of a mellow quiet vibe. So if you're looking for a party and lots of action, this might not be the place for you. 
Not all luxury all-inclusive resorts are made equal — that's something I learned after spending three incredible days at Grand Velas Los Cabos. 
A Wonderful Welcome
From the minute you step on this property, there is a sense of exquisite luxury abound. The open air lobby is filled with unique pieces of art and the ocean breeze that flies through the lobby invites you to swoon over the spectacular view over the lobby deck. The view is one you'll never forget and showcases the property's beautiful grounds. But after the simple and private check-in process, comes the real treat — a welcome shoulder massage from one of their amazing therapist. Yes, it's truly a welcome unlike any other.  
Luxury Suites
At Grand Velas, you will have the services of a butler who will show you to your room and explain all features of your state-of-the-art suite. The butler even offers to unpack your suitcase, which I passed on, but it is part of the service they offer. The suites here are incredibly spacious and beautifully decorated. I hope this makes sense — but the room just "feels" expensive, down to every small detail. I loved that my room had its own separate living room space with a full sized sofa. The bathroom was also really spacious and had great lighting (something I personally appreciate when I'm getting ready for a nice day out or dinner). I've stayed at a lot of great resorts, and this room was the epitome of luxury and had the nicest bar I've ever seen — filled with snacks, teas, drinks and alcohol galore. It felt like a small convenience store.  
One of best aspects of the rooms here is that all boast wonderful ocean views and have huge balconies that are perfect to lounge on. There's no such thing as a room with a bad view here. 
While I'm not one to spend a lot of time in my room, this was one suite I was happy to spend time in — the beds were amazingly comfortable, the amenities were top notch and the room was so spacious and comfortable. It felt like home, a wonderful luxury home!
The Food and a la Carte Restaurants
After checking in, we had lunch at Velas 10 one of the resort's fine eateries overlooking the shore and after just one meal I immediately understood why they said the food is on a whole other level at Grand Velas — because it is. The sushi and the shrimp tacos were so delicious. It is truly gourmet dining at its finest. 
One of my favorite meals was at Lucca, the resort's Italian eatery. Every course was divine, the salad, the soup, ravioli and lasagna — everything was amazing. 
But the fine dining does not just begin and end at the resort's a la carte eateries because Grand Velas also has one of the most impressive breakfast buffets as well as top notch pool service. I didn't have a bad meal the entire stay. If you're a foodie, this resort is definitely for you!
The Beautiful Grounds
This entire property is filled with beautiful spaces — gorgeous flowers on ever corner, manicured lawns, and lovely landscaping throughout. Grand Velas truly offers a wonderful sense of desert meets the sea with perfect ocean views no matter where you stand. 
The pools here are the perfect temperature and you don't have to worry about fighting for a lounge chair, which I love because that is a problem many resorts have. And no matter what pool you're enjoying, there is always staff coming by to serve you. Service is prompt and constant, they are truly at your beck and call and happy to help with a smile.
Spa
I had the chance to check out the spa one afternoon and it was time well spent. I received a wonderful massage in a beautiful room with a high ceiling — something that is rare at most spas. The therapist here really customize your treatment according to your needs. My treatment was so relaxing and I followed it up with time at the hydrotherapy circuit, which is spacious and lovely. In true Grand Velas fashion, the entire experience was top notch.