Photographer Reviews
Hiring Gonzalo was the best decision we made!
This is a review of: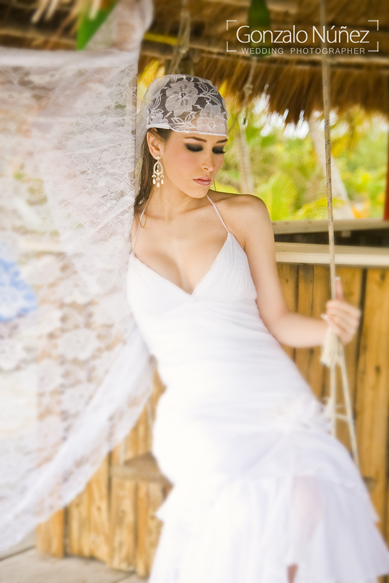 Detailed Ratings
Pros:
Talented, Friendly and so easy to work with! You will not go wrong in hiring him!
I was married at now Sapphire in Riviera Cancun on February 26, 2016. Beautiful resort and perfect wedding, but thats a different review!
As we started the process of planning our destination wedding in Mexico, one of my main priorities was to find the best Photographer in Mexico. I do photography part time as my fun job and I wanted someone to capture every moment so" I" had beautiful memories to last a lifetime. As a photographer, you are always behind the lens and never in front of it...so it was very important to me to have one of the best in Mexico. I started my search about a year prior to my wedding date and Gonzalo's name popped right up with some of the best reviews, I knew from his portfolio and all the kind words that previous brides had posted, that he was my guy :) I contacted him via email and he was quick to respond. You could tell he had a friendly yet professional demeanor from the first email. I wanted someone that not only created beautiful images, but someone that was fun and easy going...I could tell Gonzalo was all that just from a few emails. He sent me info on all his packages promptly and he is worth every penny, I personally think he's worth way more then he charges!!! I opt'd just to get my images via "drop box" when he is done editing as I can print professionally on my own, but he has other options as well. This was my second marriage so I didn't really want the traditional pictures of getting ready, I wanted to focus on portraits of my husband and I because we barely have any pics as a couple, I also wanted images with my Mom, our friends and family and everyone having fun. He did his best to get all the images I requested. I have not yet received my images as turnaround time for wedding images take about 3 months, but from the few I have seen...They are gorgeous! The day was such a whirlwind and goes by so quick that you barely remember half of it, having a great photographer to capture all of it is a necessity! I can't wait to see all of them to bring back memories of one of the most perfect days of my life!
We were not the best posers, as we are just awkward in front of the camera (My husband hates the camera and I'm just not used to being the subject!) poor guy had his hands full with us but Gonzalo did his best to make it fun, yet also get some serious pics as well. He had us laughing the whole time which made us feel very comfortable and he made it fun, so it was much easier for us to just go with it! He truly is an amazing photographer, he has a great eye for detail and you can tell he's always thinking and planning his "shot"... as a person, he's so easy to work with...such a friendly, fun and talented man!!! If you're looking for an easy going guy and one of the best photographers in Mexico, you will not go wrong in hiring him!
I cant wait until next February when we come back for our 1 year anniversary and hire Gonzalo for a photo shoot!!! We will try to be less awkward next time around!! Hahaha
Thank you!!!!
Michele & Albert