Photographer Reviews
Excellent Work and Fun to Work With!
This is a review of: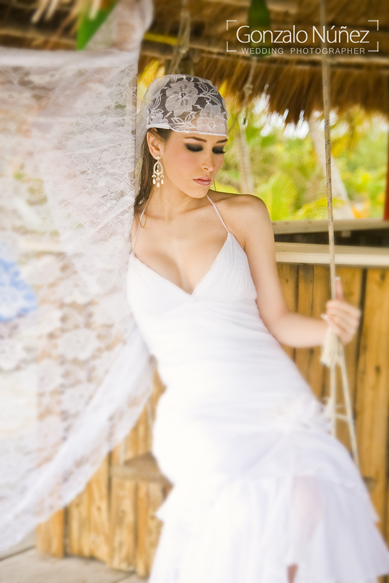 Detailed Ratings

Pros:
Excellent communication, great photo ideas, went out of his way to be helpful, get digital high-res files to print yourself
Cons:
Some issues with communication and timing
I was relieved and impressed from my first (speedy) email exchange with Gonzalo; coupled with good reviews and liking his style of photography, we had no trouble settling on using him and signing a contract. He was flexible in working out a package for a reduced number of hours (we only had him stay through the end of dinner/first dance).
In the months leading up to our wedding I had a few questions for Gonzalo, which he always responded to within just a few hours of sending him an email. He also sent us a questionnaire to fill out with our requested timing and wish list of pictures we wanted to take. For the day of the wedding, we had decided to do a "first look" and then take all of our couple and wedding party photos before the ceremony, so that we could enjoy the cocktail hour with our 40 guests and just worry about family group photos at that point.
Overall the day went great and I have to commend Gonzalo on a few things that I really appreciated:
We were having trouble getting a large group shot with all 40 guests in it; Gonzalo spotted a couple watching the wedding from their hotel room balcony, and ran up 3 flights of stairs to ask them if he could shoot from that vantage point. The group shots he took are my favorite from the day.
Our reception was on the beach right up against the waves; due to the dim lighting of the location we had the Royal set up a light-up dance floor. It took over an hour for them to fix an issue with the lights, but Gonzalo immediately reassured us and stayed an hour past his contract time to make up for that lost "photo op" time, and wouldn't accept payment or extra tip for the inconvenience. This meant we ended up not just with great pictures of our first dance on the light up floor, but we got the number of images back we hoped for.
This happened for the most part, but in hindsight I learned that I needed more 'take charge' leadership from Gonzalo:
We ended up taking pictures until about 5 minutes before the ceremony started, due to taking types of pictures we didn't want to worry about (aka, serious romantic types of poses as a couple)...we voiced this to Gonzalo but he asked us to just go with it
The wedding ceremony took place just before Sunset, right next to the beach. The request was to take family and friend group shots with our toes in the sand and the water behind us. The glare from the sun resulted in it being too difficult to get these shots so we moved locations. However, later on that day there was ample time to try again and I now wish Gonzalo had reminded us so that we could have had more of those photos.
Not as big of a deal....but we didn't end up with very many digital files back that were taken by his 2nd shooter. Notably missing were a lot of the "journalistic" pictures of the decor up-close, candids of the guests, etc.
I'll also note that we got back many more pictures than the guarantee in the contract, which was nice....but, also to note - I didn't notice a ton of touching up so I was left wondering if the editing process was rushed.
I would recommend working with Gonzalo since the service he provides is just as valuable as his lovely photography, IMO...just make sure to be assertive if you need to in terms of getting what you need communicated.
---
Here are some examples of the photos he took: