Dominican Republic
Beautiful Resort, Beautiful Wedding, but much to be desired in SERVICE
This is a review of: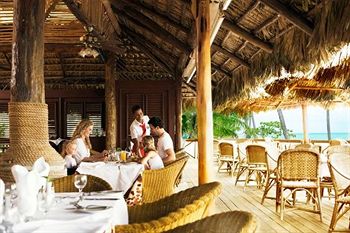 Detailed Ratings
Pros:
Beautiful Resort, Amazing Beach, Lots of Activities
Cons:
Mediocre Service and Food
ATo any future Barceló Bavaro Palace Deluxe Brides:  I recently had my wedding there on June 8th and I just wanted to share some information with anyone who may need it.  The Barceló Bavaro Palace Deluxe Resort is indeed beautiful and very pristine. Its beaches are truly amazing and one of the best beaches I have ever seen. The resort is one of the nicest resorts in the area, however there are some definite flaws.  Wehad the grand master suite room for our stay. It was a luxurious room and had a beautiful view of the picturesque ocean/beach. We did see a few bugs and lizards in our room though. The maid service kept the room clean, but we never actually saw them to personally thank them. The beds were comfortable and there were robes and slippers in our room. We did have the power in our room go off three times and some of our other guests had the same problem. This made it very difficult to stay/sleep in the rooms because there was not any A/C and the climate of the area is hot/humid.  As far as customer service, it definitely could be better but I'm not sure if it was due to a language barrier or because the majority of the guest at the resort do not tip due to the all-inclusive nature. The service in the restaurants and buffets were ok. Sometimes at the buffet we would not receive any drinks and would have to ask two or three people. The variety of food is good, but the quality of the food is probably a 6.5 out of 10. At almost all the restaurants, there were several items that are hit or miss. Our favorite restaurant was probably La Fuente because it was flavorful and tasted more gourmet. However, the restaurant La Comedie, which has an additional surcharge, left much to be desired and would not be worth the extra cost for non Club Premium members. We did not get sick from the food, however we did have 3 to 4 guests that were having several nights/days with digestion issues. They went through several bottles of pepto bismol and Imodium tablets.  As far as drinks, their drinks were fine. The pina coladas were delicious. However, some people might say that there wasn't too much variety to the drinks, but our guests were fine.  There were a variety of activities and lots of shows. Our guests definitely loved their stay. Having non-motorized water activities was a huge plus! There was also a disco and casino there, but we didn't go to those.  Our biggest complaint came with attributes from the Wedding Department and Club Premium Service. We did pay more for better services and we were hoping that our wedding and stay would be smooth. There were several times where we had to take matters in to our own hands. We had Welcome Boxes for our guests and asked the wedding department to deliver the boxes to our guest. There was a $2.50 fee per box. We agreed to that fee and were expecting our guest to receive the box upon check in to their room. This was not the case. Majority of the boxes were not delivered until 7 or 8 PM, a lot later than we had anticipated so none of our guests knew where we were or how to find us. This was very difficult for communication. We had guests arriving on different days so I went to the wedding department and expressed that I needed the boxes delivered earlier. They said ok we can do that. I find out later that this problem still was occurring. I then expressed my concern with the Club Premium services and they said they would take care of it. They only had 1 box delivered at 4 PM and the other boxes were delivered incorrectly still.  There were several problems with us also trying to locate our guests. We called the service desk to ask if our guest had arrived and they said they could not locate them in the system. This was not true as our guests told us they arrived 2-4 hours ago. We only found them because we happened to run into them. Speaking to customer service several times a day wasted a lot of our time.  Another problem came with our romantic wedding night room decorations/Jacuzzi bath... there weren't any the night we were married June 8th. I tried to call customer service regarding the situation the next day, but I couldn't because our phone stopped working in our room. We had to personally go to customer service and ask about the situation. They said it would be taken care of and we would have a romantic evening that night. We came back to our room and still had nothing. Our phone lines were up and running so I called to complain again. I did not have an answer as to why we were not given a service included in our wedding package. They apologized up and down and promised to have it the next night, but by that time I did not even really want that service any longer because my husband and I should not have to beg for a romantic evening that was supposed to be included. We did receive it the 3rd night, but by then we needed to pack our luggage because we were leaving the resort the following morning.  As far as the wedding department, they are fairly accommodating and helpful however there were several price changes between the time we confirmed our wedding date and the time we paid for our package. This makes it hard to stay on budget.  Check-in and check-out was pretty smooth and not confusing at all.  We did see some of the other resorts in the area on the way to one of our excursions. Barceló Bavaro Palace Deluxe is definitely more luxurious in décor, size, and location on Bavaro Beach. I am not sure if we will return to this exact resort, but we would love to visit the area again. I think if we did not have the stress of being hosts to several guests or did not have our wedding here, our experience would be much more memorable. However, since we booked a higher class room and were special guests because we were having our wedding at the resort, I did have higher standards as far as customer service and help to accommodate our guests. We would rate our experience at the hotel a 6 out of 10, but since we loved our wedding it increases to an 7 out of 10.  My weddin coordinator originally was Lianny, but she quit. So then I had Hildebrabda as my coordinator. I think this change affected the service and also the pricing I was expecting. We ended up paying $700 more than what we expected. We only had our ceremony there and the pricing is as follows:  Ministerr: $300 Chill Out Roof Top Location: $500 Bouquet: $85 Rose Petals: $20 per package Canapes/Cocktail Hour: $12 per person Color Chair Sashes: $7 per chair Wood Huppa with Décor: $385 White Runner: $856 Flower Vases: $118 Silver Photo Package with Tropical Pictures: $1250  I would highly recommend Micaela with Tropical Pictures. She does a fantastic job.  We had our reception on La Barcaza Wedding Boat. Their crew and foot is amazing! We brought our own decorations and had them set it up. Everything was great but we had a little hiccup because our tables weren't set up correctly and there weren't enough seats for our guests. But they fixed it for us so it was fine.  Photographer: $500 Mix Grill Dinner: $85 per person Decoration Set Up: $100  If anyone has questions at all, please feel free to email me at sithiphonet@gmail.com  Good Luck to you all and congratulations!