Photographer Reviews
E-Day
This is a review of: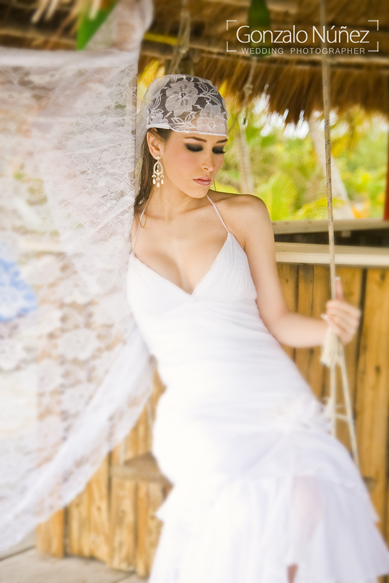 Detailed Ratings
Pros:
dependable, personable, talented
On February 29, 2012 my now fiance Shaun planned a surprise proposal followed by a day of adventure and romance and had Gonzalo Nunez there to capture every moment. We started at the Grand Cenote where my fiance proposed. Gonzalo and his protege Lunic were off behind bushes and benches and unobtrusively captured the most beautiful shots of such an amazing moment. Next up was our plunge into the waters of the cenote for our underwater session. I had absolutely no idea how to hold my breath and make myself photo presentable while under water in a long dress but Gonzalo was so patient and helpful that he put me at ease right away. I can't even begin to describe the talent it must take to capture these shots underwater. Next we climbed down a ladder into this cave full of bats and quicksand and Gonzalo took more breathtaking pictures. The images from both the underwater session and the cave are unlike anything I've ever seen before.

After our underwater and cave sessions we changed and were off to our next location with a pit stop along the way for the most delicious tacos I've ever tasted! Gonzalo had a couple of locations in mind and we went with a rustic Tulum hotel followed by "the most gorgeous beach in the world." Gonzalo definitely knows the area well and the spots we chose to take pictures were incredible. The colors surrounding us were unreal and provided the most unique and beautiful backdrops for our photos. Gonzalo didn't force us into awkward poses, he guided us and let us be natural. He completely captured the love shared between me and Shaun through his lens.

Gonzalo is truly a master of his art. Shaun and I are both blown away by the beauty of the pictures. Everyone we have shared the images with has been in awe of how amazing and unique they are. Also, the warmth and kindness of both Gonzalo and Lunic made us feel right at ease sharing such an intimate day with them. We could not be happier with the entire experience and would recommend Gonzalo a million times over.