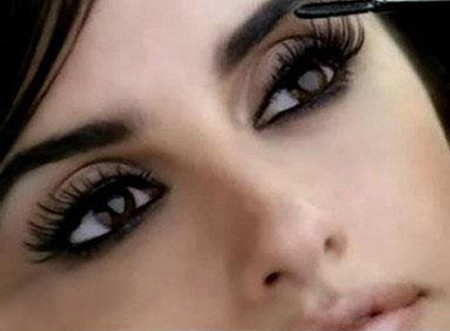 You're getting married soon and the last thing you want to worry about are your eyelashes or any globs of mascara running down your face when you see your groom. Well, here's a trick that will give you gorgeous lash lengths without the need for mascara: Eyelash extensions.
You've probably seen them on the Kardashians, but are they worth it for your big day? We're here to help you figure that out!
1. Test Them Out. This is a no-brainer if you've never gotten eyelash extensions before, because they'll either be your best friend throughout this spectacular time or your worst enemy. Find out sooner than later and give them a test run before taking the plunge.
2. Where To Go? It's possible to self-apply your lashes, but there are professionals for this kind of thing. A lash technician will give you the best advice on what lash color would suit your needs best and will make you look amazing. As for locations, MAC or Sephora are popular places to get made up and get some lashes, but it's certainly not the only venue in town. BDW members orange_peel and Evgal love NYC's JJ Eyelashes, but it's also worth asking around at your nearby nail and hair salons. A place may be right under your nose!
3. Do It Yourself. The same major salons who apply eyelash extensions also tend to sell them for at-home use (like MAC and Sephora). Whether you buy them at a local thrift shop or a salon, sometimes people work better just doing it themselves. Our suggestion? Cut your fake lashes in smaller chunks (try thirds) rather than leaving it as the whole lid arc. It's easier to apply, plus it will separate the look and make your lashes fuller, giving the impression that you spent some serious cash at a fancy salon.
4. Mascara or no mascara? Yes, that is the question. For the most part, it's fine to apply mascara to your extensions, just keep it moderate and light. But if you're getting extensions in the first place, mascara shouldn't be a major necessity anymore. If you feel the need to add a little more "umphff" to your lashes for a night out, we suggest steering clear of waterproof mascara (one exception being the wedding day) because the chemicals are a bit stronger and might weaken the lash glue. And only apply above where the lashes were glued. The less mess around your eyes, the better!
5. Lash cash. Eyelash extensions aren't exactly cheap, but it's about the same price you'd pay for a really great haircut and style - and they're made to last 4 - 8 weeks (even in the water)! Most prices range from $100 - $500, depending on the location, level of technician, and style. Ladies at JJ Eyelashes in NYC pay from $120 - $200 whereas MAC or Sephora should be less expensive since they aren't a specialty salon. Buying fake eyelashes in a store would be much less expensive, but may not look the way you'd dreamed. Our suggestion? It's your big day, go big or go home - we think it's worth it for such a special day!
---