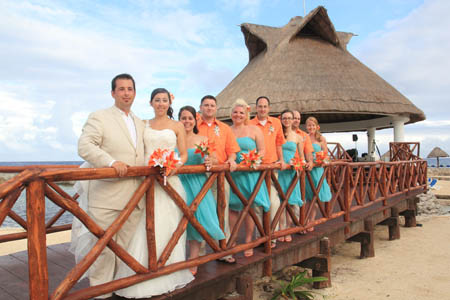 The Mini Wedding 
Salvatore Mini and Jessica Snyder were wed on June 25, 2011. 
Jessica, username Jszy10, used the BDW Community to bring her destination wedding to life.  Jessica gives back to the BDW Community as she kindly shares the details of her perfect day in an interview below. 
The Mini's Wedding Profile

The Bride

  Jessica Snyder / BDW member: Jszy10

 

The Groom

  Salvatore Mini

 

Hometown

  Philadelphia, PA

 

Wedding Date

  6/25/2011

 

Wedding Location

  Aventura Spa Palace, Riviera Maya, Mexico

 
Why did you choose to have a destination wedding?
My husband and I knew before we were even engaged that we would want a destination wedding.  Neither of us were interested in the idea of having 100+ people watching us get married and loved the idea of going somewhere gorgeous with our closest family and friends.  Some of our guests had never left the country, so we knew it would just as special for them as it was for us.
Why did you choose your location?
I chose Riviera Maya based on its affordability and beauty, and chose our resort specifically because of the perks it offered us for our wedding and our guests for their stay.
What were your wedding colors and/or theme?
We chose a Tangerine orange and Glacier (Tiffany) blue for our colors based 
mostly on the fact that we both love tiger lilies (our orange inspiration) and the glaicer blue really matched with the tropical feel of the location.
Every wedding is special in its own right.  What made your wedding unique?
Just having the opportunity to spend 10 days in paradise celebrating with our closest family and friends was more than either of us could have ever asked for.  We had the most supportive parents and bridal party that helped us really make our wedding personal.
One of the major challenges of putting together a destination wedding is finding and working with your ideal vendors from afar.  What wedding vendors did you use to put together this spectacular wedding?
Photographer -- Octavio Montes
Videographer -- Smile Market
Florist -- The alter display was designed by the florist at ASP and all bouquets were made by mother and myself
Wedding Coordinator -- Wilma (ASP)
Wedding Dress -- Maggie Sottero (Leoni)
Invitations -- I used a template from Alyee Bits to create my own Passport Invitations
You were an active member of BDW and created some great content. Could you please summarize (with hyperlinks) some of your best work for us?
My DIY Passport Invitations                                     My DIY AHR Invitations
Pre-travel brochures and luggage tags                                    OOT Bags
Jess's Riviera Maya Planning Thread- Aventura Spa Palace 
My Wedding Review of Aventura Spa 
Your wedding was absolutely beautiful! Your posts and reviews will be extremely helpful to our new brides. Thank you for sharing you special day with us at BDW. 
Dear members, if you planned your wedding with the help of our community we would love to hear from you. Contact us at admin@BestDestinationWedding.com if you are interested in sharing your wedding experience with us.
Thanks!
---