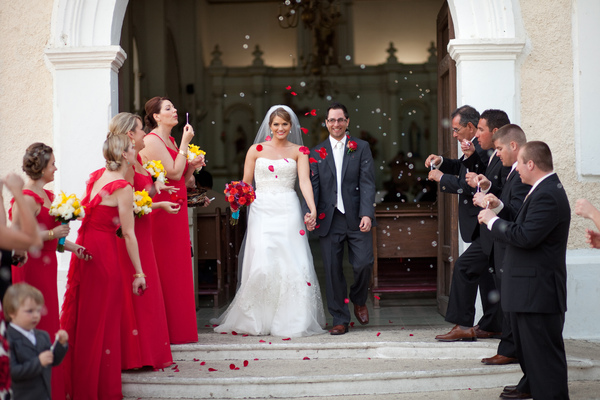 Mission Wedding in San Jose del Cabo
February 1, 2011. 
Stephanie, username LeeLee, used the BDW Community to bring her destination wedding to life. 
Stephanie gives back to the BDW Community as she kindly shares the details of her perfect day in an interview below. 
 Wedding Profile

The Bride

 Stephanie

 

The Groom

 Keith

 

Hometown

 Andover, Minnesota

 

Wedding Date

 February 1, 2011

 

Wedding Location

Ceremony at Mission de San Jose del Cabo Anuniti

Vacation Stay and Reception at Melia Cabo Real
Why did you choose to have a destination wedding?
?Keith and I decided to tie to knot in Mexico for a handful of reasons.  #1: We met in Cabo, while on vacation in 2008.  We wanted to seal the deal where it all began!  #2:  Keith's Grandma (no longer with us) was born and lived in Mexico prior to moving to the US.  Keith knew his Grandma would be so proud that we married in her country, which made the decision extra special!  #3:  WHY NOT?  The stress of a 250+ guest list/at home wedding was daunting and we wanted to actually enjoy our special day with a small group of our immediate family and closest friends!  We wanted an intimate and memorable celebration that we'd reminisce about for years to come!
Why did you choose your location?
In addition to meeting one another in Mexico and many, many, many hours researching on BDW--we knew Cabo was the location, we just had to narrow down to the exact resort.  We traveled to Mexico for a site visit--we stayed at MCR and visited the Mission.  It was our #1 priority to get married in the Catholic Church and  La Mission de San Jose del Cabo was exactly what we were looking for.  We met all the requirements to wed in the Mission and worked with Padre Juevincio on the details.  A classic church ceremony, followed by a beautiful sunset celebration--the perfect combo!   We also fell in love with the Melia Cabo Real.  It had everything we were looking for--a mix of festive, yet chill atmosphere, numerous gorgeous reception locations to choose from! Affordable accommodations and wedding packages made the decision to select MCR very easy!  Plus it is in a great location--in the corridor, which made traveling to the Mission for the ceremony rather convenient!  
What were your wedding colors and/or theme? 
Colors:  Festive Red/Deep Coral with accents of turquoise and gold.  
Theme:  Classic, chic and fresh!
Every wedding is special in its own right.  What made your wedding unique?
What made our wedding so special was the memories we made!  Long after the wedding cake was eaten, the first dance sparklers faded, or the tequila buzz wore off, we will forever have memories of our union shared with 30 of our closest family and friends.  The entire week spent with our loved ones can never be duplicated.  The guy's fishing trip, the girls' mani/pedi spa soiree, what felt like hurricane grade wind during our Groom's dinner, down to the most magical and perfect wedding day a Bride and Groom could ask for will forever be cherished.  In addition to the amazing memories and marrying the man of my dreams, I do have to plug the actual event details!  Our wedding was truly a show-stopper.  Every detail thought of, every detail executed by the awesome resort staff, every detail enjoyed by our guests.  Guests raved about the 10 man Mariachi band, our 'signature cocktail'--Sol Beer (Keith's favorite, not served at MCR, but brought in special for our wedding, yeah!), the personalized place card/menu selection (votive candles with guest's name and dinner selection), delicious dinner followed by tasty dessert and cake!  All mouth watering!  Our first dance was surrounded by sparklers that created a romantic glow and a dance party that kept on going...right to the hotel bar!  A serious commitment followed by a true party!  It was everything we dreamed it would be--and more!
One of the major challenges of putting together a destination wedding is finding and working with your ideal vendors from afar.  What wedding vendors did you use to put together this spectacular wedding?
Photographer:  Captured Moments by Candice (MN vendor)
Officiant/Priest:  Padre Juevinicio
Wedding Coordinators provided by resort:  Vanessa and Nubia.  Resort also sourced the florist, 10 piece mariachi band, 2 piece ceremony talent--soloist/guitarist and harpist, round trip transportation for wedding day and rehearsal, and DJ Edwin
Wedding Gown:  Casa Blanca.  
Custom invitations:  MN artist-Katrien Leys
Welcome Gift:  insulated tumbler from Imprint4less.com  
Hair and makeup:  Neysa Berman
Spa Soiree at Cabo Surf (mani/pedi for my bridesmaids, mother and mother-in-laws)
Bridesmaid dresses:  Belsoie/B2
Groom/Groomsmen suits:  BOGO from Men's Warehouse
You were an active member of BDW and created some great content. Could you please summarize (with hyperlinks) some of your best work for us?
Your Wedding was absolutely beautiful!  Your posts and reviews will be extrememely helpful to our new brides.  Thank you for sharing your special day with us at BDW.
Dear members, if you planned your wedding with the help of our community we would love to hear from you. Contact us at admin@BestDestinationWedding.com if you are interested in sharing your wedding experience with us.  For more information here is the "BDW Real Weddings | Featured Wedding Submission Information Thread"
Thanks!
---