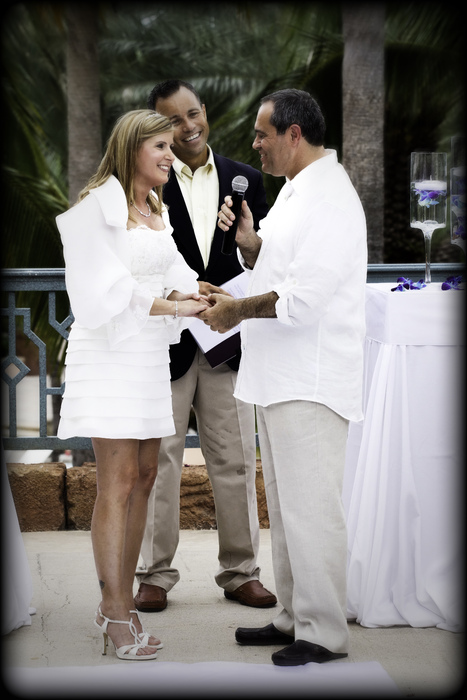 Stephanie and John's Atlantis, Paradise Island, Bahamas Wedding
Stephanie & John were wed on June 18, 2011. 
Stephanie, username skp1, used the BDW Community to bring her destination wedding to life.  
Stephanie gives back to the BDW Community as she kindly shares the details of her perfect day in
an interview below. 
 Wedding Profile

The Bride

 

Stephanie

The Groom

 

John

Hometown

 

Atlandta, GA

Wedding Date

 

June 18, 2011

Wedding Location

 

Atlantis, Paradise Island, Bahamas
 

 

 

 

 

 

Why did you choose to have a destination wedding?

 

We knew from the get go that we didn't want a traditional wedding – we had been together almost 15 years already and it just didn't seem fitting for us.  I suggested eloping but hubby really wanted family and friends involved.  So a destination wedding seemed the natural choice.

  Also, our family and friends are scattered throughout the country so they had to travel no matter what.  We figured if they had to fly anyway, then let's make it someplace worthwhile (not that there is anything wrong with Atlanta).

 
Why did you choose your location?
Deciding on the destination was fairly easy.  We considered a few different factors which narrowed our choice down:    First, we wanted someplace we had been to before.  For us, a destination wedding was more than the beautiful surroundings, it was getting married in a place that had meaning.    Secondly we wanted someplace that was easy to get to for our guests (close by, non-stop flights, flexible dates, affordable).  We had 3 days carved out for wedding activities and guests could chose if they wanted to stay 3 days or 9 days or anything in between (Atlantis honored the group rate 3 days prior and 3 days after).   Lastly we wanted a diverse environment since our guests ranged from ages 5 to 75.  Not only do they have any activity imaginable, they also they have a wide array of accommodations.  Guests would make their vacation what they wanted – a luxury retreat or a casual beach affair.    Atlantis was everything we were looking for.

 

What were your wedding colors and/or theme?  
Our colors were navy blue and turquoise and white.  I wanted to go with a simple, tropical feel and the first thing that comes to mind when I think about the islands is the crystal clear blue waters.  I also fell in love with blue dendrobium orchids and knew I wanted them in the wedding.
Every wedding is special in its own right.  What made your wedding unique?
The best part about a destination wedding is that anything goes.  I believe that flexibility allows couples to plan a wedding that truly reflects their personalities.  We had a lot of fun during our ceremony because I know guests are just waiting for that part to get over and hit the bar.  When I walked down the aisle I did a twirl like I was on a runway, my husband dipped me during the kiss and when we exited we were dancing.  People were surprised but appreciated how "us" it was.  

  I also loved the fact that we were able to incorporate different heritages into our wedding – we had Jewish and Italian dances at the reception and it was all kicked off by a Bahamian junkanoo parade.  This was definitely one of our favorite parts and made our wedding unique.   Lastly, we were able to spend quality time with everyone throughout the weekend.  Not only was it a treat for us, but we took care to make everyone who attended feel special.  One of the things we heard most from guests was that they loved the casual and relaxed environment.

 
One of the major challenges of putting together a destination wedding is finding and working with your ideal vendors from afar.  What wedding vendors did you use to put together this spectacular wedding?
Photographer -- Tim Aylen
Florist -- Wildflowers Bahamas
Wedding Coordinator -- Talia Wildgoose (from Atlantis)
DJ -- Jose Ageeb
Wedding Dress -- Brides by Demetrios      
Invitations -- self-made (see links below)
You were an active member of BDW and created some great content. Could you please summarize (with hyperlinks) some of your best work for us?
Stephanie's DIY Passport Invitations
Stephanie's Activity Book Template
Stephanie's Atlantis Wedding Week Review
Your Wedding was absolutely beautiful!  Your posts and reviews will be extrememely helpful to our new brides.  Thank you for sharing your special day with us at BDW.
Dear members, if you planned your wedding with the help of our community we would love to hear from you. Contact us at admin@BestDestinationWedding.com if you are interested in sharing your wedding experience with us.  For more information here is the "BDW Real Weddings | Featured Wedding Submission Information Thread"
Thanks!
---