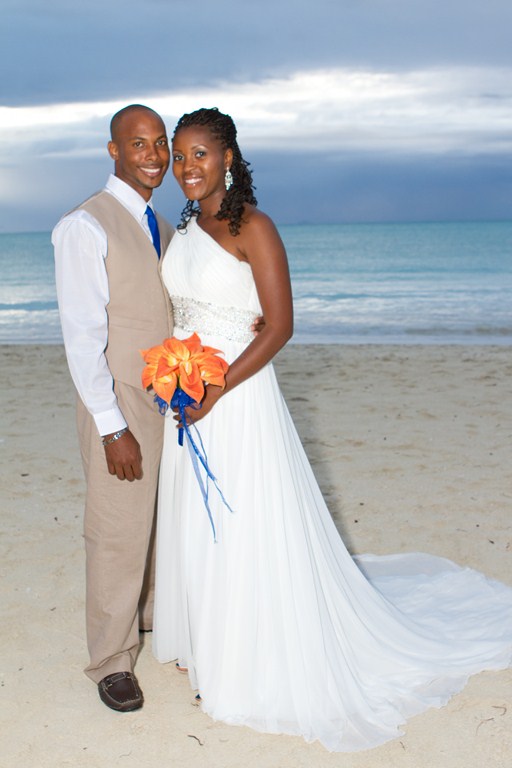 You're invited to the Real Wedding of...
Natalie & Tarick
Wedding Details

Bride

Natalie

(nattie03)

Groom

Tarick

Wedding Date

March 30, 2013

Location

Jolly Beach Resort, Antigua

Hometown

Mississauga, Ontario, Canada (bride) Antigua (groom)
Pictures from This Girl & This Guy's destination wedding (click to enlarge):
Why did you choose to have a destination wedding?
I wanted to have a destination wedding after being a part of a friend's destination wedding in Jamaica and being in her bridal party. She experienced a lot less stress, saved a lot of money, and had an intimate wedding with closest family and friends (about 45 people). For these reasons I was compelled, but what really sealed the deal for me was the amazing time we all had getting to know the bride and groom's family and friends and becoming one big family. I have such fun and amazing memories from that trip (like jumping into the pool with our clothes on, and doing black flips over the volleyball net which subsequently broke) that I knew I wanted that experience for myself, my family and my friends. A dw really allows a much more personal experience and you get a vacation and wedding in one. I didn't want an at home wedding because of the cost, the stress, the size, the informality etc. Best decision we could have made, our wedding was perfect!
Why did you choose your location?
I met my husband while vacationing in his home country of Antigua so there was personal meaning in us choosing Antigua. We considered other countries but decided to stick with Antigua for personal sentiments as well to make it easier for his family and friends to attend the wedding too. We chose Jolly Beach Resort after we got engaged there and the place has special meaning to us. While we were there we saw that it was a fun place (very important for us as we are young and our group of friends is very energetic and likes to do activities) with a beautiful beach and pool, multiple restaurants, and most importantly affordable. Antigua is not the cheapest place so affordability was a huge factor.
What were your wedding colors and/or theme?
Our colours were royal blue and tangerine orange, mine and my husband's favourite colours respectively. We wanted everything to be personal in our wedding and reflect us. Our theme was "island vibes" as we are both of Caribbean heritage and we wanted to celebrate our cultures. We wanted everyone to be relaxed and have a good time, with good food and good dancing. We used the hibiscus flower as our main design element.
Every wedding is special in its own right. What made your wedding unique?
Our wedding was special because we personalized as many aspects as possible. We did not compromise with anyone else, we stuck to OUR vision of the day and that is why it was so special to us. We had boarding pass invitations which no one in my family or circle of friends had seen before and once I had seen them I had to have them. We had a lot of DIY projects done by myself and my bridal party including the wedding website, seating chart, table numbers, wedding program fans, seat sign, tears of joy packets, just married sign, guestbook and Mr. and Mrs. chair signs. We had the bachelor and bachelorette party, wedding rehearsal dinner and group excursion to Shirley's Heights taking up the two days prior to the wedding. We also pre-booked a few a la carte dinners at the resort for our guests so they could get to know each other and we arranged group transportation from the airport. Our wedding was the day before most people left which gave our guests a good amount of time to get to know each other before the wedding. Our Christian faith is very important to us and was represented in the music choices and the ceremony aspects which we let our friends and family do since beach weddings in Antigua cannot be done by pastors but rather by a marriage officer. It rained and we had to move our ceremony to a covered location but we took our pictures on the beach afterwards and we brought in all of our decor for the ceremony and reception.
We wrote our own vows and ceremony and included a scripture reading and sand ceremony (done by friends), hand ceremony, pledge to my husband's daughter/my new daughter and a parental blessing. We had an interactive guestbook where guests filled out different categories: names, where they met the bride/groom, favourite memory of the bride/groom, advice, share a recipe or draw a picture. This was a huge hit and hilarious to read after the wedding. At the reception we danced in to the "iron man band" a local, cultural band that usually plays during carnival season in Antigua. Our table numbers were Caribbean islands that either my husband or I had visited. We had karate demonstrations by members of my husband's karate school where he is a 3rd degree black belt. We had trivia questions and played the newlywed shoe game so people could learn more about our relationship. We lit wish lanterns on the beach in the night, the first in memory of my maternal grandmother who passed away. We danced for 3 hours thanks to our dj who combined a list of my songs with his own choices which made for an incredible end to the most incredible day. Our guests are BEGGING us to have an anniversary celebration so they can all come back.
One of the major challenges of putting together a destination wedding is finding and working with your ideal vendors from afar. What wedding vendors did you use to put together this spectacular wedding?
Invitation company: Allurements by Rebecca

Wedding coordinator: Beverly King

Wedding dress designer: Maggie Sottero

Bridesmaids and flower girl dress: Ebay

Groomsmen's outfits: Studiosuit.com

Videographer: Marlon Jeffers
Flower bouquets: Budget-bride.com
Groom ring: JustMensRings.com

Table Runners and sashes: Tableclothsfactory.com

Rose petals: Ebay

Table number frames: Ikea

Disposable votive candles: Candle Factory Products

Sand ceremony vase: Ebay

Wedding shoes: Ebay

Dj: Dj Nez

Band: Urlings iron man band

Karate demo: Purple Dragon Antigua

We were very pleased with all of our listed vendors. They all did amazing work and had amazing communication.
 
Your wedding was absolutely beautiful! Your posts and reviews will be extremely helpful to our new brides. Thank you for sharing you special day with us at BDW. 
Dear members, if you planned your wedding with the help of our community we would love to hear from you! Contact us at admin@BestDestinationWedding.com if you are interested in sharing your wedding experience with BDW. For more information here is the "BDW Real Weddings | Featured Wedding Submission Information Thread". Thanks!
---