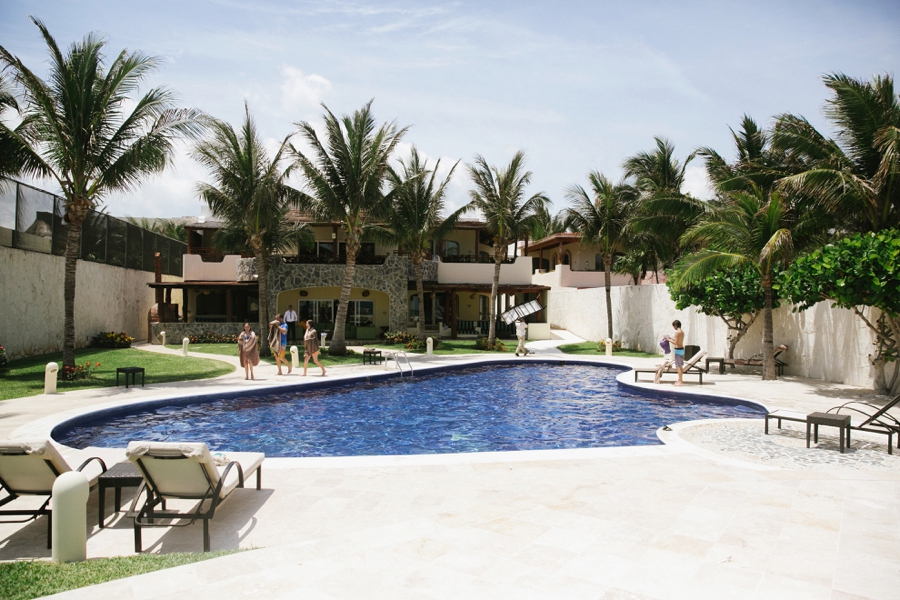 Perhaps the idea of a destination wedding appeals to you, but having to celebrate your wedding vows at a hotel or resort does not. Though most couples opt to have their wedding at a resort, if you're willing to do a little more research -- you can still have that posh and luxurious wedding resort feel with a whole lot more privacy by having your wedding at a private villa. And yep, you don't need to be a millionaire to make it happen!
'
Hosting a wedding at a private villa has a lot of perks, besides of course giving you and your wedding guests ultimate privacy. Here are a few reasons why choosing a villa wedding might be the way to go when it comes to planning the wedding of your dreams:
1) The villa can also serve as your home for the week. Most villa properties that allow guests to host weddings on the property will also require that you stay at the villa for a minimum number of nights. This not only gives you a great place to stay at your destination, you'll also be able to prepare for the Big Day even easier since everything is truly "on site." Things to consider: you'll need to decide who will be staying on the property with you and make sure there are other accommodations nearby for the rest of your family members and wedding guests. Make sure to also ask if there is an extra fee you'll have to pay to host the wedding or any other events on the property grounds. And whether there is a time limit on how long your event(s) can last.
2) Besides the wedding, you can host other wedding events at your villa -- like a Welcome Dinner, a Meet and Greet or fun pool day to welcome all your guests to your destination wedding. The luxury of staying at a villa is that you can make and create your surroundings as you like and use it as the centerpoint for all your guests throughout the duration of your destination vacation. It really serves as a wonderful place for you and your guests to laugh and enjoy, and of course celebrate!
3) It can be quite affordable when split between different parties. While the base price for renting a villa can seem steep at times, if you have enough space to invite other family members or close friends to stay there as well, splitting the costs between the different parties can make your luxury stay quite affordable. The perks of staying at a private estate also make the money you spend worthwhile -- for instance, open access to the amenities (pool, spa, pool tables, lounge furniture), you get one-of-a-kind homestyle comfort and a spacious living areas you simply don't get in a resort room or suite. You will live like royalty for your entire destination experience and it'll be an experience unlike any other vacation you've ever taken!
4) Staying at a villa gives you total privacy. I've often heard of couples being totally appalled when they see other resort-goers in their bathing suits standing closeby and taking photos during what they hoped would be a romantic beach ceremony. Some former brides and grooms can attest to the running joke that there always seems to be at least one big-bellied man in a speedo hovering over the ceremony location and basically gawking. Well when you're staying at a villa there is one thing you'll be guaranteed and that is, privacy for your entire celebration.
5) Your Wedding Day is done on YOUR timeline. You don't ever have to compete with any other couple for the best time to host your beachside sunset ceremony or worry about whether your party will run too long. When you're staying at a villa and hosting your wedding on the property, you create your own timeline according to your needs and wants.
6) You typically don't have to worry about an outside vendor fee. At a private villa, you often have the freedom to use the vendors of your choice without penalty. Many resorts on the other hand, will require that you use their preferred vendors, but if you decide to use someone who's not on "the list," then you may have to pay an outside vendor fee and those can be upwards of $500 -- a hefty price to pay if you're trying to create a dream wedding team. When booking a resort, hotel or villa as your wedding venue, always make sure to ask whether there are outside vendor fees ahead of time to ensure that you can use your dream vendor.
7) There is often an option to add-on a butler or chef for the duration of your stay. Yes, not only can you live like kings, if you'd like you often also have the option to be treated like one too. At many villas, there is often the option or inclusion of a butler to help accommodate your every need as well as a chef to ensure you're well fed throughout your stay. Butlers often serve as your personal concierge, making sure that you are enjoying every minute of your stay while also fixing any problems or issues that need to be handled.
To find out more about villa options at your ideal destination location, contact one of the Best Destination Wedding travel agents who specialize in destination wedding and honeymoon travel. You can contact them HERE!
- - -
About me: I am a former BDW Bride AKA as MarieSam and I was addicted to this forum as I planned my own wedding in 2009. Since 2010, I have been the proud owner of MarieSam Sanchez Photography -- a husband and wife photography team based in Southern California and documenting love all over the world. I am also a mother to two girls, an avid traveler and a destination wedding writer/blogger.
---