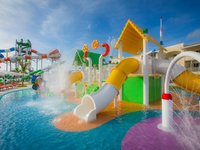 I have to preface this by saying, I am NOT a waterpark person. I am more of a lounge by the quiet pool or lay on the beach all day in the sun type of person. Waterparks seem like an invitation for complete chaos and children loudly running around -- and I'm a mother of two, so trust me, it's not that I don't like being around kids. Water parks just aren't my thing.
So imagine my surprise when I spent a full afternoon at the water park at The Grand at Moon Palace in Cancun, Mexico, and absolutely loved the experience so much I spent the next day there too. For those familiar with The Grand, it's a huge luxury resort with a variety of areas to keep its guests busy. The main buildings are filled with several eateries, an arcade filled with every game imaginable, a 24-hour cafe, shops, a theater, bowling alley and a world class spa. If you're the outdoorsy type, there are pools located throughout the resort, including an adults-only pool club and lounge and of course the blissful sights and sounds of the shore and the Caribbean Sea. So there is no lack of things to do here, but the resort's water park is truly a hub of fun for all ages.
At the water park, you can float in a lazy river, splash in a wave pool, and choose from a selection of different thrill-seeking slides. Guests of The Grand at Moon Palace Cancun have unlimited access to all these areas. 
The serene waters that encircle the Playroom give resort-goers a relaxing way to move with the river's flow using the inflatable ring floats at the water park.
With the state-of-the-art wave pool, you can experience oceanic thrills for swimmers big and small.
With a collection of pool slides, guest of all ages are sure to splash up thrills and safe fun.
This playground offers a safe and fun way for little swimmers to enjoy water play.
This indoor playzone in the middle of the water park is filled with amazing activities such as: Neon Mini Golf, a 3-floor Labyrinth, Arcade, Bumper Cars, Laser Maze, Time Freak, Interactive Sports, Sky Trail, Mirror Maze, and much more. There's also a counter where you can grab a quick snack or drinks if you need a quick break from all the fun. The upper floor of the Playroom is open to children from 4 to 7 years old. Kids under 4 years are welcome under the supervision of a responsible adult guardian at all times. The ground floor is open to children from 8 to 17 years old. Children under the age of 8 must be accompanied by an adult guardian at all times. The Playroom is open from 9 a.m. to 10 p.m. daily.
To ensure that those at the water park have everything they need and more, the park is also equipped with food carts and a full-service bar. Food carts offering freshly made hot dogs, corn dogs, tacos and shawarmas are available for guests throughout the day - and this isn't amusement park food, the food is made to order and it's delicious! There are also carts with freshly made ice cream, paletas and shaved ice to cool you off and satisfy your sweet tooth. All dining options are part of your all-inclusive experience at the resort, so you don't pay a thing. 
To book your stay, destination wedding or honeymoon at The Grand at Moon Palace, contact one of the Best Destination Wedding travel agents who specialize in destination wedding and honeymoon travel. 

You can 
contact them HERE!
 or visit the website at 
www.wrighttravelagency.com
- - -
About me: I am a former BDW Bride AKA as MarieSam and I was addicted to this forum as I planned my own wedding in 2009. Since 2010, I have been the proud owner of MarieSam Sanchez Photography -- a husband and wife photography team based in Southern California and documenting love all over the world. I am also a mother to two girls, an avid traveler and a destination wedding photographer and writer/blogger.
---