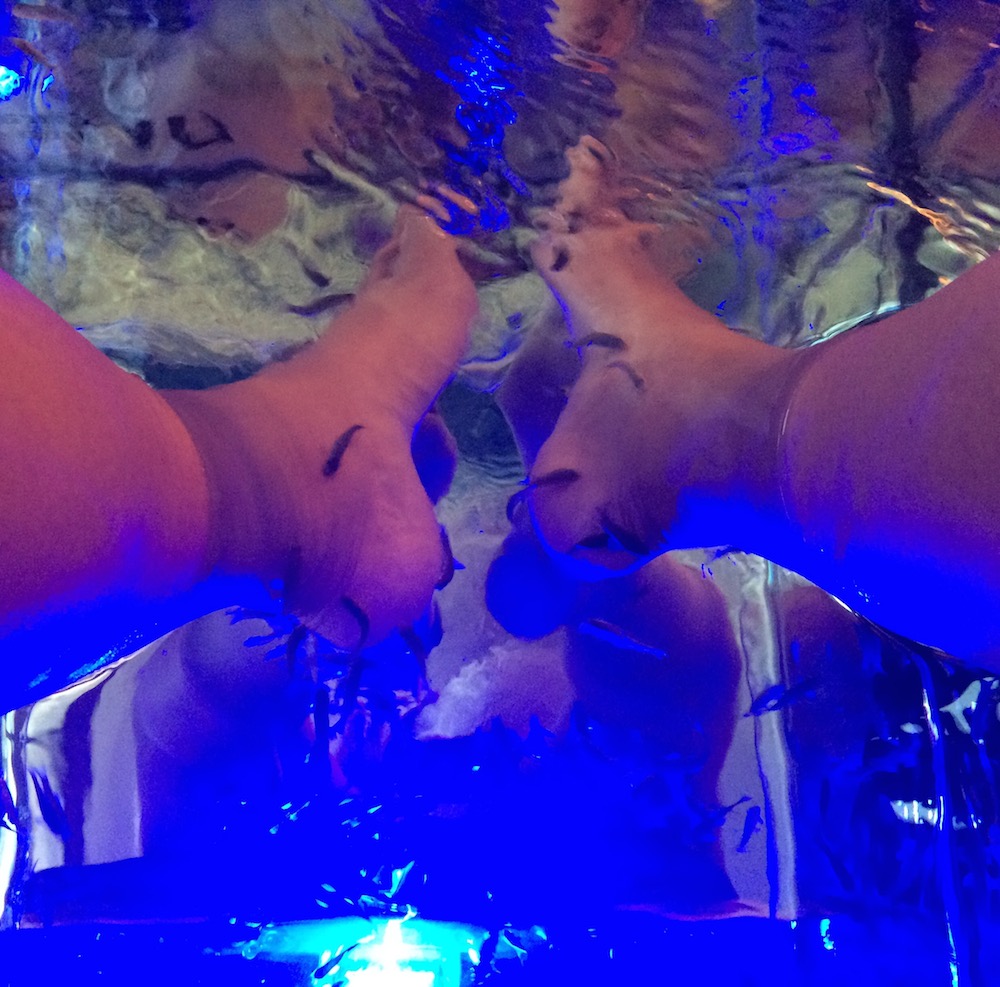 I first learned of the Fish Foot treatment when one of my friends posted pictures of her experience during her trip to Asia, and I was immediately fascinated by this method of getting rid of the dead skin from your feet by way of tiny fish basically nibbling at your feet. Yes, at first the concept sounds a little crazy, but everything I read mentioned how effective it was at truly exfoliating your feet — and I'm a sucker for wanting smooth feet because as a Southern California I pretty much live and flip flops and sandals.
So while on my last trip to Dreams Playa Mujeres, when found out the Dreams Spa by Pevonia at the resort offered this unique spa services, I jumped on the opportunity to let this box of fish do their work

The first part of the treatment included getting my feet cleansed and pampered first to ensure that I didn't have any lotions or oils on my feet that would damage the fish — the cleansing and quick foot massage was a pleasant surprise to say the least. Then it was onto the chair where I'd sit of the next 15 minutes while the fish did their thing. I was initially hesitant to put my feet in the water, but I was assured by the spa staff that the fish nibbles wouldn't hurt but instead it would feel like a little tickle — and about 20 seconds into the treatment, they were totally right.
Those initial nibbles are a little alarming, mostly because it's probably a sensation you've never felt before, but they feel just like tiny little pulses along the pads of your feet and it is not painful at all. About a minute into the treatment, you'll be totally at ease and you can sit back and relax — or if you're like me, you'll continue to be fascinated by the idea of what's going on and take photos and video of your experience.
My 15-minute treatment went by in a flash and when the spa therapist dried off my feet, I was happy to feel the new smoothness on my heels as well as the pads of my feet. This treatment totally works! Due to lack of time, I only opted for the 15-minute session, but I would recommend a longer treatment if you can swing it. This is definitely a unique and fun experience you'll enjoy and remember, and of course the bonus is, you'll end up with beautifully smooth feet!
To find out more information about booking your honeymoon or destination wedding, contact Wright Travel Agency at:www.wrighttravelagency.com or you can contact them HERE!
- - -
About me: I am a former BDW Bride AKA as MarieSam and I was addicted to this forum as I planned my own wedding in 2009. Since 2010, I have been the proud owner of MarieSam Sanchez Photography -- a husband and wife photography team based in Southern California and documenting love all over the world. I am also a mother to two girls, an avid traveler and a destination wedding writer/blogger.
---