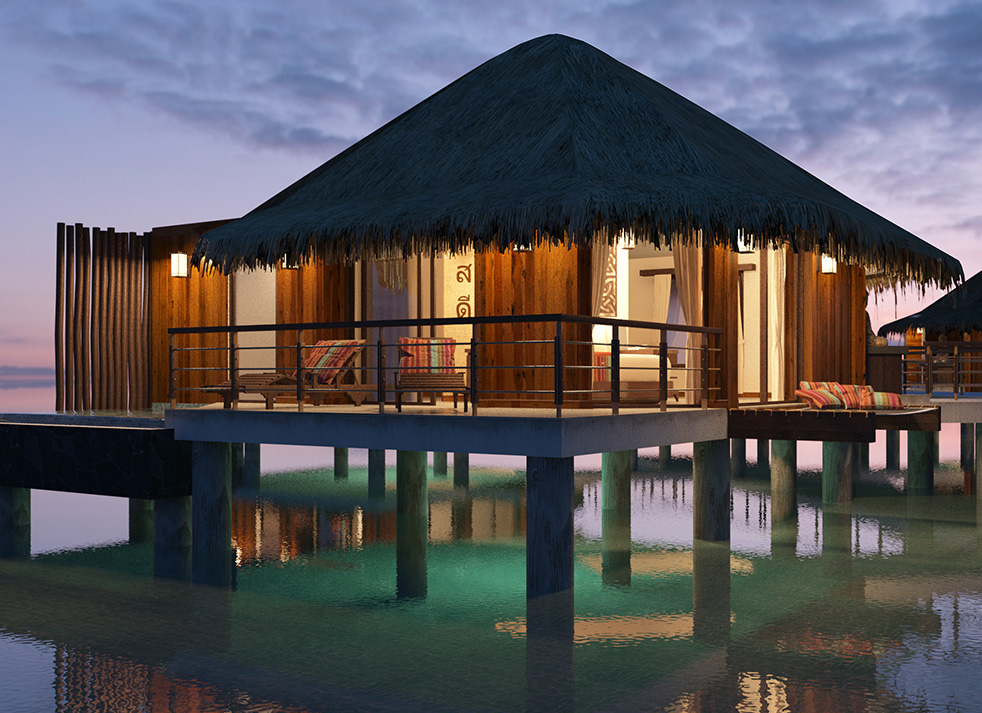 If you've always wanted to spend vacation bliss in an overwater bungalow, that memorable experience can now be yours in Riviera Maya, Mexico at the El Dorado Maroma Palafitos, which officially opened to vacationers in early September 2016.
The luxurious overwater suites -- the first of its kind in Mexico -- are situated off the soft white sands of the Maroma Beach, considered by many as one of the top 10 beaches in the world. But besides the breathtaking views, these spacious 600-sq. ft. suites for two also offer a private infinity pool and an oversized deck with lounge chairs, glass bottom floors where you can watch the sea life move beneath your bungalow, and a ladder providing easy access to the clear turquoise ocean water. Each bungalow also features a private outdoor shower and a romantic indoor jacuzzi for two.
Every bungalow is also equipped with:
- King size bed
- Air conditioning & ceiling fan
- Smart TV
- Telephone
- Aromatherapy shower
- Make-up mirror
- High end toiletries
- 100% cotton & thousand-thread-count sheets
- Radio/alarm clock
- Safety deposit box
- Espresso Coffee maker and tea brewing station
- Premium stocked minibar
- The outdoor terrace is also equipped with luxurious wooden furniture, reading material and blankets
Those staying at the all-inclusive suites will also have exclusive beach bed access, 24-hour room service and customized beach picnics. But the spoils do not end there, during your stay you'll also have your own butler, who can take care of all your unique vacation needs, including handling any pre-arrival requests and reservations to the delivery of reading materials, beverages and gourmet bites at the pool. The multilingual butlers will also provide services such as the unpacking of luggage, serving sunrise coffee experience and in-suite full breakfasts. Your personal butler will also ensure the suite is kept in perfect condition and arranged according to guests preferences.
Palafitos guests can also exclusively indulge in rest, relaxation and rejuvenation with spa treatments at the overwater Náay Spa. And once your mind and body are at ease, you can dine on exquisite gourmet meals at The Haute Cuisine -- the overwater grill and wine bar serving only those staying at the bungalows. The eatery, which boasts spectacular ocean views and fresh tropical breezes, offers breakfast, lunch and dinner from the open kitchen grill.
I had the pleasure of getting a sneak peek of the Palafitos this past spring and I can without a doubt say, it's a slice of heaven perfect for couples looking to spend some much needed time in a paradise all their own. With the bungalow set-up and convenient butler service, you'll feel like you've traveled to your own oasis where luxury and comfort are in abundance. It's the perfect spot for a honeymoon or anniversary trip or simply those wanting to get away and be pampered.
Reservations for the Palafitos can only be made through a select group of luxury vacation consultants, like Wright Travel Agency -- the official travel agent group of the Best Destination Wedding Forum. For more information and assistance on booking your stay at the incredible overwater bungalow suites, contact one of the Best Destination Wedding travel agents who specialize in destination wedding and honeymoon travel. You can contact them HERE!
- - -
About me: I am a former BDW Bride AKA as MarieSam and I was addicted to this forum as I planned my own wedding in 2009. Since 2010, I have been the proud owner of MarieSam Sanchez Photography -- a husband and wife photography team based in Southern California and documenting love all over the world. I am also a mother to two girls, an avid traveler and a destination wedding writer/blogger.
---