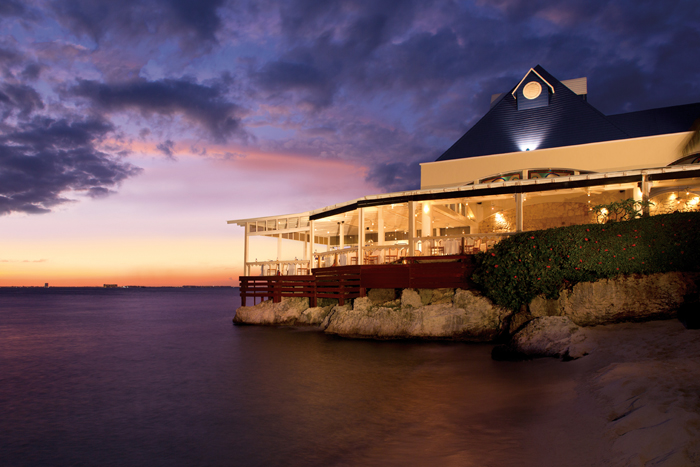 The beautiful Zoetry Villa Rolandi retreat in Isla Mujeres Cancun is known for its picturesque grounds and spectacular oceanfront views, but the small all-inclusive luxury resort is also known for its award-winning Casa Rolandi restaurant, where every meal is a 5-star dining experience.
Found perched cliffside along the island shores, this world renown restaurant offers diners a variety of organic à la carte dining options. The eatery also serve gluten-free and vegetarian dishes, or can accommodate any allergy or dietary restriction. Specializing in Swiss-Northern Italian cuisine, some of the restaurant's favorites include freshly made pasta dishes and delicious seafood. Here each meal is carefully prepared using only the freshest local grown fare and heart-healthy ingredients.
During a recent visit, I enjoyed a specially prepared 3-course meal for lunch. The entire meal was delicious and included a ceviche salad, homemade ravioli stuffed with wild mushrooms, and coconut ice cream for dessert. It was undoubtedly one of the very best meals I've ever had in the Cancun/Riviera Maya area.
Casa Rolandi is one of two eateries on the property and is open for Breakfast from 7:00 a.m. – 10:30 a.m.; Lunch & Dinner from 12:00 p.m. – 10:30 p.m., and Late night bites from 11p.m. – 6 a.m. Reservations are not required.
To book or inquire about a stay at Zoetry Villa Rolandi in Isla Mujeres Cancun, contact one of the Best Destination Wedding travel agents who specialize in destination wedding and honeymoon travel. You can contact them HERE! or visit the website at www.wrighttravelagency.com
- - -
About me: I am a former BDW Bride AKA as MarieSam and I was addicted to this forum as I planned my own wedding in 2009. Since 2010, I have been the proud owner of MarieSam Sanchez Photography -- a husband and wife photography team based in Southern California and documenting love all over the world. I am also a mother to two girls, an avid traveler and a destination wedding writer/blogger.
---