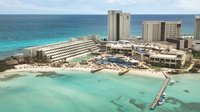 Many tourists flock to the Cancun-Riviera Maya each year seeking the warm and clear turquoise waters the region is known for. But often times, vacationers find themselves disappointed when they happen to be staying at a resort with less than desirable beach conditions — a rough tide, less than crystal clear waters and red flag warnings spread throughout the beach dissuading people from swimming in the ocean because of dangerous conditions.
If you have your hopes set on staying at a resort that will give you the crystal clear Cancun beaches you see in postcards, then Hyatt Ziva Cancun is the place to be.
This 5-star all-inclusive resorts sits on the peninsula along the popular Cancun hotel zone, giving resort goers the convenience of being able to walk into town and partake in the lively nightlife, but most importantly an idyllic beach with incredibly calm waters that are perfect for swimming and basking under the warm Caribbean sun.
Hyatt's turquoise waters are truly a sight to see, one that greets guests the minute you walk into the resort's lobby. Protected by a cove from the tip of the peninsula that boasts the resort's well known lighthouse, this beach is perfect for kayaking, snorkeling, swimming or simply sitting in the ocean with a drink in hand. And if you're willing to swim about 40 yards out, you'll find a sandbar in the middle of the ocean that allows you to stand in waist deep water. 
If you're want to enjoy the water but also take a relaxed approached, you can snag one of the hammocks set out close to shore. The shoreline is also lined with lounge chairs and beach umbrellas if you'd rather relax and sunbathe or doze off to the sound of the ocean.
Resort-goers can also enjoy Habaneros — an oceanfront restaurant right on the sand that serves delicious drinks and bites for lunch and dinner so you don't have to go far for a quick meal or drink. 
On the other side of the resort, vacationers can enjoy a larger beach although the water isn't as calm as the resort's more private beach. Either way, when you come to this resort rest assure, this property has arguably the best beach in the Cancun area.
Wright Travel Agency is the official travel agency of the Best Destination Wedding Forum. To find out more details about booking your vacation, honeymoon or getaway at Hyatt Ziva Cancun, or any other resort/location, contact Wright Travel Agency at: info@wrighttravelagency.com or you can contact them HERE! 
Edited by MarieSamSanchezPhoto
---