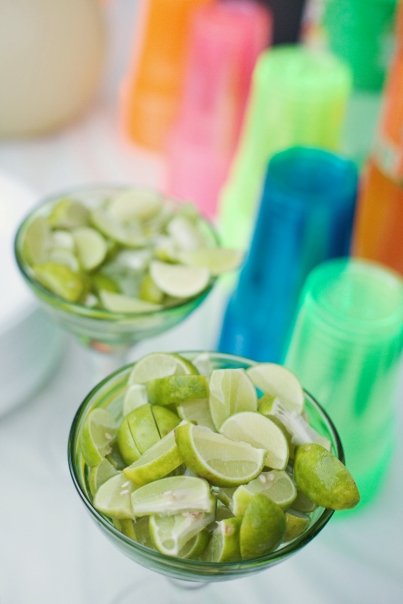 I'm not sure if it was just me being a stressed out destination wedding bride, but while I was planning my wedding I went through periods of experiencing extreme "destination wedding guilt," that is, feeling guilty that our guests were taking time out of their busy lives and spending significant amounts of money to be a part of our Wedding Day.
While planning my wedding, it was really important to me to show our guests how appreciative we were of their presence. I wanted nothing more than to make sure they enjoyed their time during our destination wedding experience and I guess you could say, we went the extra mile to make sure they knew how thankful we were to have them there.
Here are a few ways you can say thank you to your guests for being a part of your big day:
1) Plan a Welcome Dinner: This can either be done as a full spread dinner or perhaps a meet and greet cocktail and appetizer hour. Either way it's a wonderful opportunity to gather your guests in one place to mix and mingle before the Wedding Day festivities begin. Call it an icebreaker, if you will, most importantly it gives you another chance to make some awesome memories with the ones you love!
2) Create Welcome/OOT Bags for Your Guests: This probably one of the most heavily researched topics in the Best Destination Wedding Forum -- "What should I put in our Welcome Bags?" Honestly it's up to you to decide how much effort and money you want to invest into these little welcome gifts. Just remember to factor in how you manage to get these items to your destination location. If at all possible, try to buy most of the items when you're at your destination rather than having to lug it from home. You can fill a bag with items your guests will find useful during their stay, or you can be simple and keep it to a few bottles of local brew or perhaps a little bag of local snacks. No matter how big or small your gift is, include a handwritten personalized note -- something from the heart is always a beautiful touch that your guests will love.
3) Plan a Group Excursion: The best memories are made when you share adventures and unique experiences together. Consider planning an outing for your guests -- perhaps a catamaran ride, a snorkeling trip, a day at the beach or maybe an ATV biking adventure. These kinds of excursions can range from reasonably affordable to pricey -- so think about either paying for a portion of the excursion or footing the entire bill. If that's still not in the budget, perhaps you can cover the transportation costs or treat everyone to a meal afterwards. The main thing is that you're doing something fun together and at the end of the day, that's all that matters.
4) Plan a Farewell Meal: Maybe it's a Day-After the Wedding Brunch or Lunch or a Bon Voyage Dinner. It's one last opportunity to say thank you to those who've invested their time and money into being a part of your wonderful wedding experience. And don't forget to give one last toast thanking everyone for being a part of your festivities. A simple thank you and a hug goes a long way!
5) Thank You Cards: It really goes without saying, but thank you cards post-wedding are always a must. If you do nothing else, make sure you send thank you cards. Don't wait too long to send these out and if possible, take the time to send out handwritten personalized notes in each card. Even if you've done all of the above or nothing at all, a thank you card is necessary and will mean so much to anyone who took part in your Wedding Day.
- - -
About me: I am a former BDW Bride AKA as MarieSam and was addicted to this forum as I planned my own wedding in 2009. Since 2010, I have been the proud owner of MarieSam Sanchez Photography -- a husband and wife photography team based in Southern California and documenting love all over the world.
---