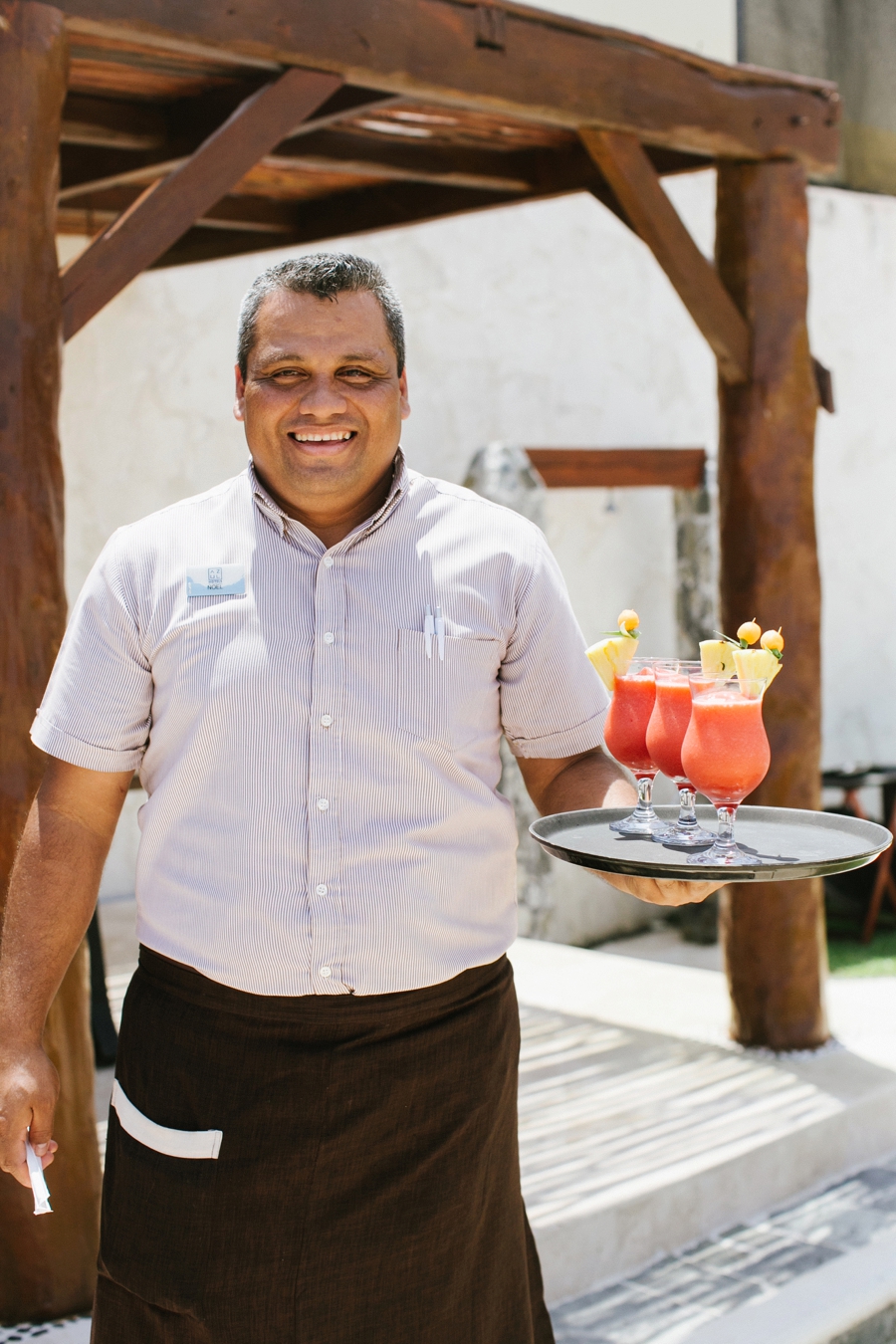 After traveling to several countries and numerous resorts and hotels throughout the world, I've come to realize that what sets apart good resorts from excellent ones is customer service and guest experience. And these aspects truly made me appreciate and enjoy my weeklong stay at Azul Beach Hotel in Puerto Morelos, Mexico this past year because the customer service and guest experience here were second to none.
From the moment we stepped foot on the resort grounds, we were welcomed by friendly faces who always went out of their way to ensure that all our needs and any special requests were taken care of. Whenever we were in communication with the front desk or concierge, we were always greeted warmly and our questions or requests were quickly addressed. Room service even happily arranged for a glass of milk to be delivered to our room every night for our 2-year-old little girl before she went to bed. And whenever we needed anything in our room, it was delivered promptly. I cannot say enough about the front desk staff and concierge -- they are always willing to help when they can.
The Vassa Spa is another area of the resort where customer service really shines, the spa staff is completely focused on giving you a relaxing experience highlighted by top notch service from beginning to end. Scheduling an appointment at the spa is simple and easy and you will feel all your stresses melt away the minute you walk through the spa doors.
But the guests experience doesn't just end there -- you are greeted with the same professionalism in all of the hotel's eateries as well. The hostesses are all very warm and welcoming and before you dine, they always ask for any allergies they need to be aware of. And I cannot say enough about the servers in each of the restaurants, all of whom were extremely friendly and attentive. Because our toddler would take naps in the late afternoon after spending hours at the beach or pool, my family and I often dined late for dinner. And while we were often the last guests left in the restaurants, we were never rushed or felt pressured to dine quickly. Our servers encouraged us to enjoy every part of our meal and always suggested dessert or coffee to wrap up our meals no matter how late it was! Having a wonderful dinner experience was always such a nice way to end our day.
Another aspect that I really enjoyed at Azul Beach was the staff's focus on ensuring that families with children were well taken care of. Traveling and vacationing with young children can be so intimidating and stressful, but at Azul Beach, they go out of their way to make sure children's needs are met -- be it with an expansive kids menu at all the eateries, the many kids amenities in the rooms (bath robes, slippers, toys, crib, stroller, etc.) and throughout the resort (the kids pool, kids lounge chairs, toys on the beach, the kids club, etc.). The staff is there not only to serve the needs of adults, but that of their youngest guests as well!
When you visit Azul Beach Hotel it feels like home. And before your stay even ends, you'll find yourself already looking forward to the next visit!
To find out more about staying at Azul Beach Hotel in Riviera Maya, Mexico, contact one of the Best Destination Wedding travel agents who specialize in destination wedding and honeymoon travel. You can contact them HERE!
- - -
About me: I am a former BDW Bride AKA as MarieSam and I was addicted to this forum as I planned my own wedding in 2009. Since 2010, I have been the proud owner of MarieSam Sanchez Photography -- a husband and wife photography team based in Southern California and documenting love all over the world. I am also a mother to two girls, an avid traveler and a destination wedding writer/blogger.
---