"Daddy...outside." As my 20 month old baby girl, Brooklyn, patted her eager little hand on our hotel room door, these are the words she excitedly uttered. Mommy had departed early for morning meetings and it was just my peanut companion and I, left to our own devices to explore and enjoy the Sunrise section of Moon Palace Golf & Spa Resort.
My bubbly, curly haired partner and I put on our swimsuits and headed out into the warm Cancun sun. As we headed poolside, my miniature sidekick quickly let me know where she wanted to stop first. "I hungy, daddy", reassured me that making the Palapa Barracuda our first stop for lunch was not a mistake. After feasting on fresh melt in your mouth grilled fish, crispy chicken fingers, perfectly marinated arrachera and various other scrumptious fare, we decided to head to the Piscina de Ninos (the kid's pool), but not before we were distracted by the screams of excitement coming from boogie boarders and body surfers at the La Terraza Flowrider. The great thing about Moon Palace is that it keeps kids of all ages entertained. The Flowrider in particular is a fun wave pool that the older kids love because it's both challenging and fun.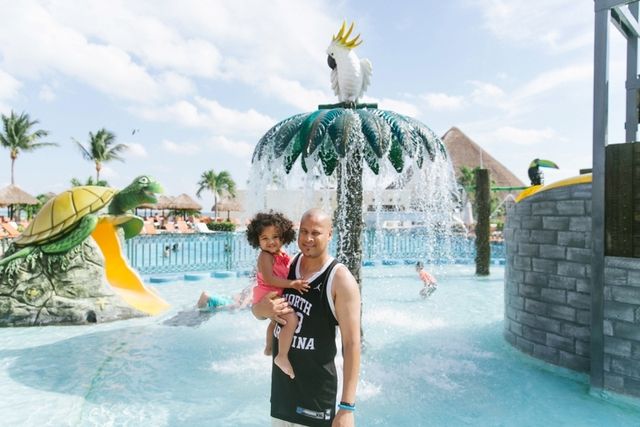 After finally making our way to the Kids Pool, lil Brooklyn approached the colorful crocodile and frog water slides with a look of wonder on her tiny face. Her saucer sized eyes scanned the pool from the castle complete with functioning water cannons to the water bucket suspended above a slide being filled with water and dumped every so often onto ecstatic children eagerly anticipating the shower below. She was anxious and apprehensive, but the energetic sounds of kids frolicking about in the knee high deep water was all she needed to make the courageous entrance into the kiddie pool. The fact that Moon Palace provides kids with their own pool section is great for parents who want to ensure their kids are in a safe environment when it comes to enjoying the water. Plus the kids pool is large and spacious enough to give the little ones enough room to play without feeling too far away from mom and dad.
An hour later, Brooklyn was rotating between sipping her first ever virgin strawberry daiquiri, splashing the cool, crystal clear pool water over her head and venturing down the crocodile and frog water slides. My once timid little girl was in love with the kiddie pool and her frozen drink treat was just the icing on the cake. Brooklyn was equally impressed with the Playroom and children's fun zone which is designed for providing kids with the ultimate fun experience. From an incredible playground structure equipped with winding slides, tubes and the genuine look and feel of a real 4 story pirate ship to a massive indoor play area with video games, carousels, fashion room, beauty salon and dollhouse area.
Getting Brooklyn to leave was almost like pulling teeth as her attention was completely taken by the laundry list of activities offered including Jenga and Xbox tournaments, balloon sculpting, cooking, pinata making and mask making classes. The plethora of exciting activities will surely keep any kid enthralled for hours on end.
Luckily, my ace in the hole to lure my lil kiddo away from the endless fun was the poolside personal pizza oven and the mouth watering selection of ice cream delights at the 24 hour ice cream bar. It was the perfect way to end a fun filled day of activities, swimming, eating and drinking for my sidekick and I.
The only thing left to do was to return to our spacious and AC chilled hotel room and rest our weary bodies with a nice afternoon nap. My tiny bambino gladly closed her eyes, with her tummy full of ice cream, and a wide smile on her face. "I love this place" is what I believe went through the mind of our 20-month-old when we walked the beautiful expansive grounds of the Moon Palace Resort.
Spending the day with my little one on the Moon Palace grounds, while Mommy was busy with work, gave me the chance to make awesome memories with my daughter that I'll remember for a lifetime. Moon Palace is the perfect place for families looking for a relaxing getaway with top notch accommodations and amenities to keep both adults and children happy and busy.
---