Written by Jonathan Katz of Drums in Paradise
A destination wedding is something out of the ordinary, it's different and exciting. You've deliberately chosen to take yourself and your guests into a new experience so you want to make sure the entertainment you choose is also something you're unlikely to find at a wedding back home. Luckily, there are tons of amazing, unique ways to entertain your wedding guests in the Cancun/Mayan Riviera.
Here are 5 of my favorite unique ways to entertain your wedding guests:
Fire Show: This is a destination weddings staple and with good reason. Fire is mesmerizing, it's dangerous, it's beautiful and you certainly can't do it in a typical large city venue (especially in the middle of winter!)
Water Drums: Another unique destination wedding idea available in Cancun & Mayan Riviera are water drums. These drums create an enormous WOW factor as colors fly up in the air every time a drum is hit. Warm weather and the fact that you're in a hotel with towels and a change of clothes just steps away means that you and your guests can even get wet and wild and splash around on the drums yourselves (if the show you book allows it).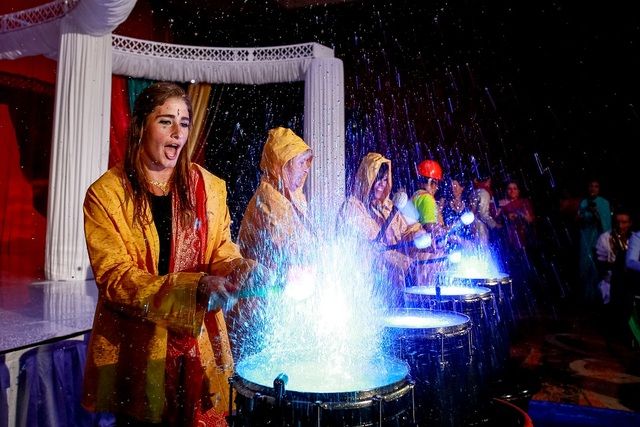 Live Drummers: If you're looking to make a grand entrance, or to party bigtime consider live drummers. For high impact you can go with a whole troupe of drummers and dancers that can turn your party tribal for 30 minutes, or a solo percussionist can play along and reinforce the groove of your DJ as you party into the night.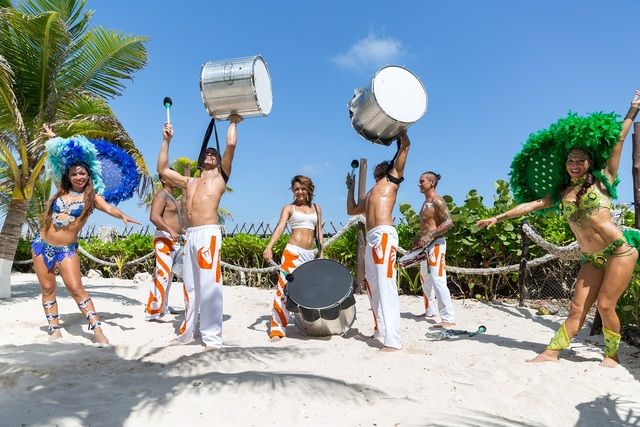 Glow Show: It's like a fire show for the 21st century. Instead of fire, this show uses juggling instruments with ultra bright, high-tech pixel LEDs to display patterns and figures. These can even be programmed to include a special message, logo or image in the air as the artists spin them around.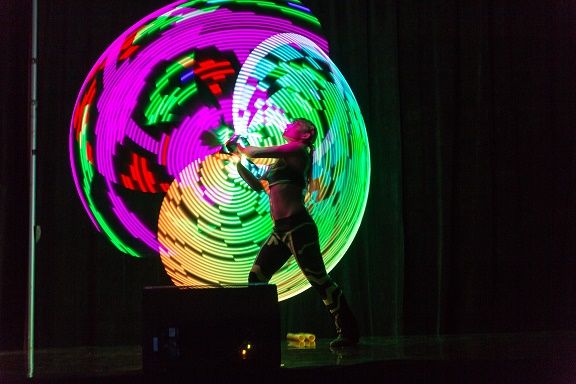 Acrobats: Many of the best circus acts, acrobats and dancers in Mexico move to the Riviera Maya to work in the local hotels and resorts. With the addition of a permanent Cirque De Soleil show and theatre in 2014 many more are arriving all the time. From girls hanging from hula hoops serving champagne to stilt walkers leading your guests in a limbo, or anything in-between, acrobats can offer a unique twist on regular wedding events or perform a more traditional type show.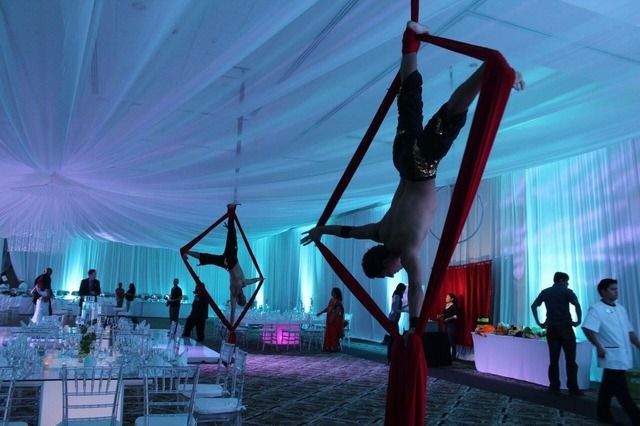 You and your guests have come a long way and invested time and money to celebrate this milestone. So if you're looking to give back to them by making your wedding something truly unforgettable, I wholeheartedly recommend some exciting, unique entertainment to knock their flip-flops off!
For more information on Drums in Paradise services for your wedding or event in the Cancun-Mayan Riviera area, visit: www.drumsinparadise.com -- to see a video preview of the variety of entertainment Drums in Paradise offers,
.
- - -
Drums In Paradise is Cancun and Mayan Riviera's drums and percussion specialist, offering quality fire shows, water drums, Brazilian drummers, Indian dhol, light shows, unique interactive drumming experiences and more. With respective backgrounds in drums/entertainment and hotels/customer service MexiCanadian couple Jonathan and Alejandra started the company in 2009 and have since rocketed to over 500 shows per year in the Cancun/Mayan Riviera and counting!
---