After spending eight blissful days at Azul Beach Hotel in Cancun-Riviera Maya this past spring, I am completely convinced that this beautiful all-inclusive resort is the perfect place for a family vacation.
Here are five reasons why Azul Beach Hotel is perfect for families looking to get away.
1. Both adult and children have a lot of great options for entertainment.
When it comes to the kids, rest assure they will have plenty to keep them busy at Azul Beach. The resort's Nickelodeon Kids Club will keep kids thoroughly entertained be it by the plethora of toys and books or indoor playground, or the fun activities and crafts offered by the kids club staff. Families can also partake in the Nickelodeon breakfast (tickets must be purchased in advance to attend) or perhaps even plan to get slimed Nickelodeon style! Besides the special kids pool and lounge chairs on the south end of the resort, Azul Beach also offers beach toys and games for families to enjoy, including all non-motorized water sports such as kayaks, hobie cat and stand up paddle boards. And after a long day at the beach, there's live entertainment for kids. Think of it as a rave for kids with Spongebob leading the party
There are also tons of classes offered throughout the week such as salsa or merengue, yoga, cooking or even Spanish lessons. An activities program is updated weekly for all guests.
But Azul Beach isn't just a great getaway for kids, adults have plenty to enjoy at night as well! Live music can be found at the popular Aquanox Bar, where you can indulge in your favorite cocktails and hear the ocean waves nearby. But if you're looking for more once the kids call it a night, check out the Agavero Lounge where you can get a real taste of Mexican tequila!
2. All the restaurants provide expansive menus that also cater to children.
Azul Beach's gourmet all-inclusive offerings will have both adults and children looking forward to each meal. Each restaurant on site takes special care to note of any allergies or specific food requirements of its guests while still offering a plentiful menu or incredible options. There is a special kids menu at each eatery full of choices that will satisfy even the pickiest eaters. High-chairs are also available throughout the resort for those dining with small children.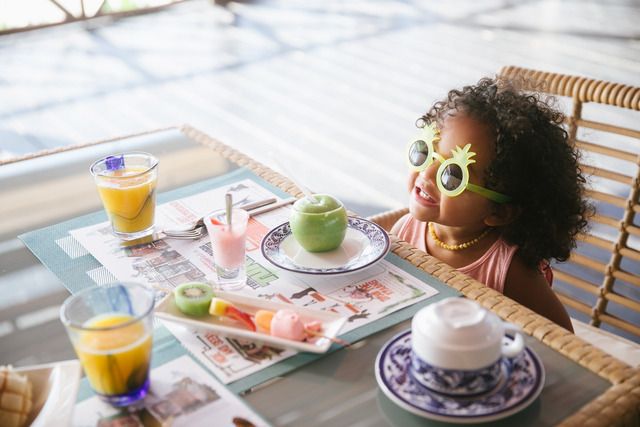 3. There are family comforts for everyone.
What I really loved about Azul Beach is that they really try to accommodate the needs of all their guests, including small children. Families with small children can have their rooms equipped with a crib, bottle warmer, stroller, stuffed animals, changing table, bath toys, and other necessities for their child. The resort also offers small robes and slippers for kids so they too can feel like they're relaxing in paradise. It's little touches like these that really set this hotel apart in terms of customer service and guests satisfaction.
4. The resort promotes pure relaxation for the whole family.
The resort's Vassa Spa doesn't just cater to adults, they also offer spa services for children ages 5 to 17. And if you're looking for more fun in the sun, take a dip in one of the resort's many pools or just sit in the beautiful Caribbean Sea. You can also take a relaxing snooze on one of the king-sized beach beds lined along the shore. If working out is your way of destressing, check out the hotel's Fitness Center, which is equipped with modern and comfortable gym equipment and air conditioning along with flat screen televisions.
5. The concierge can help you with off-site tours and excursions.
If you're looking to explore the area outside the hotel grounds a bit more, the hotel concierge can help arrange tours or transportation for you and your family. They'll also give you suggestions on what's best for groups traveling with children of all ages (my personal favorites are: visiting Xel-Ha or Xcaret nature parks, beach-hopping and snorkeling, going on a Camel Safari at Maroma Beach, visiting the incredible Mayan ruins, or taking a stroll through Cancun or Playa del Carmen). Rest assure, if you're in need of tips and ideas on things your family might enjoy -- your personal concierge will provide you with plenty of ideas.
For more information about Azul Beach Hotel, or to book your stay at this family-friendly resort, contact one of the Best Destination Wedding travel agents who specialize in destination wedding and honeymoon travel. You can contact them HERE!
- - -
About me: I am a former BDW Bride AKA as MarieSam and I was addicted to this forum as I planned my own wedding in 2009. Since 2010, I have been the proud owner of MarieSam Sanchez Photography -- a husband and wife photography team based in Southern California and documenting love all over the world. I am also a mother to two girls, an avid traveler and a destination wedding writer/blogger.
---