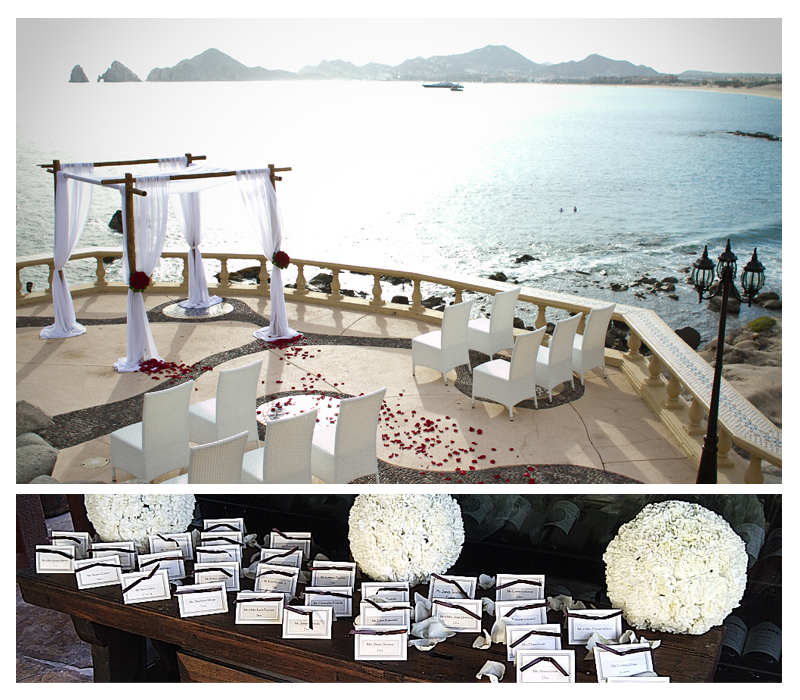 By Yarai Peregrino of Memories Weddings & Events
You've decided on Cabo as the destination for your wedding, now how do you select a venue? Fortunately Cabo has many locations to please your taste and your budget. I wanted to share with you some of my favorite venues where you may say I DO!! Hope you enjoy these suggestions.
1. Cabo Del Sol: "All in One"
Cabo del Sol is an amazing location, and in my opinion it may be the only place where you get the true sense of Cabo. It combines the ocean, dessert and the uniqueness of a view at a golf course, which Cabo is well known for. From the moment you step into the Ocean Meadows, which is the most popular beach-front spot for a wedding ceremony at this venue, to the moment you see the beautiful cactus, and finally the moment you enter the Club House surrounded by the golf courses and the amazing architecture of real Hacienda, you feel the exclusivity of Los Cabos.
Cabo del Sol boasts a 40,000 sq. ft. Clubhouse which has received International recognition as one of the finest contemporary clubhouses in the world . Its organic structure fuses perfectly the colonial and traditional architecture with the modern world requirements. This clubhouse offers indoor and outdoor dining, with views to the ocean but mainly to the golf courses through their spacious verandas and flowered terraces.
2. Esperanza Resort Los Cabos Mexico: Breathtaking With Amazing Energy
Esperanza is a unique location that you are going to love because of the beauty of its surroundings and also because of the incredible and outstanding service that makes you feel at home. Their staff will always have beautiful smiles and will greet you with warmth, which will make you never want to go home. Imagine the waves crashing on the amazing rocks formed by the 2 coves while you say "I do" or perhaps as you dance to the romantic melody of your first song. Esperanza is a magical place not only for the beauty of the resort itself but for the beauty of its people.
Esperanza Resort is an ocean-front hotel with 57 casita style rooms and suites, 60 privately owned villas and 36 private residences. It is located on the Baja California Sur Peninsula at the bluffs of Punta Ballena which overlook 2 private coves showcasing the magnificence of the Sea of Cortez.
The interiors of this amazing resort feature designs of regional and original seaside art as well as handcrafted furniture displayed on private terraces with infinity edge hot bath tubs and spacious bathrooms. Their in-room amenities include flat-screen televisions, complimentary high-speed wireless internet access, iPod docking stations, all-natural rubber HarmonyTM yoga mats and signature in-room bath amenities made with natural essential oils, organic vegetable oils and pure fruit ingredients.
3. Hacidena Cocina: High End Mexican Architecture & Cuisine
This is the only restaurant located in on Medano Beach in the heart of Cabo that is able to offer a private ceremony on the beach without the interruption of local vendors or water sports. You are able to feel the exclusivity of Cabo not only by the location and grounds but also by the outstanding food quality and service they offer.
There is a signature restaurant that offers the combination of traditional Mexican Hacienda style architecture and casual or elegant beach-front dining. It offers open air, indoor, a terrace or a palapa area for dining with a menu that displays the different states of Mexico. It provides authentic hand-crafted dishes which are made with only the highest quality local ingredients.
4. Sunset Da Mona Lisa: Greatest View to Lands End & Cabo Bay
This venue is an incredible location where you are able to enjoy the beauty of a sunset in Cabo San Lucas like no other. You will be blown away by the views you get to the Cabo San Lucas Bay at Medano Beach and Lands End while the stunning sunset colors unfold across the horizon. Once this theatrical image fades away as the sun goes down you will be able to admire the beauty of Cabo San Lucas' lights at night while they reflect on the Ocean. It is a memorable experience you will not want to miss and will be complemented by the delightful food services at this resort.
Sunset Da Mona Lisa is located at the tip of the bay Cabo San Lucas and considered an icon as it offers breathtaking views to the Sea of Cortez and the Arch, as well as the best location to enjoy the astonishing and most beautiful sunsets on the whole Peninsula. You will be able to dine on their cliff terraces while enjoying the sunset and savoring their seafood & Italian Restaurant menus with fresh seafood and homemade pasta, Italian style by their Chef, Salvatore Messina.
5. Sheraton Hacidenda del Mar: 100% Mexican Hacienda Style
This hotel screams Mexico in every aspect of it! I always say that Sheraton gives the "Welcome to Mexico" feel to anyone and everyone that decides to stay there. The architecture, colors of their walls, tiles and overall decoration makes this hotel a typical Mexican Hacienda style hotel and amazing for pictures. Even though the hotel has numerous rooms, it never feels that you are in a big hotel due to the layout and breakdown of their buildings and gardens with fountains connecting them. You truly feel in a different place every time you reach a new fountain, bridge or garden. Their staff always has a BIG smile and a willingness to help.
Sheraton Hacienda del Mar is a beautiful and unique Mexican Colonial Hacienda style beachfront resort. It is located within the Cabo del Sol Golf complex by the Ocean Course. This privilidged location allows for an extensive private beach with quiet private gardens and beautiful landscaping. It has 270 spacious guest rooms including 31 suites featuring a Sheraton Sweet Sleeper Bed, 4 swimming pools, jacuzzis and swim-up bars.
Yarai Peregrino has been a Wedding Coordinator in Cabo for 7 years. Her contact info is below.
Yarai Peregrino
Memories Weddings & Events
Founder/Event Planner Specialist
Cell +52(624) 157 0389
Online Number (415) 800 4681
Office: +52 (624) 105 0321
www.memoriesweddingsandevents.com
---