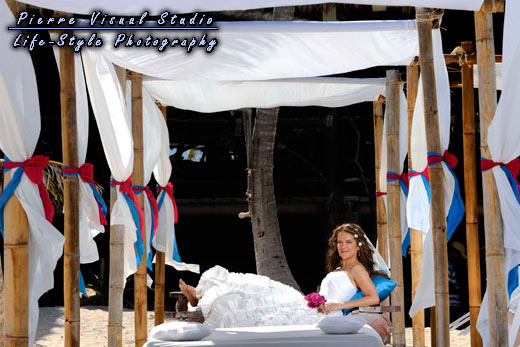 Created for you by Pierre Visual Studio.
Destination Wedding and Trash the Dress Photography
Finding your perfect wedding palette
 
"The whole world, as we experience it visually, comes to us through the mystic realm of color. Our entire being is nourished by it."

Hans Hofmann
German-born American Abstract Expressionist Painter, 1880-1966

 

 

A wedding's color palette or color theme sets the mood for your special day.   Whether with bold bright colors or softer whites and pastels, the color palette should reflect your personality and the message you want to send on your wedding day.   If you are doing a beach wedding, don't limit yourself to blues and yellows.  With such a beautiful natural setting, the rainbow is wide open for you to customize your own rich color palette.
 
 
 

Color basics:

 

The rules have changed over the years.  You are no longer limited to choosing 1 or 2 colors.  Why not use a color theme such as "Snowy Winter" or choose a flower for inspiration like a bird-of-paradise?  Most color combinations that really work will fall into the following four categories:

Monochromatic: various shades of the same color. Example: shades of blue for an ocean inspired theme.
Related Tones: colors that fall next to each other on the color wheel. Example: reds, oranges, and yellows for a warm "Fall" themed wedding.
Complimentary Tones: colors that are across from each other on the color wheel. Example: orange and green can form a happy summer theme.
Highlight: using mostly soft neutrals with one strong accent color for a bolder statement.

 

 

 
 
 
 
 

 
 
 
 
 
 
 
 

Where to use color:

 

Attire: traditionally, bridesmaids' dresses were the primary source of color. However, many brides are opting out of a pure white gown and adding splashes of color to their own dress.  More and more designers now offer non-white options for a brighter, bolder statement. 
Invitations: set your mood early by incorporating your color theme in your save-the-date and wedding invitations.
Flowers, Décor, and Wedding Cake: use neutrals to help accentuate your color palette and avoid over-saturation.
Favors: leave a lasting impression with meaningful favors that incorporate the colors and mood of your wedding.

 

 
 

 
 
 
 
 
 

Considerations:

Always take into consideration the existing colors at your wedding location.  You can always play with the tones of your chosen colors to better compliment the surroundings.
Color shades can also set a tone for the wedding. Light and bright for a laid back feel, deep and rich for a more formal event.
Avoid too much black.  It is a festive time and over use of black will not do it justice and could over-power the other colors in your palette.   
And finally, keep it unified. Avoid overelaborate palettes where it may be too difficult to coordinate.

 

 
 

 
 
 
 
 

 

Get Help:

Samples: fabric stores and paint stores are great ways to find color samples that will help you put the palette together.  Some paint manufacturers offer paint chips already arranged in gorgeous combinations.
Interior design magazines often offer great ideas for home decoration and color selection.  Those same styles and tones can easily translate to a beautiful wedding theme.
Websites such as www.colorschemedesigner.com may not be wedding-specific but their color tools are perfect for playing around with color options, tones, and combinations.
Get inspired! A walk to your local park, an art gallery, a botanical garden can all be great sources of color inspiration and you may even find yourself looking at color combinations you never imagined would touch you that deeply.

 

 
 

 
 
 
 
 

 

 

 

Finally:

Whichever your color palette, choose colors that speak to you and your partner.   The more personalized the palette or theme, the richer the memories will be both for your guests and for yourself!

 

 
Created for you by Pierre Visual Studio.
Destination Wedding and Trash the Dress Photography
---