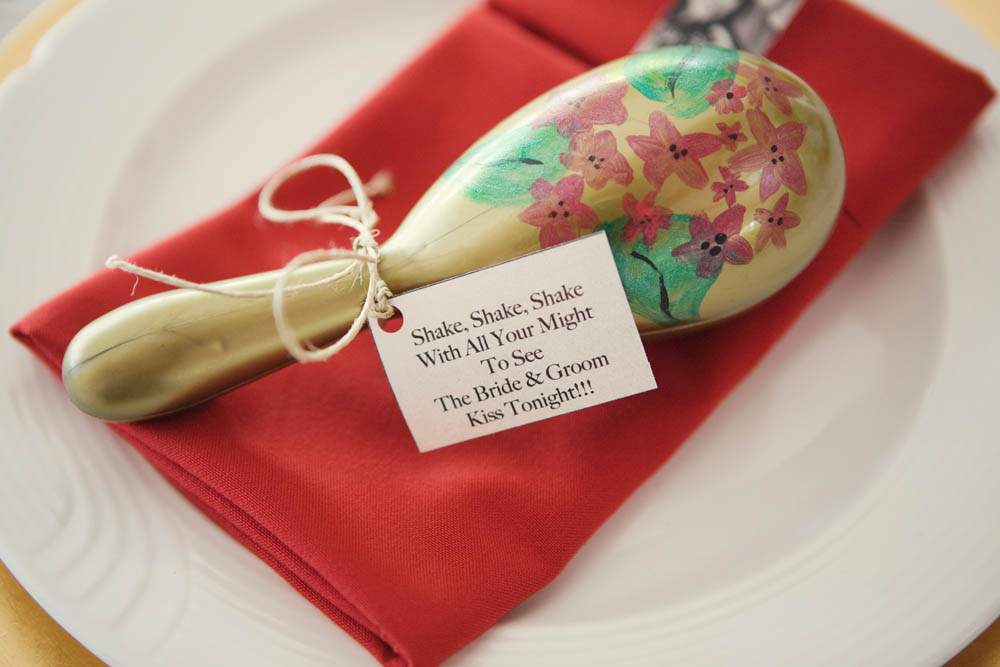 When you're planning a destination wedding, picking the right kind of wedding favor to give your guests can sometimes be challenging. Here are a few simple but important tips to keep in mind when you're trying to decide the perfect way to let your guests know you appreciate their presence with a present.
1. Pick a favor that is somehow tied to the area where you're getting married. Give your wedding an extra special touch by choosing favors that are local. For instance, if you're getting married Mexico consider giving beautiful maracas from one of the local shops. Or maybe a bottle of hot sauce or tequila to give a nod to the local flavors. Perhaps you're tying the knot in a beach town, how about seashells or starfish purchased from a local vendor? What makes your wedding unlike any other is the location you've chosen, celebrate that uniqueness and think "local."
2. If at all possible, purchase your favors at your destination location. With most airlines charging the extra fees for baggage, buying your favors once you get to your location (or having your wedding planner do so in advance), can save you a ton because you don't have to worry about shipping or traveling with your little trinkets. You also don't have to worry about any hassle when you enter customs if you're coming in from another country. And of course, the locals will love you because you're also helping boost the area's economy, which is always a welcomed gesture!
3. Pick a favor that offers a dual purpose. While I have loved the little picture frames and inscribed gifts I've received as a guest at past weddings, the best favors were always those I could use almost immediately. If your wedding is going to take place in a sunny and warm area, think about gifting a handfan that could also serve as the holder of your ceremony program (extra points for being a super multipurpose example!!). Or perhaps give away flip flops if your ceremony is taking place on the beach so your guests can get comfy -- these will also come in handy for achy feet, during the dancing at your reception! A parasol is another great idea if your celebration is taking place in the hot sun, and I can guarantee your guests will LOVE you for it! Another great gift especially for your female guests is a shoulder wrap to keep them warm if you expect the festivities to carry on deep into the night.
4. Consider an edible favor. I think the one thing every bride and groom hates to see is a favor that is forgotten or goes unused because that's just money down the drain. But if you're gifting something edible, there's a good chance, something that's tasty, won't go to waste. Perhaps your destination is known for its yummy candies or a delicious cookie. For my wedding, the local bakery was well-known for its cakes. So instead of a big giant wedding cake, we had cupcakes made in different flavors along with little to-go boxes and our guests LOVED them! And of course, we didn't mind that there were leftovers because we got to enjoy cupcakes for the rest of our two week stay. (I think my personal trainer back home was the only one who thought this favor was a bad idea hahahahaha
).
5. Last but not least, be practical and don't break the bank. Don't go crazy on wedding favors and stay within your budget. I know as destination brides, we sometimes experience a little guilt that our guests have spent so much time and money traveling to our weddings that we often try to make up for it by giving them the sun, the moon and the stars to say thank you. But remember, if they didn't want to be there, they wouldn't be. Show your gratitude by spending time with your guests, making great memories together and letting them know how much you appreciate them being there. The best gift you can ever give is time.
- - -
About me: I am a former BDW Bride AKA as MarieSam and was addicted to this forum as I planned my own wedding in 2009. Since 2010, I have been the proud owner of MarieSam Sanchez Photography -- a husband and wife photography team based in Southern California and documenting love all over the world.
---