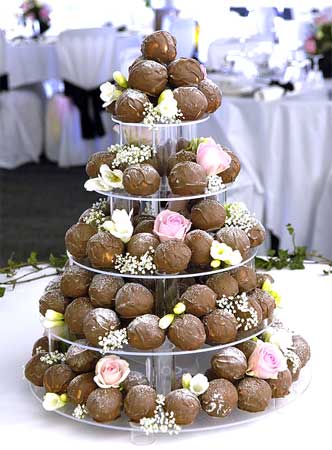 As you're planning the wedding reception menu, know that it's not just about
wedding cake anymore. In fact, the latest trend is to cap off your nuptial meal
with totally scrumptious confections that are all about who you are as a couple,
while giving your guests a sweet reward.[/size]
Come Up With Dessert Possibilities Here's the fun part of adding a dessert to your menu: research is required! Seek out your favorite delectable delights and sample the goods (so many treats, so little time). To put you on the express path to indulgence, here are a few key questions to ask yourselves: Where do you go out to eat? Maybe there's a special dessert on the menu at your local haunt that you always order-and always find yourselves fighting over that last bite. Is there a regional specialty that signifies where you live now or where you grew up? What are your favorite candies or childhood indulgences? What's your comfort food when you need something rich to soothe your soul (and belly) -- is it a hot fudge sundae? Milk and cookies? Any seemingly simple treat can be transformed into a witty (not to mention delicious) wedding dessert. Is it important to incorporate something from your ethnic background?
Skip Wedding Cake Altogether If you're not a wedding cake kind of couple, don't feel obligated to have a four-tiered, fondant-covered masterpiece. Some brides and grooms are opting out of serving a traditional wedding cake. Cupcakes on stacked tiers with the top tier as a small cake is a stylish alternative. miniature wedding. Other options: Serve individual cakes in the shape of, say, an open Tiffany-style box filled with cream and berries. Have a dramatic chocolate fountain, actually shaped like a three-tiered wedding cake. The word on the street, however, is that the fountains can get messy if not manned properly, but no one ever said indulgence was a tidy business. Can't live without a grand wedding cake? Wedding cakes are gorgeous, but who says you can't pair yours with treats? If you choose a cake with light and fruity fillings, try richer desserts (chocolate, anyone?). Decide How You'll Serve Dessert
Dessert is king, so why not serve it regally? Dessert stations -- basically a buffet setup that guests visit -- are where it's at right now. Even if you're doing a seated meal, a dessert station gives guests a chance to circulate a bit. The candy bar, many caterers include the sweets the couple loved from their childhood-like malted milk balls, jelly beans, and caramel popcorn. Empty bags are available for guests to take home their favorites. More trends:
Truffle stations -- where an assortment of individual chocolates is offered -- will dazzle chocoholics. Have chocolate cordial cups filled with a delicious liqueur alongside truffles. Mini desserts passed on trays like hors d'oeuvres at the end of the meal will make a statement. Or have fancy flourishes added to the table: It's a nice finishing touch that can be as simple as pouring a special sauce or whipped cream on ice cream or as over-the-top as serving a flaming dessert. Love ice cream bars? Have a cart -- like the ones sidewalk vendors use -- positioned in a corner of the dining room so that guests can dig right in after dinner. That way, you can have your cake, or ice cream, or pie...and eat it too. TIP: Be specific with your caterer or baker about what you want. Bring a picture from a food magazine or track down the recipe. And don't worry about pleasing every single guest -- no matter what you serve, you'll score points for originality. Are you going for a Wedding Cake or Dessert Table? Please let us know and share! A few more ideas by del Sol Photography
Dream Weddings Riviera Maya
http://www.dreamweddingsrivieramaya.com
weddingsinplayadelcarmen@gmail.com
+52 984 145 9035
---