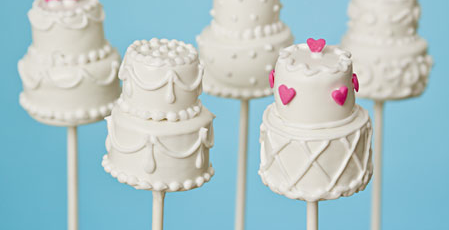 Cake Pop's Rock In Mexico!
I was recently introduced to the incredibly tasty world of Cake Pops while doing some research for an upcoming wedding here in Playa Del Carmen, Mexico! These delectable and trendy little treats are replacing large-scale wedding cakes in beachfront receptions all over Mexico! What a great and exciting new way to "Wow" your guests and save on your wedding budget!
Have them as the lower tiers of your wedding cake, or replace your cake all
together with these bite sized delectable treats.  They come in any size, shape, color or flavor you desire and are also great as a "Take Home" treat for your guests to enjoy when they return to their rooms!
Fresa´s Weddings is happy to welcome Elisa Taboada of Pocket Cupcakes in Playa Del Carmento our team of wedding professionals! She is the first and only Cake-Pop artist in the area! She is standing by to bring you and your wedding guests the
"Something Sweet" you have been looking for!
We just can't get enough of these sinfully delectable little bundles of flavor! If you have yet to try one, do yourself the flavor-favor! Your taste buds will thank you!
Happy Planning´Fresa´s!!!

 
 

 

Have questions? We have answers! Don´t hesitate to ask us about all things ¨Wedding¨ in Mexico. 

 
Phone Canada :

 

519-859-8619 Phone Mexico :

 

984-111-5148 Skype :

 

kristee.smith1 kristee@fresaweddings.com
---