I was feeling so super creative today after perusing the invite thread I stumbled upon when searching for info on pocketfold invites. We're broke right now after Christmas and our Chicago road trip, so I just had to play around with my supplies that I already had on-hand. What resulted is something in totally incorrect colors, not a good watermark pic, bad font, horrible font size, and alignment that is so out of whack it's not even funny.... BUT-here goes!
My totally lame attempt at making a trial invite: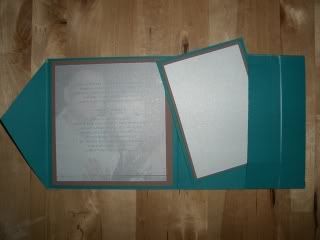 The colors will actually be closer to an aruba shade of turquoise with a brown sugar color of brown, and the actual invite card with possible watermark and wording will be printed on an ivory shade of the shimmery cardstock.
I am totally in love with Christa's invites and will probably go with the "real", premade pocketfolds, but I was just feeling antsy and creative and thought I'd give all you "idea whores" some fodder
JUST KIDDING!
OK, let the insults roll! HA!