So I originally thought I wanted Matt and his GM's to wear a white shirt and tan pants. Then, I think it was AnnR, said how most all of the men guests wore that to the wedding, so almost all the men were wearing the same thing. I gathered a bunch of pics to see what Matt liked and he picked out this one:
I like it, but I was hoping for something a little brighter/deeper blue to match with our colors - blue, orange and fuschia. The girls are wearing the dress below and I thought having the blue with it would look complimentary without being matchy-matchy.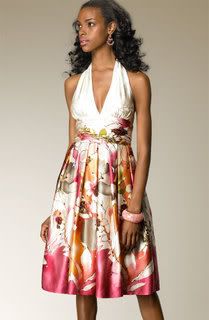 Anyone see any nice blue shirts? I am having a hard time finding any that I like enough to be THE wedding shirt!