Hello Gang!
I just wanted to let everyone know that I just got back on Monday from Couples Swept Away, Negril, Jamaica! Hopefully I'll get time to write a full report but I'll touch on the basics here in case anyone is interested!
It was breathtaking- the grounds were incredibly lush, you felt like you were in a rainforest almost. When we first arrived everything was so green but I noticed as the week went on we saw more plants flowering so it was always nice to keep an eye out for blooming flowers as we walked to the beach each morning!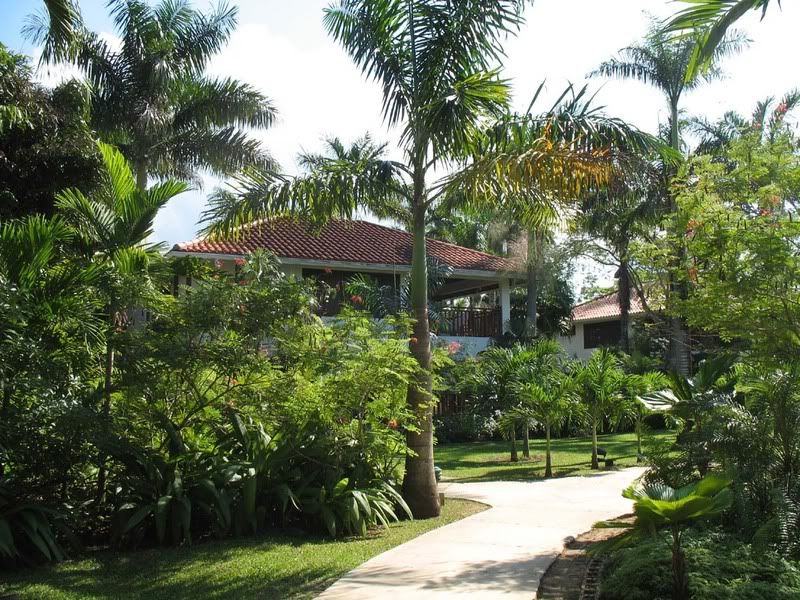 Couples Swept Away is located on one of the nicest stretches of 7 mile beach! Very long and very deep. I loved that the cushions they provide for the chairs doubled as a float in the water. Speaking of the water it was crystal clear and warm ( I have a strong aversion to chilly water
- so I was thrilled that the ocean was warm!). Lots of room to spread out on the beach and planty of beach chairs no matter what time of day you headed down. The flag service was awesome- I didn't even get a chance to get my flag into the sand before a beach waiter came over to bring me a drink! There were lots of palms to keep you shaded if you wanted plus a large stretch to stay in the sun also. The sand was white and soft and amazingly clean- they rake the entire beach each morning to keep it pristine!
Another thing I loved was in the mornings they bring around melon kabobs to snack on ( I'm not a big breakfast person but I love fruit!) and towards the afternoon they brought around rum snow cones!! I had to try one and it was really good- I'm not a big rum drinker but these were good and refreshing!
Our room was located in the new section of the resort- garden verandah suite. I had heard that these rooms hear quite a bit of road traffic and that is correct. I'd recommend doing an atrium room- these are middle of the property and closer to the beach. The rooms while not luxurious (as in marble bathrooms ect) were still very nice! The balcony was the largest I've seen at any resort thus far and a great place to have a continental breakfast or enjoy a few drinks at night before dinner. While not completely private they still felt romantic!
Ta Jennifer