i went in to pier one today and found flip fans like these: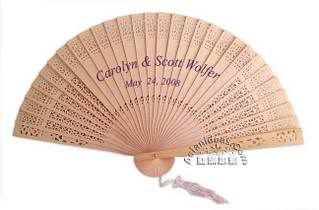 except they obviously don't have any names on them. they do have tassels hanging, in all different colors, but the best part is: THEY WERE $1!!!!
so i bought 20. i took the tassel off and replaced w/ a thin orange ribbon. we'll put some kind of tag on it later.
they are in the kids section of pier one. they also had cute table number holders/place cards - a clear block on the bottom (looked like an ice cube) w/ the wire photo holder-thingy on top - both hearts and stars. a box of 3 for $5...also cute for favors...