Since we are now getting married here we thought we should still send out invites now to our out of town guests so they can book travel and hotel. These will be going out Monday. Just thought I would share with you.
They are folders and here is the front
Heidi fixed the colors on the logo so they look MUCH better ( Thanks!!)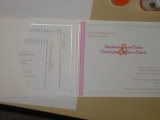 this picture is small but you can kind of see what we have done. The invite is taped to the inside of the folder and the rest of the information is tucked inside.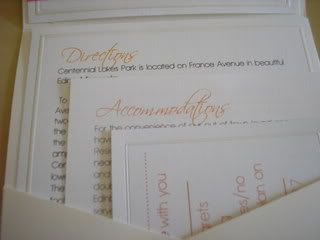 This is information on where to book, how to get to the site and our RSVP card.
Here is the invite.
I blurred out the time because just about any wacko can come to the site at that time and crash our party. Only BDW girls can crash my party!!