Ok ladies, I promised I would get all of this posted before I leave. I have done such a good job pre-packing, using the packing guidelines on this forum, etc that I'm ahead of schedule! HOORAY! So here goes, here's all of our wedding stuff that I have at the moment. Obviously, I'll share all of the pictures I can when we get back!
Wedding Location: Fiesta Americana Grand Los Cabos
Events:
Before guests arrive, Family Dinner: Edith's
First group event: Tequila Tasting & Taco Bar at the Imperial Suite
Rehearsal Dinner: Mi Casa downtown CSL
Ceremony, Cocktails, Reception & Dancing
Engagement ring (I'm obsessed with it!)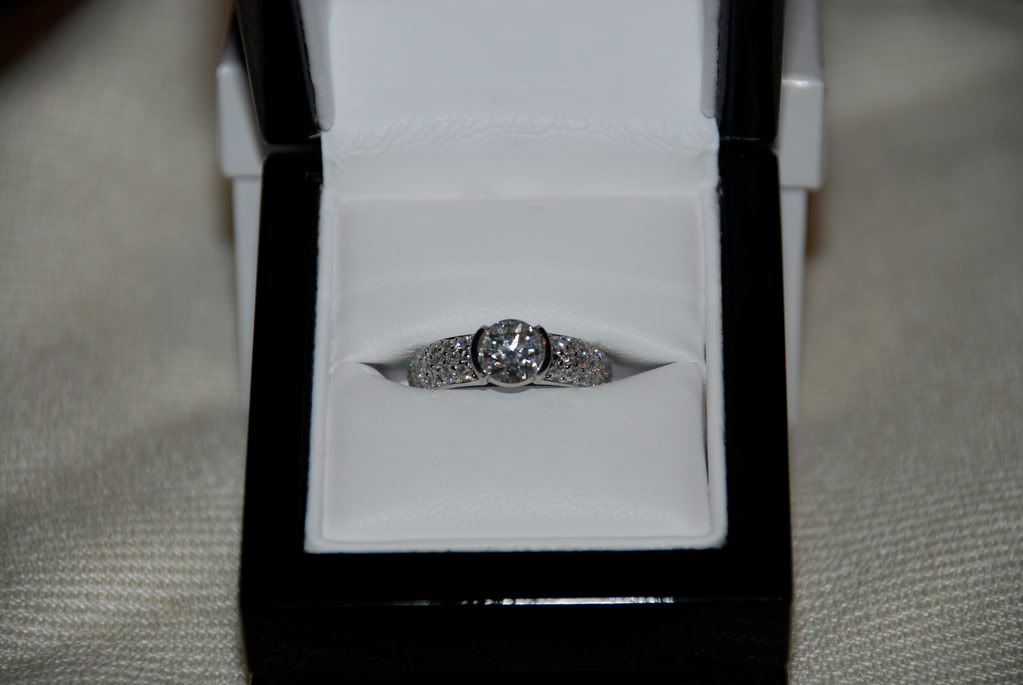 Save the Dates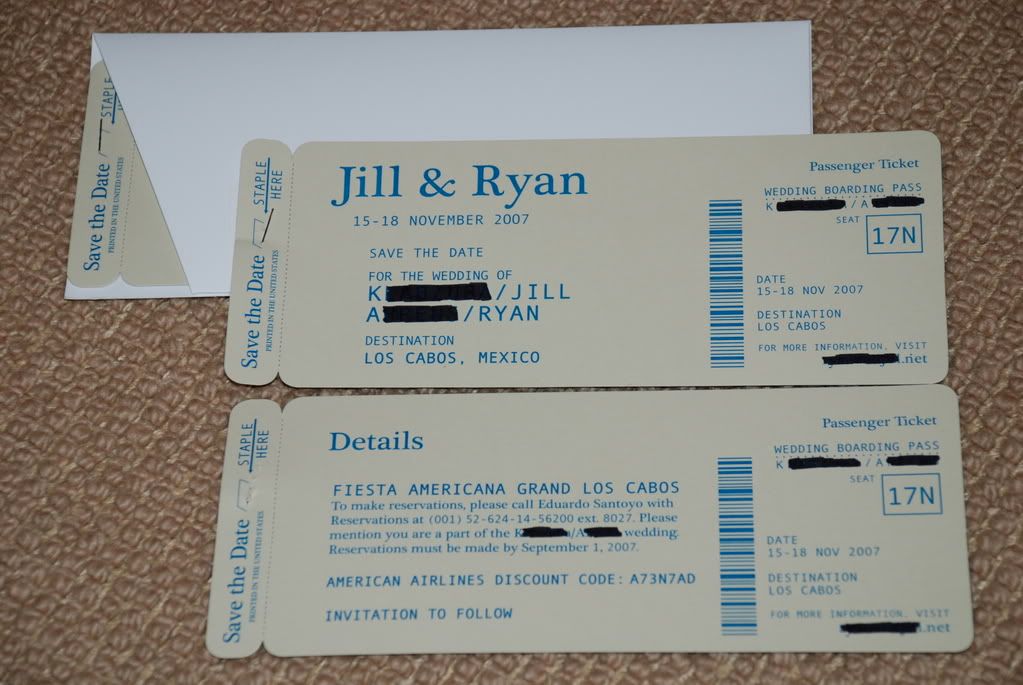 Wedding Invitations
Fun Packet we sent out to everyone attending, with a travel booklet, custom luggage tag (my dad took the picture over Christmas last year in Cabo), and our perfect Margarita recipe.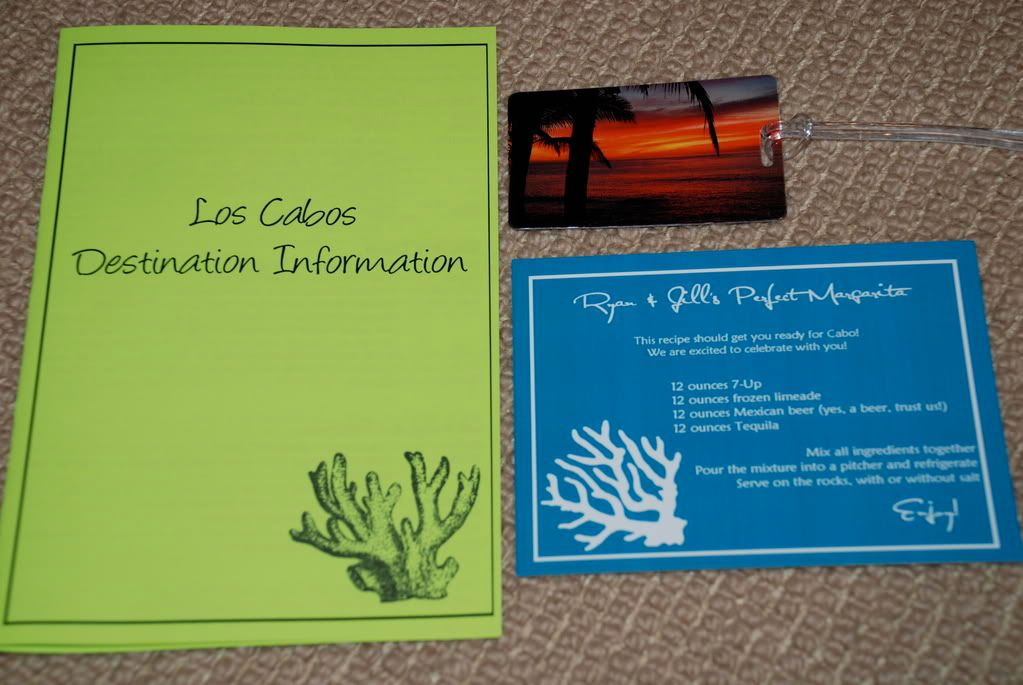 Coolers for the OOT bags (love them!)
Goodies for the OOT bags: pash, mints, Purell, Crystal Light, First Aid Kit, Chaser packet (ha!), aloe, koozies, Herban Essentials hand wipes, Miss Manicure emery boards, Pepto, Advil, Immodium, sudoku books from OTC. We'll also add bottled water, some snacks, mini tequila and margaritas once we get to Cabo.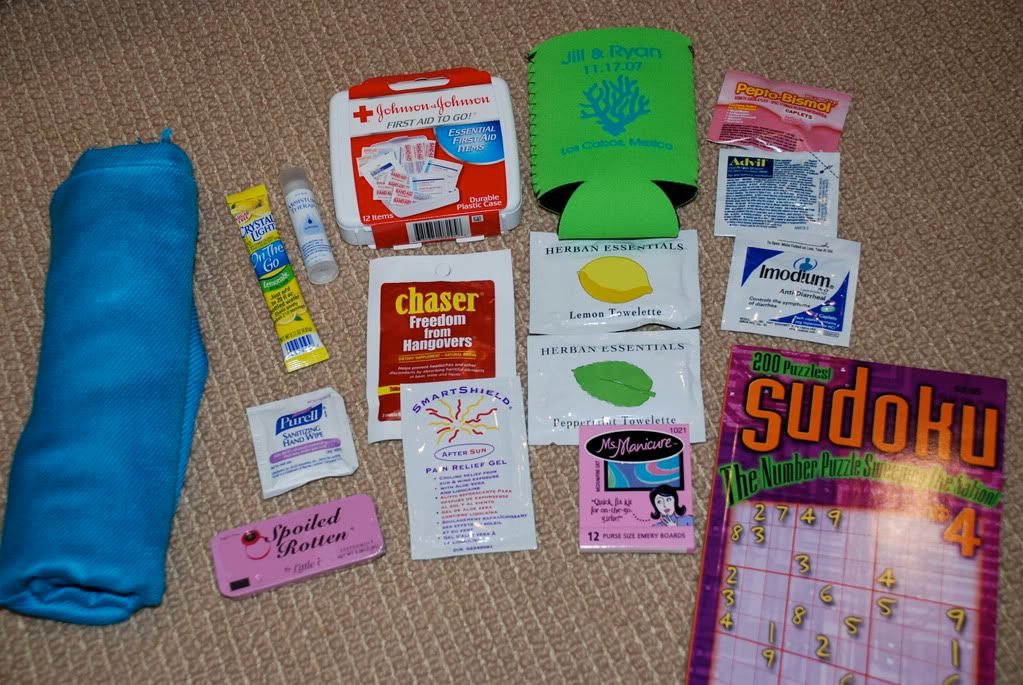 Custom Maps by Couture Maps. I totally love the way they came out. The map is pink the other side is lime green. They're more keepsake maps rather than for directions, but I still think they're adorable!
Special bags for our close friends (we're not having a wedding party, but are still treating them as if we were): will be stuffed with good tequila for the guys, gossip magazines, shot glass, maybe a cigar, and a note from FI & I. Big bag for the girls, smaller bag for the guys.
Our stationary from iomoi.com which I love, for thank-yous. We mixed four patterns so it wasn't all the same, and didn't include last names so I could use for gifts we have already received.