noo, so I had made a suuper long entry and it got deleted
. I'll do my best to replicate it.
Ok so now the fun begins!
The wedding band
this was literally the first thing I bought. I spent more than I had hoped on it, but then I thought that if I was going to spend my money on something, this should be it. I'll be wearing it for the rest of my life! The band is a matching set with my e-ring, which actually took a lot of work to match. Long story short, it didn't fit well wit my e-ring so I had to send it back a couple of times until it finally got fixed. It was frustrating to say the least but now I can't wait to wear it
The Flowers
If there is one topic that gets me roiled up, is the price of the natural flowers at the Karisma properties. HOLY COW! that's all I have to say haha. To give you an idea, they cost more than what I would pay here in Canada, and they don't allow outside florists. So, I'm boycotting the whole thing and using fake flowers, except for my bouquet. This is what it looks like:
and these will be the bridesmaid ones:
The Ceremony
So as I said before, I needed that terrace for our wedding! which we managed to get, for a surcharge of $1700
. We decided to pay it because it just went with what we had envisioned. We don't get much for the $1700, it's still basic decor, so just white garden chairs and you get some perks, but nothing like their $3000 packages, which is fine. I found this picture of the terrace at Azul Beach. I like the one at Azul Fives better but just so you can get an idea
We are not doing much in terms of decor, just renting two white sheers for the gazebo and placing some pomanders along the asile in alternating chairs that I got from Michael's. This is what they look like, please forgive the fact that they're hanging off my cabinets haha, I wanted to see how they looked against white:
That's pretty much it for decor for the ceremony, we might add a small (fake) flower arrangement on the table but I'm letting nature take care of the rest
.
The Reception
Because I love that terrace so much, we're also having our reception here. We also upgraded this and we're paying a surcharge per person added on to the price of the menu.
We decided on a buffet style menu a long time ago, even before we knew when or where we would get married. We just wanted our guests to eat as much as they pleased
. We chose a BBQ style menu which has so many options that I think anyone would be able to find something they like.
In terms of decor, I bit the bullet here, we're paying for one of the packages for the tables. These are not cheap, but I basically only have to bring my centerpieces. I posted a picture before and here is another one of how the place setting looks:
Then these are the centerpieces I put together: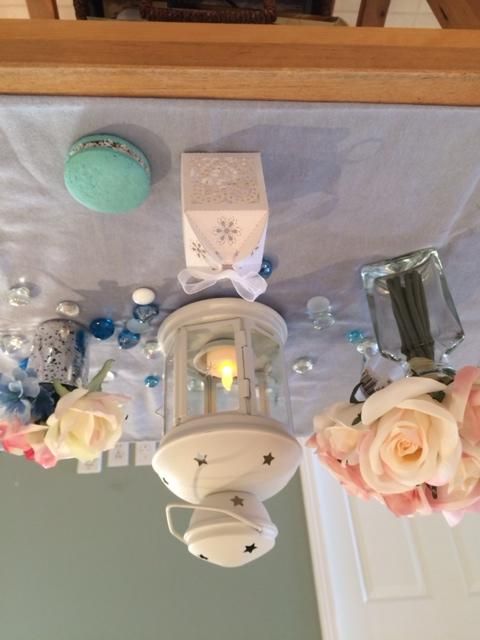 The bridesmaid bouquets will double as centerpieces so there is less stuff to bring. The little blue round thing is actually a filled cookie called an alfajor. They're traditional in Argentina, where I'm from, and my mom has a business here where she makes them. Those will be our favors and they'll go in the little box. They can be stored quite well for a few weeks so they'll taste great even when bringing them from home
Most of this stuff I got at Michael's, except for the lanterns (Ikea) and the favor boxes, which I got a long time ago from Ebay. They were one of the first things I bought and I paid somewhere around $36 for 100 of them.
Then this is what our sweetheart table will look like. You really have to use your imagination for this one! haha it makes me laugh every time. The middle bouquet will actually be my bouquet.
Now I realize I should have started this thread a long time ago. I just noticed I have a lot of things planned so I have to write these novel-sized entries to catch up and show you guys everything so far haha. Most of this stuff I've posted randomly in different threads but it's nice to have it all in one place.
That's it for tonight. I think I managed to put everything I had written in my previous entry that got deleted.
Next up, my personal favorite, the attire
Edited by TinkerSofi, 10 February 2015 - 11:05 PM.