I wanted to do a planning thread, as I know it'll help me keep on timeline and organized! I'll be adding a little bit at a time, so will probably be post (and hopefully picture!) heavy.
Some background on us and how we got here to BDW!
Our Story
We met during college, on the swim team. I'm older than he is, and we didn't really hang out in the same circles. After graduation, I went back to the team as an assistant coach, where we "re-met". We started dating, and moved in together in 2010. We found out about a surprise pregnancy in early 2011, which resulted in our gorgeous daughter. A son followed in late 2013, and we decided it was time to make it official!
The Ring!
We had gone ring shopping last summer 2013, and I had fallen in love with a ring from Rogers & Holland (http://www.rogersand...rge/6370819.jpg).
I knew I wanted a circle stone, with "wavy" accents, and most of what I tried on that I liked were similar. His uncle is a jeweler, and was able to create a similar ring with better quality stones AND match them exactly to a wedding band for the same cost. He proposed on 12/14/13, after our son was born and NOT on my birthday/christmas (which he thinks is cliche). He asked me if I was ready to go on the "next big adventure" on the morning he left for our new home to start his new job. I at first thought he meant the move, until he pulled out the ring!
Here it is! Hopefully it shows up
My fingers are swollen from pregnancy, my son was still a newborn at the time. It's actually a little loose now!
Why a destination wedding?
We are HUGE beach/snorkeling/diving buffs, and I knew the only way to get him to agree to a wedding at all was to do a Destination Wedding! Plus, our family and friends are scattered all over the USA, including us as we relocated early 2014 for his new job.
We chose Cancun because of the beautiful beaches and water, and it is close to Cozumel (our first out of USA trip for both of us!). It is also an easy place to fly into from most of our guests, so that helped as well.
Why 3.14.15?
I've always wanted a unique wedding date, and my FI is an Engineer, so this date seemed to be perfect. 3.14.15 is the most "Pi" day you can get
Why Crown Paradise Club Cancun?
We have never actually been to the resort, nor are we planning to prior to our wedding. We chose the resort after a ton of research online. I found probably every wedding video posted as well as people's pictures they've posted publicly (those that said they were here at least) and read through hundreds of reviews on sites such as TripAdvisor and CheapCaribbean.
Kid-Friendly:
We have two small children (they will be around 18 months and almost 4 at our wedding), so we wanted a resort that offered a child-friendly experience for both kids. Most resorts are 4+. They also have beepers, which is handy if something were to happen. It also has an Adults only section, for our older guests who don't want to have to deal with kids.
Price for Guests:
We were also looking for an economical option, as we know it's going to be pricey for people to fly in/stay. Our goal was under $1500/week with flights per person, which Crown Paradise seems to be a fit so far!
Free Wedding Coordinator:
I've also loved my interactions so far with Evelyn, the onsite wedding coordinator. She's very fast, answers all of my questions, and has been great to work with so far!
Wedding Packages:
The packages here are reasonable even if you don't meet room nights, and they seem to want to bend over backwards as much as possible to help you make your day great. Obviously I'm still 8+ months from our date, but it's been a good experience so far!
Wedding Party
FI wanted a small wedding (he thought just our family & our parents...eek), so we compromised on our wedding party size (and guest list). We will each have 3 people standing with us; mine is my sister (matron of honor), his sister (thinking maybe maid of honor since my sister is married?) and my bff (bridesmaid). He has my brother and still has to pick his other two groomsman (haha). We have invited around 35-40 guests, primarily family and some of our best friends, so we anticipate 25 to come (based on initial interest).
Colors
Initially, our colors were going to be Royal Blue and Silver. However, with 3 bridesmaids and wanting to do an ombre effect, we actually switch to Sangria/Royal Blue/Teal as our colors, with silver accents. This was inspired by blue orchids, which contain shades of blues/teals/purpleish hues. I will have real-touch ones for some of our flowers, but the real ones are VERY expensive/can't import them/probably not even actually available.
Here is my inspiration:
My DRESS!!
My FSIL was down visiting over her teacher's spring break in March, and we met up with my sister and mother at a bridal shop over 3 hours from our houses so we could all do it together. It was a year out, and my first time dress shopping, so I had zero plans to actually buy. We live in the middle of nowhere now, closest bridal shop is 1.5 hours away, so I just wanted to get an idea and maybe do some more online shopping.
This was the first dress I tried on,and fell in love. It was in my price range, and fit like a glove. So I was able to get it at 10% off as the sample, and it's perfect! I wanted something fun and sexy for my wedding, since it's at the beach, and it fits that perfectly. I tried on a 2nd dress that was double lace layered and simply classically beautiful, but fit more for a church or garden wedding. I'm so thrilled to have found it! Now to find a belt that's not $200-400 that I like as much as the original belt I tried on (Allure S33 - please let me know if you know anyone selling it for $100 or less!!)

20140609_131919.jpg 101.3KB 21 downloads
FI Attire for Wedding
We haven't gotten his outfit yet, but this is the inspiration for what we are looking for: khaki vest, white 3/4 or long sleeve shirt, khaki pants. Bow ties for the guys, white/groom and then matching ombre colors for the bridesmaids for the groomsmen. Starfish boutonnieres instead of flowers.
The "REAL" Planning starts now!
Now I'm focusing on the details of the wedding - I've learned so much via BDW and Pinterest, and am starting to DIY/plan like crazy!
DIY Projects
Here is the initial list of projects I'd *like* to do for our wedding. Some of it will happen, some won't! I work full time and have 2 small kids, with no family within a 5 hour drive, so I'm going to prioritize/get the stuff I really want done and hope the rest works out!
Boarding Pass Invitations - I really wanted to do passports, but they were so intensive/expensive! I have the initial design completed, and will be working on those in June! I got starfish and seahorse charms I'll be using, and will incorporate the extras in other parts of my wedding.
Inspiration (one of many from BDW!):
OOT Bags - I have most of what I need for these (including the bags and contents). We will probably do local snacks versus bringing them, to save suitcase room. I still need to customize the bags and create the welcome letter/schedules (will do the schedules closer to the date as things change!). I did buy customized stadium cups (color changing with cold liquid!) for our favors. I still need to make Chapstick labels.
Inspiration:

Place Cards - I bought the luggage tags and will customize with the guest name. A project to do later on in 2014/early 2015, as we know who is coming.
Inspiration:
Starfish Boutonnieres - Love this idea! Bought ribbon and chocolate chip starfish (the white ones) off Ebay and will be making these for all the guys! The groomsmen ones will match the color of the bridesmaid dress.
Inspiration:
Realtouch Bridesmaid Bouquets - I will be making them using Calla Lilies I bought off ebay - they are very lifelike!
Inspiration:
Realtouch Bridal Bouquet - I will be making my own bouquet, due to wanting orchids (blue ones specifically, but any orchids are PRICEY in Mexico. Was quoted $50 per FLOWER by the resort!). I'm also making a rose throw away bouquet. My profile picture is an example of what kind I want, plus white orchids
Inspiration:
Wedge Flip Flops for Reception - I'll buy a pair of white wedge flip flops, and customize them with the ribbon & charms I've bought so far!
Flower Girl Tutu: I have tulle in the colors I like, and will be making our daughter her dress. I want to have blue tulle on the bottom, and silk flowers on the top. We'll see how this actually turns out!
Inspiration
Ring Bearer Sign: This will probably end up being a flower girl/ring bearer sign, as my son will be only about 1.5, but I think it'd be great for them to carry down the aisle together!
Inspiration:
Mr Right/Mrs Always Right Chair Signs - I'll probably make these at the same time as the Ring Bearer sign, with similar materials. He made a joke about this the other day, without even knowing I was thinking about this being in our wedding!
Sand Ceremony Frame - My FI is an engineer, and handy with tools, so we're going to try to make one of these. I can't justify spending 80-100 on it with shipping...
Inspiration:
Ipod Song List - Rather than have a DJ, we're going to save a little money and do an Ipod playlist(s), so we can use that money on other things (like a light up dance floor for the private reception!). I have a good initial list going, but it will be a work in progress most of 2014!
Centerpieces - Our tables for the reception will seat up to 10, so I don't see needing more than 3-4 tables. The resort costs 40/table and is just flowers to match the bridal bouquet if you get it there... I want to use real touch white/blue orchids and incorporate white/blue LED subersible lights.
Inspiration:
Probably Not DIY Projects
These are things I'll probably just buy...
Heels for the ceremony - Most of the videos I watched of weddings at the resort had the girls in heels for the ceremony. You walk along the concrete for part of it, and the runner is on the sand. My FI is tall and I'm pretty short, so I'd love to make it more even if I can! I will probably do the blue "I Do" sticker on the bottom, for a flair of DIY haha
Hairpiece for wedding - I'm athletic and have broad shoulders, so I'm doing down/half down for the wedding. Lots of hairspray!! I want to do something in my hair, haven't decided yet, but here are a few ideas:
Inspiration for Half Down:
Inspiration for to the side/down
Garters - These seem reasonably priced, so I am not going to worry about making them right now haha
Wedding Cake Topper - I'm actually working with an Etsy Vendor (https://www.etsy.com...doodlesCreation) to design a custom topper that will incorporate our whole little family, 3 dogs included! This is a surprise for the FI, who desperately wants the dogs to be at our wedding haha Just started talking to her yesterday, and she's been great so far!
Here's an example of one she has in her shop now: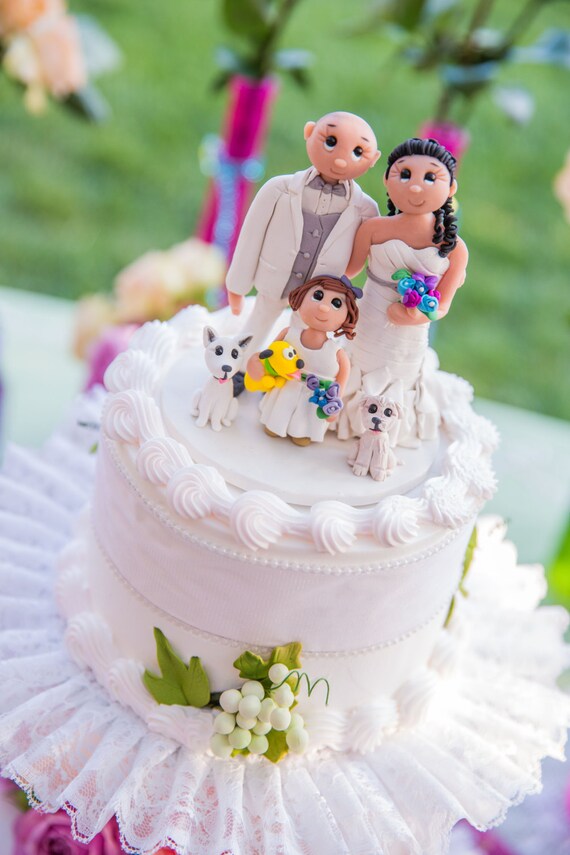 Toasting Champagne Glasses - If I get a lot done early, I'll make something myself, but otherwise I'll buy something like this: