Thanks girls!!!!
It looks like logo 3 had the most votes & 4 was a very close second. I just showed my honey (I showed them to you guys before him
) and he likes number 3 because it is simple.
So the decision is # 3!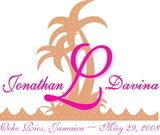 I plan to use it for labels for water bottles, the OOT bags and possibly for the logo on the mugs that I'm ordering (they have cute clip art that has the palm tree & bride/groom so I might use the one they provide). Also I think I'm going to use MoBride's idea (thanks!) and send out a travel booklet 2 months before the wedding (which will have my logo in it).
I have decided that my theme is a palm tree (with a bride/groom silhouette).
Thanks again! You guys helped me A LOT and it was fun!