Quote:
Originally Posted by Crystalballl

Hi ladies!

This is my dress. I'm adding spaghetti straps to it, and it hasn't been altered (its way too long) but you get the idea
It's a Cosmobella #7411. It was about $1000.
I had a bad experience with the knock off. I originally wanted a Romona Keveza dress but after seeing the tag of 3k I thought going the knock off route would be good. The dress cost less than $300 but when I got it I didn't like it that much. After leaving it with my mom for two months I got it back and tried it on again and realized how much I hated it. I ended up shopping at the last minute for a dress and ended up with an Alfred Angelo that I loved much better...and the complete opposite of what I thought I wanted. For my body type I really needed to try on the dress to make sure it complimented me. Here's mine: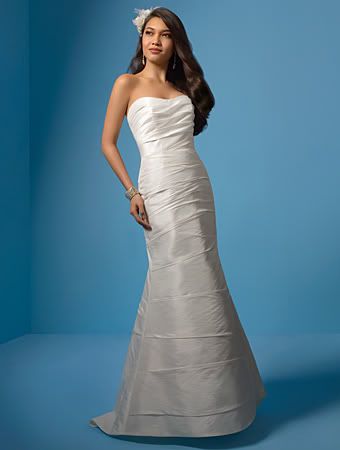 Also very beautiful! And I agree -- it's so hard to know what will look good on you. I went with something completely different than I had in mind. Congrats!