I'm so sorry for the large images. I've tried shrinking them for the past 20 minutes and no luck, sorry.

I've narrowed my search to two dresses but I'm waiting for the Brides Against Cancer Dress Sale, which comes to L.A. in November, to make my decision.
Here they are... (please excuse the price, I sent this to my mom and SIL to help me decide) Either dress will be altered to have a slight sweetheart top and lower back.
Pronovias Nerveo- I love the detail on the bottom, but its a mermaid cut and makes my hips look even bigger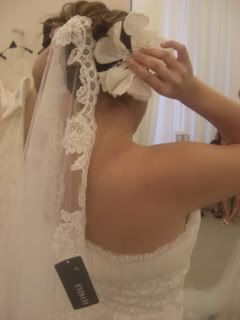 San Patrick Real, more traditional, but the cut is a little more flattering. The lace stands out and I plan to add some tulle on top to give it the feature of the bottom pic. (its also more affordable, I found it on RK Bridal for $300 cheaper!)