First off, I have to thank Tammy and all the contributors of this BDW. Unlike a lot of women, I haven't been planning my wedding since birth. I always knew I wanted it to be on trend but timeless. So when my husband proposed to me I didn't know where to even start! But now I feel like I could do this for a living!!! (Minus putting of with all the crazy bridezillas!) It's all thinks to this site, and the amazing support I've received from so many friends and family.

Our Story:
So like everyone does, I will start with our story. We met in January 2007, while we were both getting out of bad relationships with other people. It's true what they say, when you meet that person you KNOW. I couldn't get him off my mind! And while I was too young at the time to think about marriage, all I knew was that I never wanted to spend 1 minute away from him for the rest of my life! I knew he was the one within the first month of dating. I met my match. We're absolutely CRAZY about each other!!


Engagement:
Jesse proposed to me on a Tuesday, last February. I was at work feeling under the weather. Jesse called me to see when I would be home and said he would make me feel better. Thinking a glass of wine or bowl of soup was waiting for me I got home as soon as I could, but it was something better! The lights were dim and there were candles and rose petals everywhere. It was the most romantic thing I've ever seen. I still didn't know what was happening until I saw a box in his hand and he got on one knee. If he hadn't have gotten it all on camera (sneaky!) I wouldn't even remember anything past that. I was sobbing my eyes out!!!

I think these days many girls feel like they are owed a proposal based on the amount of time they have been together, or just to keep up with their friends. I know it must take so much for a man to spend that amount of money on something for the one they love, just to put their pride on the line and ask for our hand in marriage. We had a hard month leading up to the proposal, so that made it even more special. That in the hard times, he was still thinking about making me his wife. It makes me tear up to this day!!

I'm not big on posting pictures of my ring- not that kind of girl. Aside from the wedding photos I don't have many of just the ring, but it is the ring of my dreams! Over 2 carat rock and stunning! He did awesome.


Planning:
Once the dust settled I began planning. We knew we wanted a destination wedding for the simple fact that 1. Jesse's family is so BIG. In order to keep the intimate feel we wanted we had to get away. And 2. we weren't planning on getting any help for the wedding financially from either of our families. Nor did we want to fall into debt over our day. Destination wedding was the best way to avoid that.

I knew I wanted 2/25/2012, before Jesse even proposed! 2/26 is our anniversary. I thought, what would be more romantic than to celebrate 5 years of being in love than to get married?! PLUS, I'm superstitious about numbers. I HAD to get married in an even year, so it worked out


There is such a wide selection in the world of destinations!! Mexico seemed like the easiest, since it is so close to both our families. After weeding out all the "spring break party" destinations, we wound up landing on Puerto Vallarta, and Dreams Resort. The date we wanted and location on the resort we wanted our ceremony/reception were available so it was perfect!!! And then began getting down to the nitty gritty….

I had my share of "bridezilla" type breakdowns. Although mine were more like I would burst into tears for just about anything as opposed to being a screaming banshee. I just know what I want, I speak my mind, and I'm not a pushover. It paid off in the end. Our wedding was US. Not anyone else.

My advice to future brides is, really, don't let anyone sway you. While I said I didn't plan my wedding since birth, I also had the wedding I would have dreamed of as a little girl. It's important your wedding reflect you as a couple. Not a stranger couple from Style Me Pretty.
Also, you really find out who your true friends are. While true friends will be there in low times, they should also be there in high times, and nobody should take that away. It's your day. The one time in your life you get to be fully selfish and have everything be about YOU. If anyone tries to steal that happiness from you- they don't belong in your life. Time to reevaluate relationships.
Colors/Flowers:
Jesse had a hand in choosing our color palette/flower theme. It was between stargazer lilies and yellow, which could have gone VERY tropical, and orchids and purple. Which is much more us. I consider orchids to be one of the most romantic flowers, yet they have an exotic feel to them. The woody stems and pretty white petals became my inspiration for the entire wedding!


My Wedding Day look:
Choosing my dress was the hardest thing I had to do. Really. Anyone who says you put on one dress and you cry and it's the one is lying. I went through probably 50 dresses and STILL couldn't find exactly what I was looking for.

Finally, my consultant Desiree at Mon Amie bridal who was AMAZING btw, told me to just look for a dress that has the specific elements I was looking for, which were 1. organza, 2. a pleated bodice, 3. full ruffle detail skirt 4. NOT a corset/lace up back. You would think this would have been easy, but it wasn't. I finally found a pronovias gown that was a one shoulder, with tiny pleats, and a full floral ruffle skirt that came all the way up to the bust. The scariest part was ordering the dress as it was. I just had to picture the end result.

My seamstress, Sonia was AWESOME. She changed my neckline, and dropped the skirt to make more of a mermaid silhouette, and rearranged the florals. She extended the zipper and added more buttons. I couldn't have asked for a better seamstress. Every thing I told her she would say "it's your design!" She rocked my socks. and I have to admit, it feels great knowing my dress is custom to me and nobody in the world will have this exact dress!!
To complete my bridal look, I wanted to look glamorous (as I always do) so I went for a double layer 11" birdcage veil, by Tessa Kim and the bling-iest crystal necklace for my ceremony look. The shoes were Christian Louboutin crystal encrusted flats. Perfect and comfortable.
For the reception, I got an amazing sash and hair comb.


For hair I knew I wanted something asymmetrical. Those styles look best with a birdcage veil. I decided on a side swept "old Hollywood" look, but knew I definitely did not want my hair up. An outdoor wedding seemed on the casual side for a bridal updo. While I felt my curls were too tight during the ceremony, the fell to the right amount of sexy wavy looseness by the time the reception came around.

Makeup, while I wanted to look glamorous, I still didn't want anything too heavy or evening-y. I decided on a smokey eye in a grey palette. I wore shu umera eyelashes and felt so beautiful!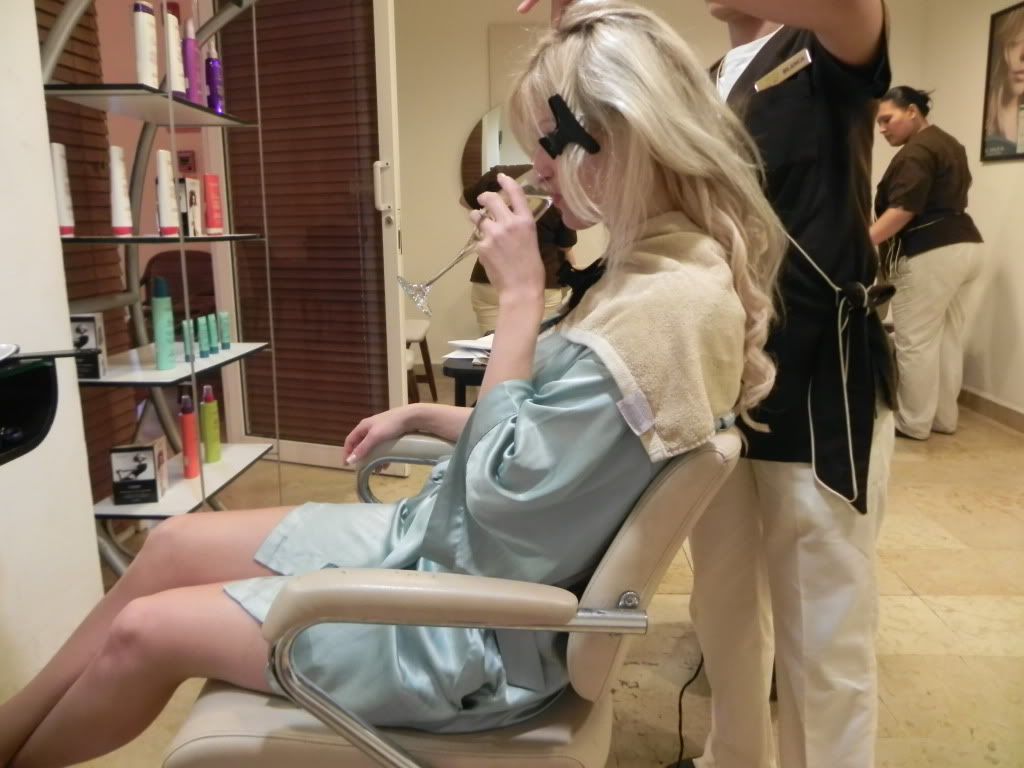 Getting ready/ After party attire:
While getting ready I wore a light turquoise satin robe that said "Bride". The robe was from Victoria's Secret, and I added the iron on.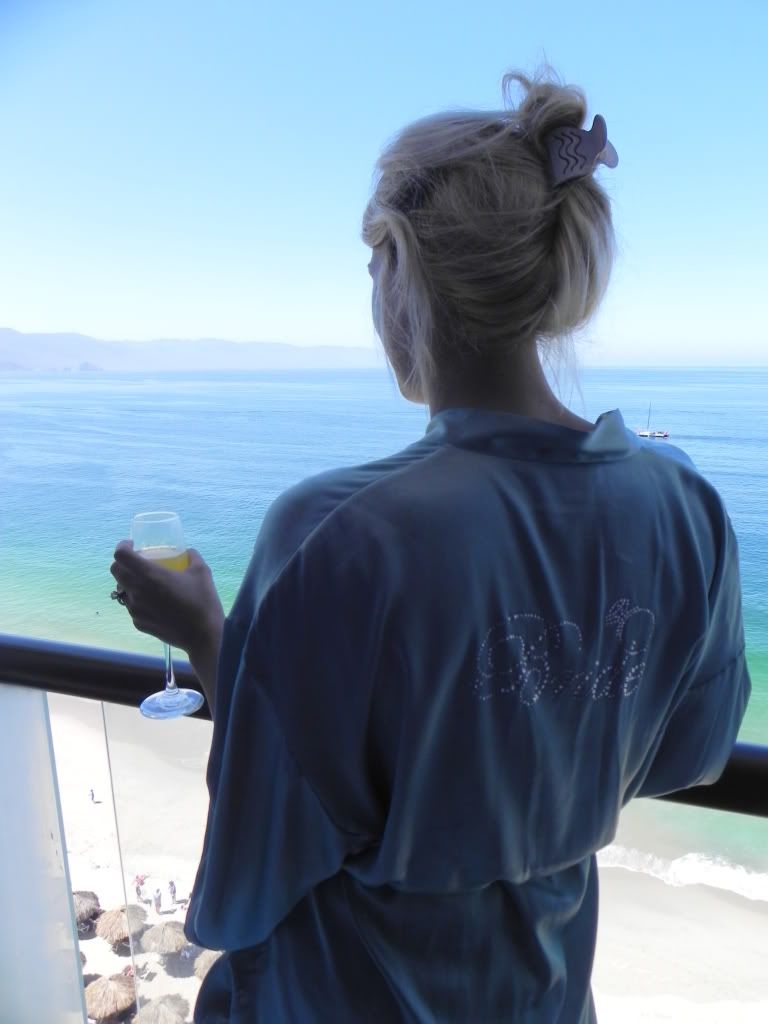 For the after party I wore a custom white hoodie that said "Mrs Urias" on the back, white shorts, and silver glitter TOMS.
Other Details:
My something old was a ring my grandma gave me when I was a teenager. I tied it to my bouquet along with my favorite detail, my bouquet charms. It was the perfect way to honor my grandma and my dad. Little things happened during the day to let me know they were there with us. And my mom said she felt their presence strongly. That made me so happy.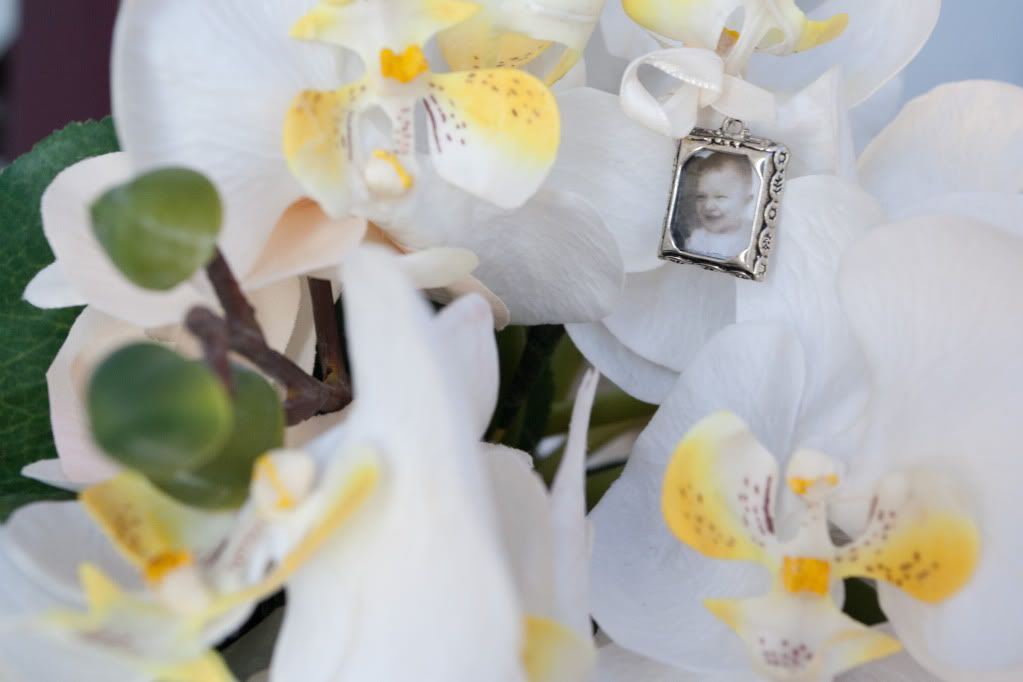 My something borrowed was the engagement ring my grand father gave my grand mother.

My something blue were my amazing blue lace panties, with crystals that say "I do" on the hip. I love them!

My something new was well…almost everything!

My garter and clutch were as glamorous as the other details. LOVE sparkle and glam!!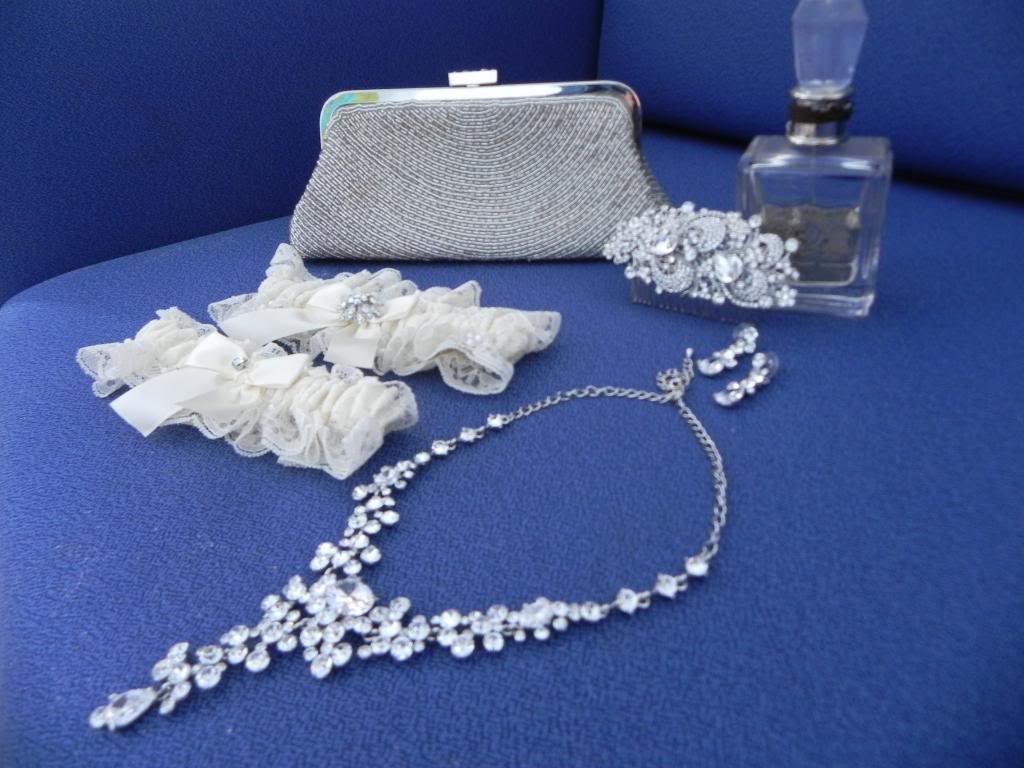 Groom/Bridal party:
Jesse wore a Calvin Klein tux, with a simple white shirt, and skinny satin black tie. His groomsmen all wore their own black suits, white shirts, same tie, and all wore black vans.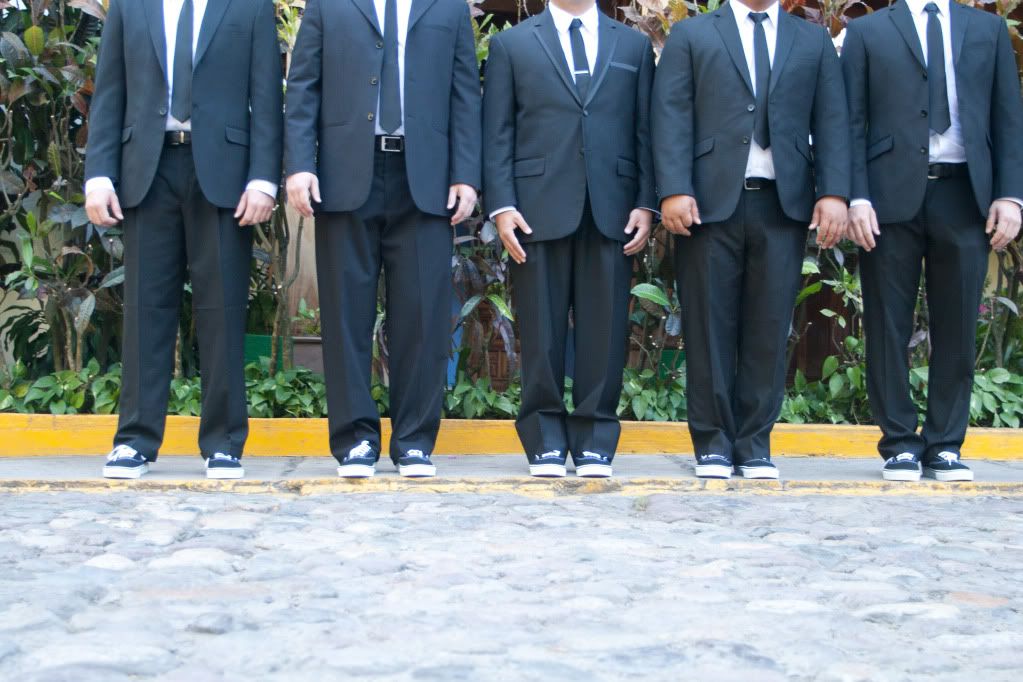 My bridesmaids wore Bari Jay dresses. I wanted a fun, flirty, short dress with a different neckline than strapless. This style fit everyone's body perfectly. Their earrings were from Forever 21, and their shoes were their own.
My Bridesmaids wore their hair up, but I made sure to tell them to keep it casual and loose. They all looked absolutely gorg!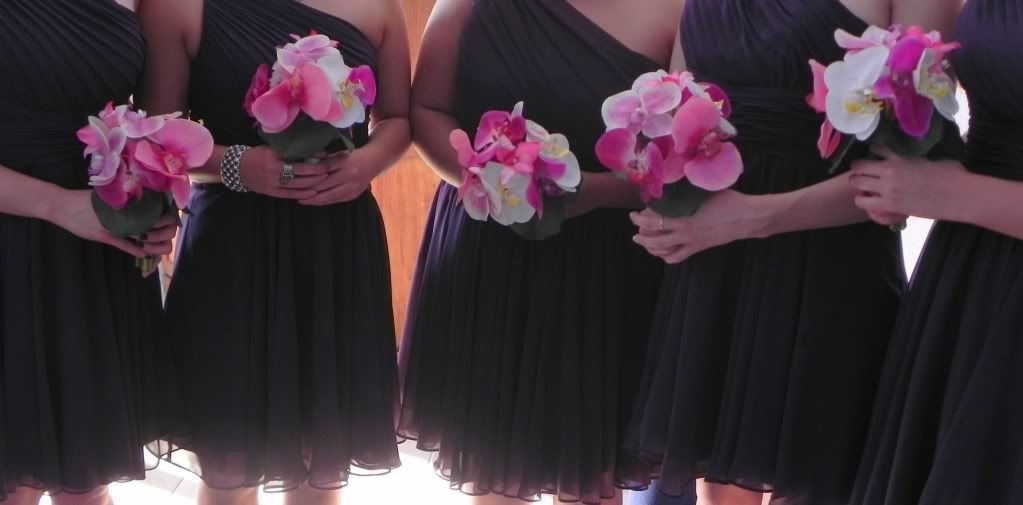 My nephew was my ring bearer. He wore black pants, a white button up shirt, black suspenders, and a black bow tie. Oh yeah- and his signature faux-hawk! He looked so cute!!
Bridesmaid gifts:
I wanted the girls to have something cute and matching to wear at our after party. I got all the girls tanks and cute leopard (LOVE leopard) shorts from Forever 21. I used iron on decals for the back of the tanks. I packaged them in a cute sparkly leopard bag.
I put their earrings in cute heart shaped boxes from Michaels.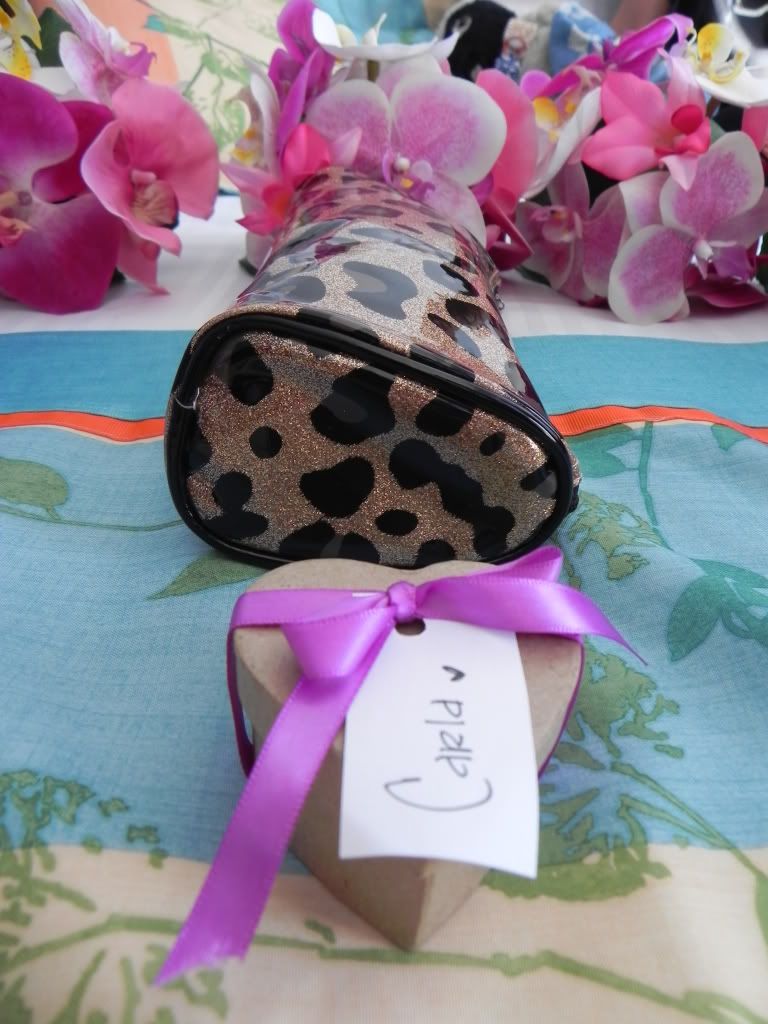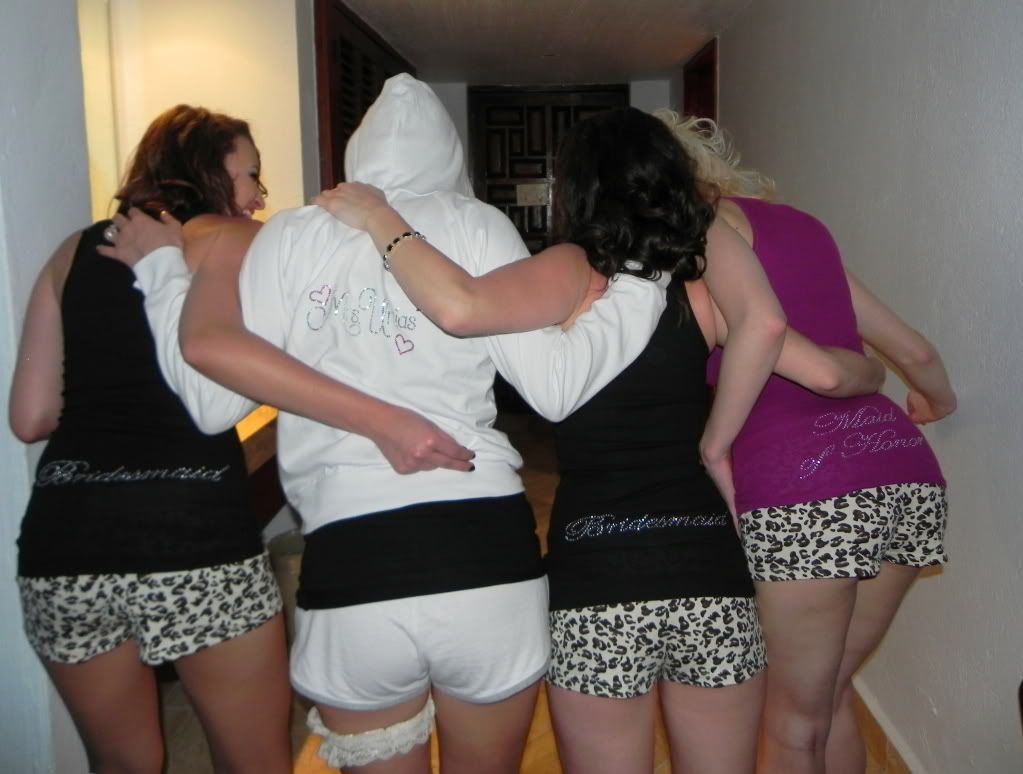 Groomsmen gifts:
Jesse got his groomsmen custom engraved flasks with quotes from each of them, and custom T-shirts.


D©cor:
When it came to d©cor, I wanted to keep everything fresh looking and streamlined. To do this I knew I had to keep it as simple as possible which meant eliminating anything in color. Everything had to be white and silver in order for the concept to work. This became an obsession that I stressed about til the 11th hour! I LOVED the way it all came together!

Ceremony:
I spent countless nights lying awake in bed wondering if I had enough flowers/d©cor for the ceremony space. Ultimately I had to realize that less was more when it came to the ceremony. The location and view needed to speak for itself so I kept it minimal. Plus, we had budgeted only 20- 30 min max for the ceremony. If we were having a 1 hour+ religious ceremony, I probably would have done more.

Ivory and soft pink peony petals lined the aisle.
2 small vases with white roses were placed on either side of the aisle, and a white rose centerpiece on the ceremony table.
Wooden letters hung as a backdrop along with a few crystal strands to sparkle in the sunlight.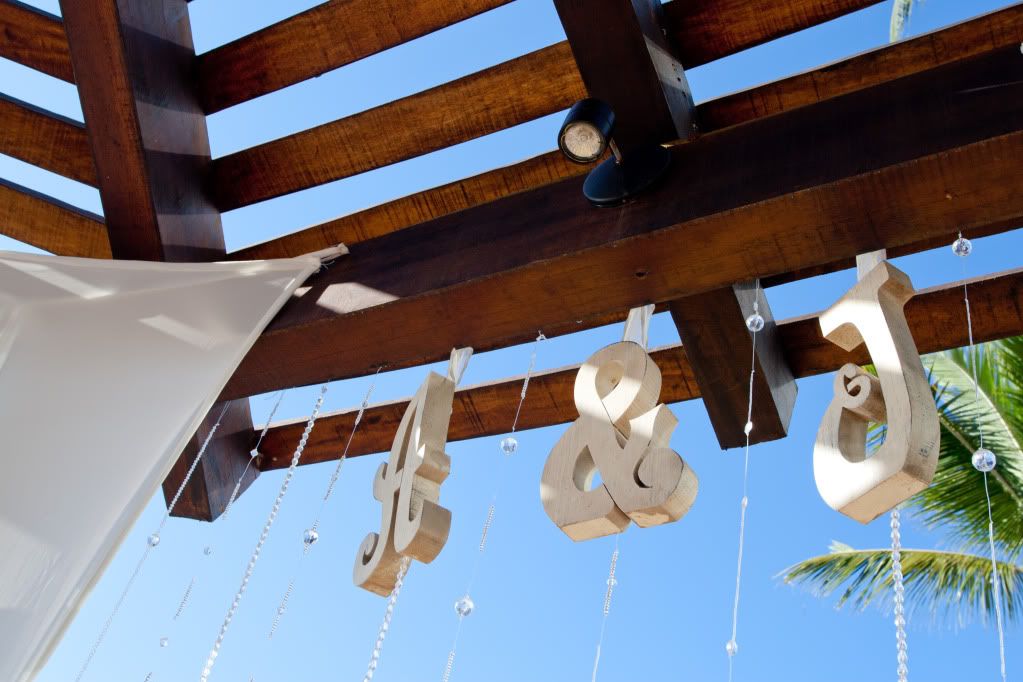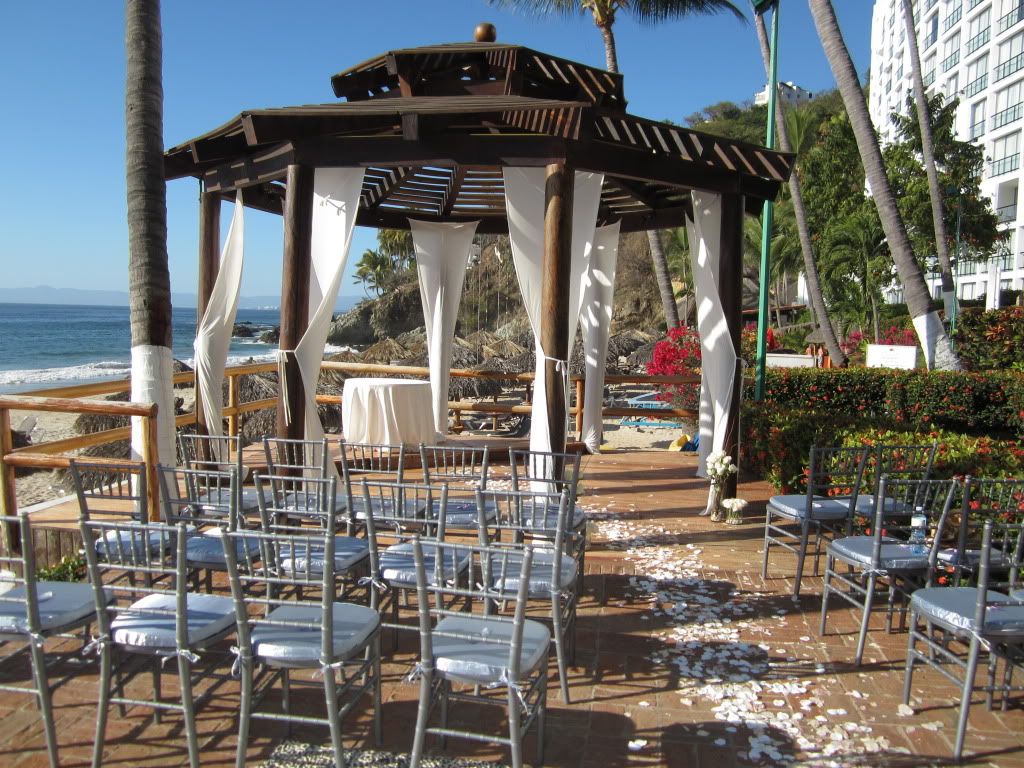 I decided to forego programs for the simple reason that a 25 person wedding doesn't need them.
I placed tubes of bubbles with a cute saying on each chair.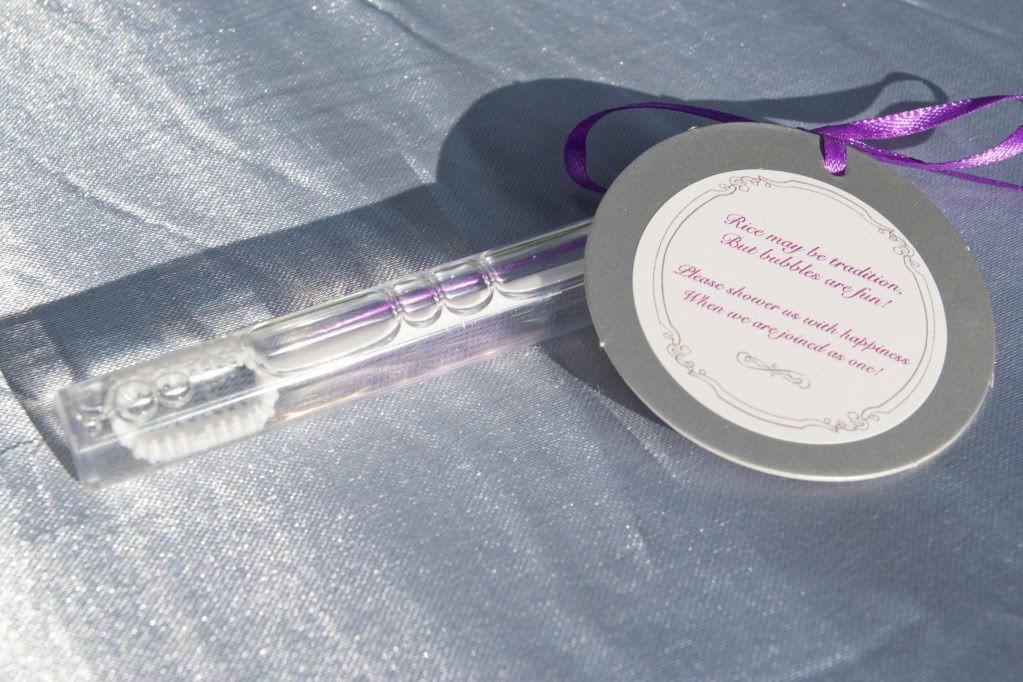 Cocktail hour:
For cocktail hour I wanted it to be fun for our guests. It was in the same area as the reception so to keep everyone out of the reception area we had white lounge seating.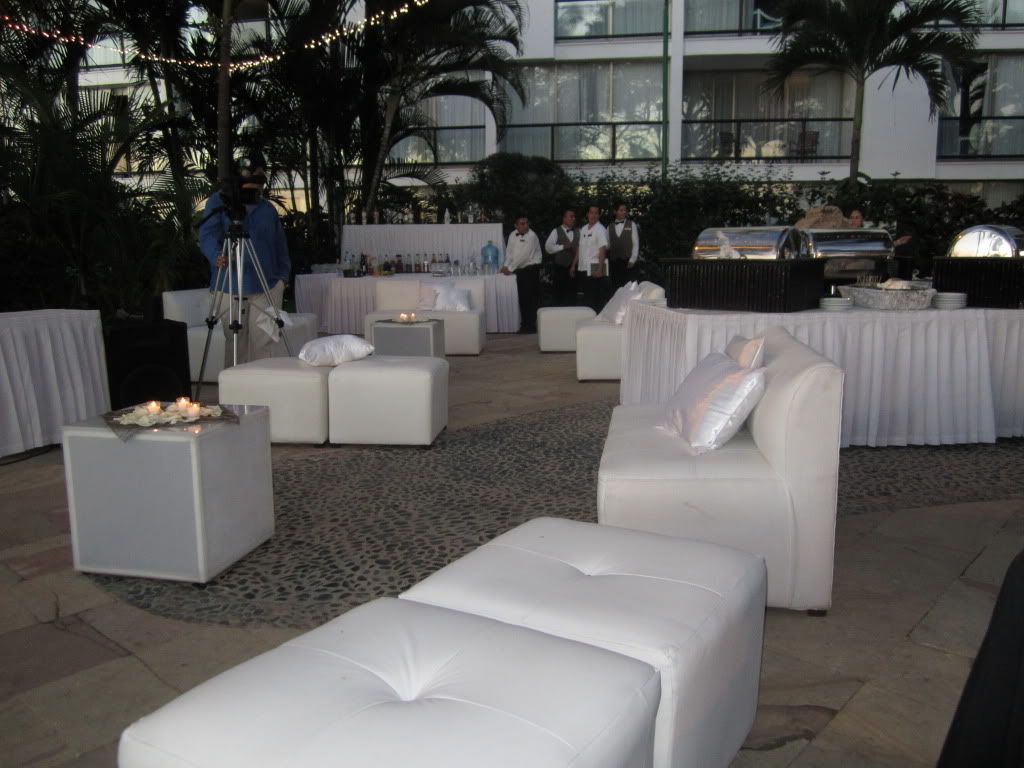 We had custom drink stirrers and a signature cocktail.
I had the bartenders place orchids in the cocktails.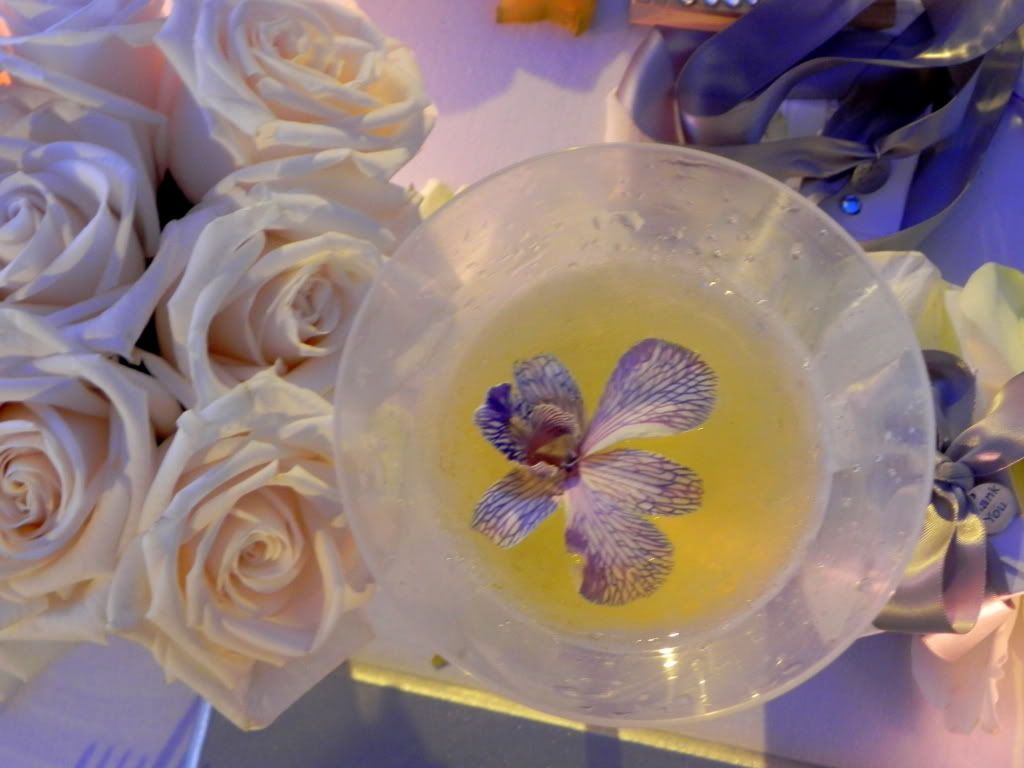 Our guestbook table was more of a photo booth-like setup. I made fun props and we bought a cute mini Polaroid camera for the table. This way guests can take pictures of each other and sign next to it in our guestbook. I think the most popular prop was the ones of Bella, our dog!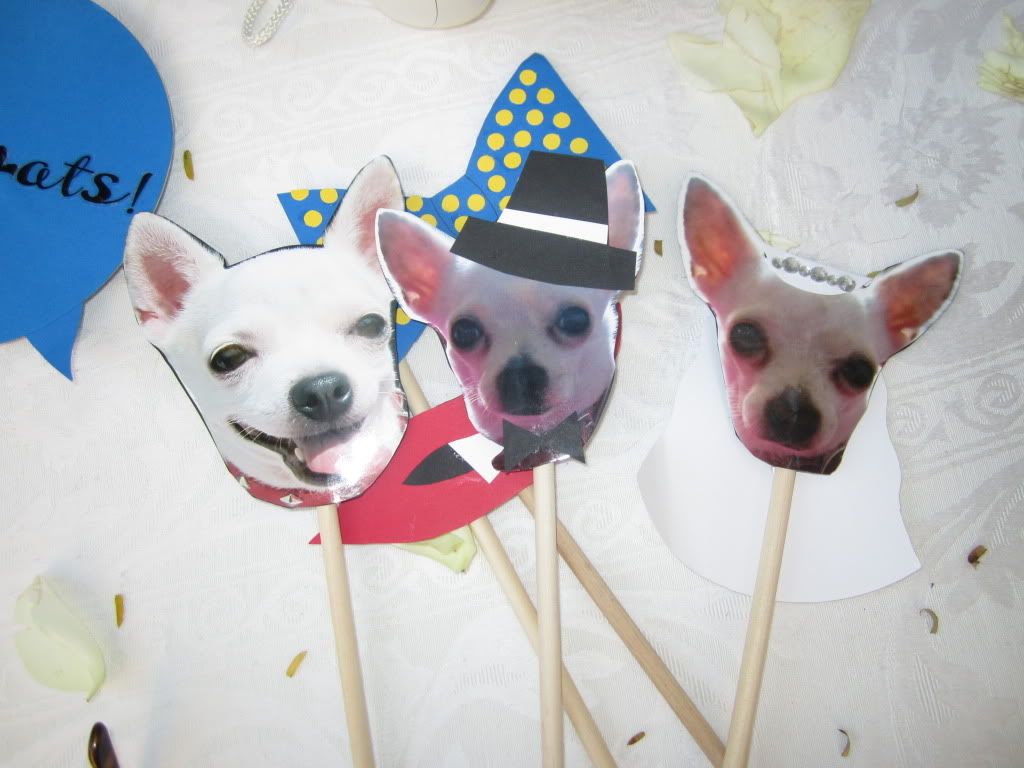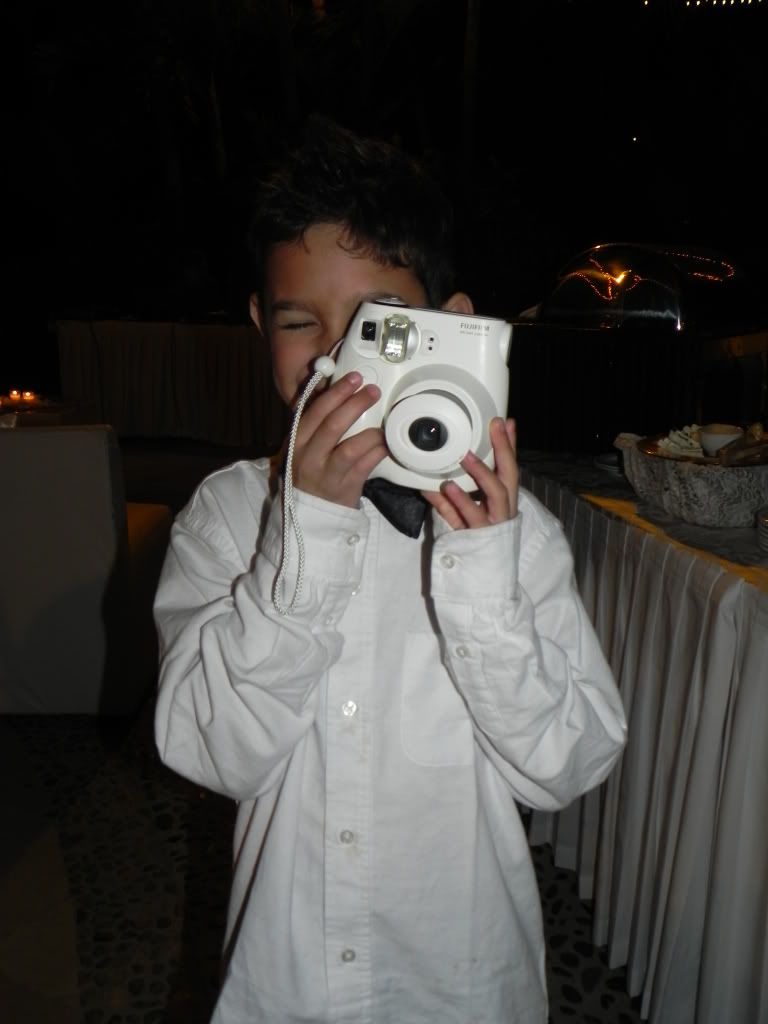 For our escort cards, my inspiration was a photo setup I saw on style me pretty. I thought it would be a cute way to display the escort cards along with some photos of us and our guests. I spent hours blinging the clothespins and cards. The "find your destination" sign was purchased on Etsy. So perfect!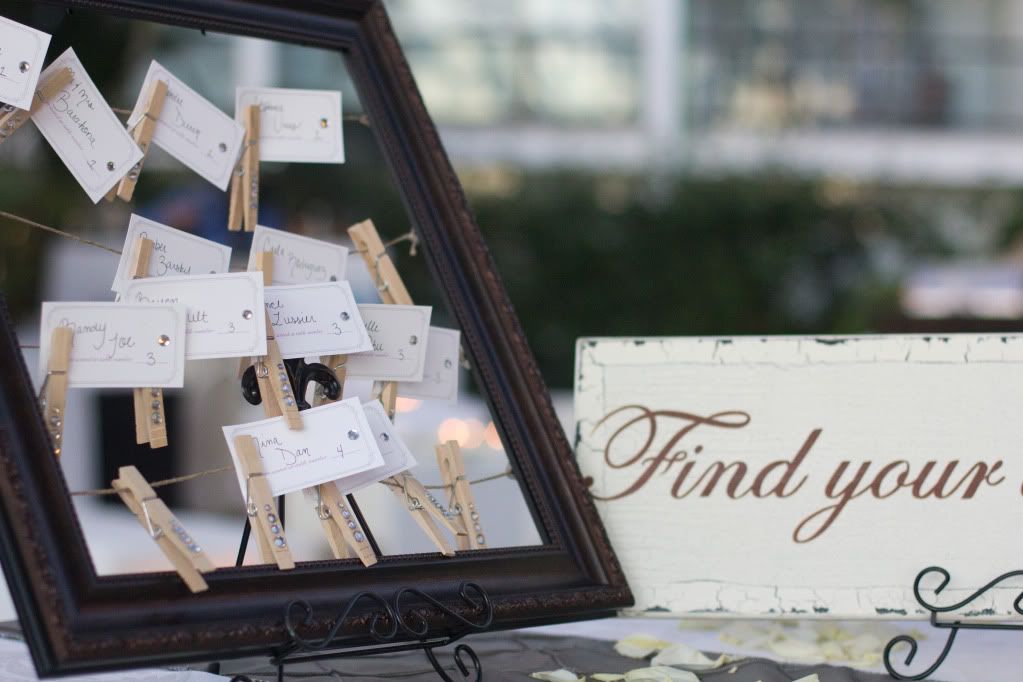 Reception:
Centerpiece inspiration:

Like I said, the orchids became my inspiration. Working in the industry that I do, of course I wanted to be on trend! The latest centerpiece style trending was more rustic, bare branch, and woody centerpieces. So we had a simple Manzanita branch, with a few orchid stems in a vase with some pale river rocks. I loved it.
To glam it up a TAD, I had the florist place 2 mini centerpieces on either side, white roses in silver buckets.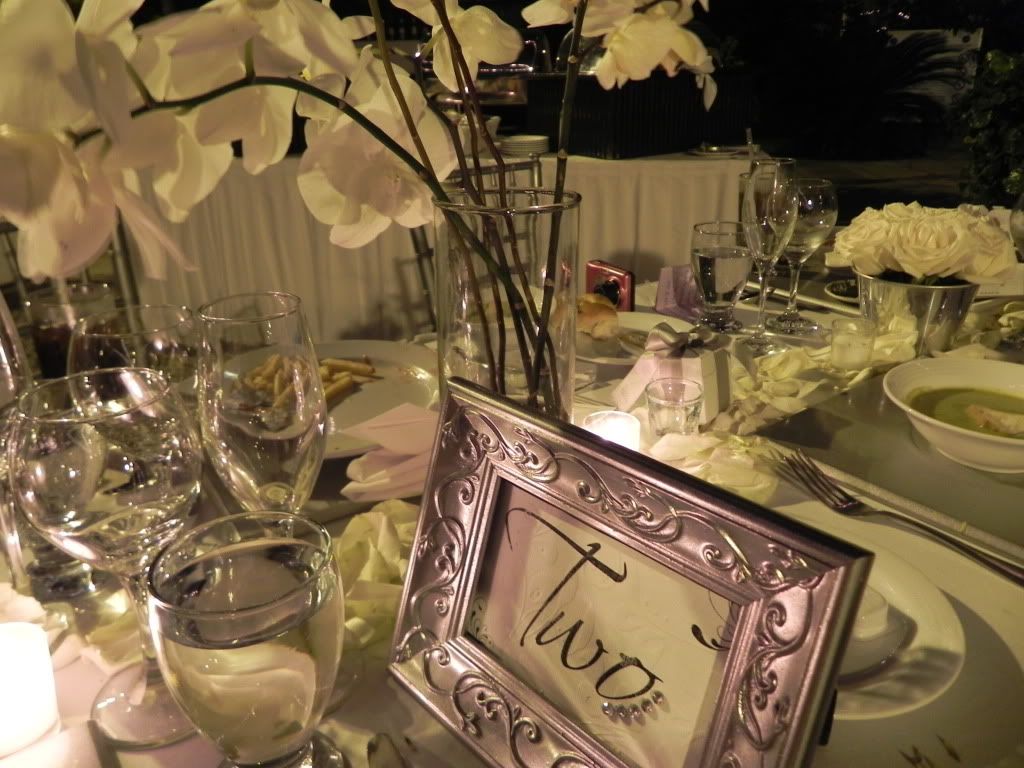 Chairs were all Chivari silver chairs, with silver cushions, and the charger plates were silver square plates. I loved them!

Linens:
Of course they had to be white, but I wanted a little more detail to them rather than a plain white table cloth. I loved the subtle floral pattern on them that had a beautiful sheen when the candle light flickered!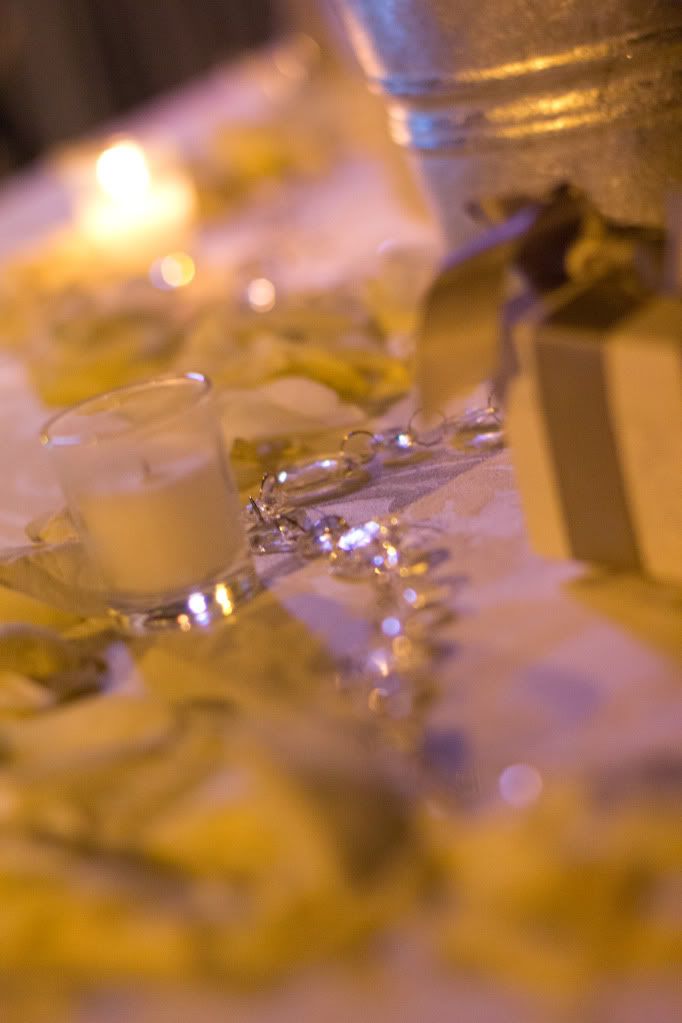 Menu:
Food was a very important aspect of the wedding for us. I'm a vegetarian and while I'm no foodie, the most important day of our lives, I wanted something yummy!!
For the cocktail hour, we opted for more Mexican inspired appetizers. There were 6 yummy options ranging from mini tacos to shrimp ceviche on tartlets.
For dinner there were 2 options- the steak and chicken combo, and the fish. I can honestly say I don't remember how my dinner tasted (I had the fish) I just remember I was so excited I barely touched it! I had plenty of bread though so that didn't help either. Jesse loved his dinner though!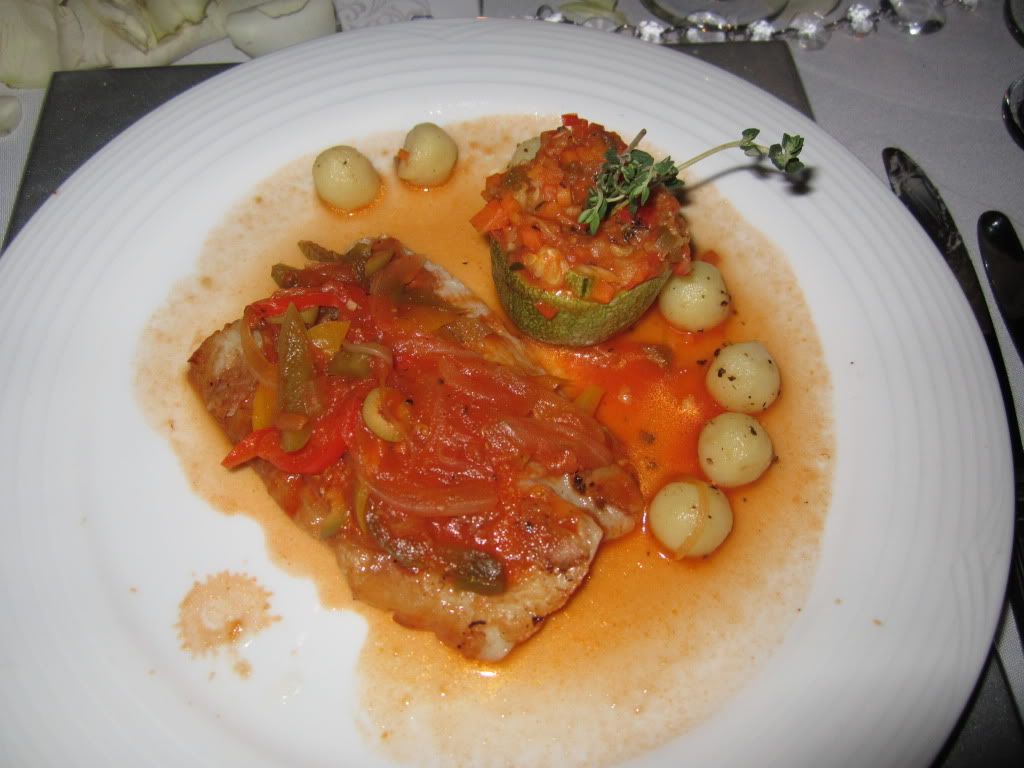 When creating the menus I added rhinestone details that were incorporated throughout the wedding.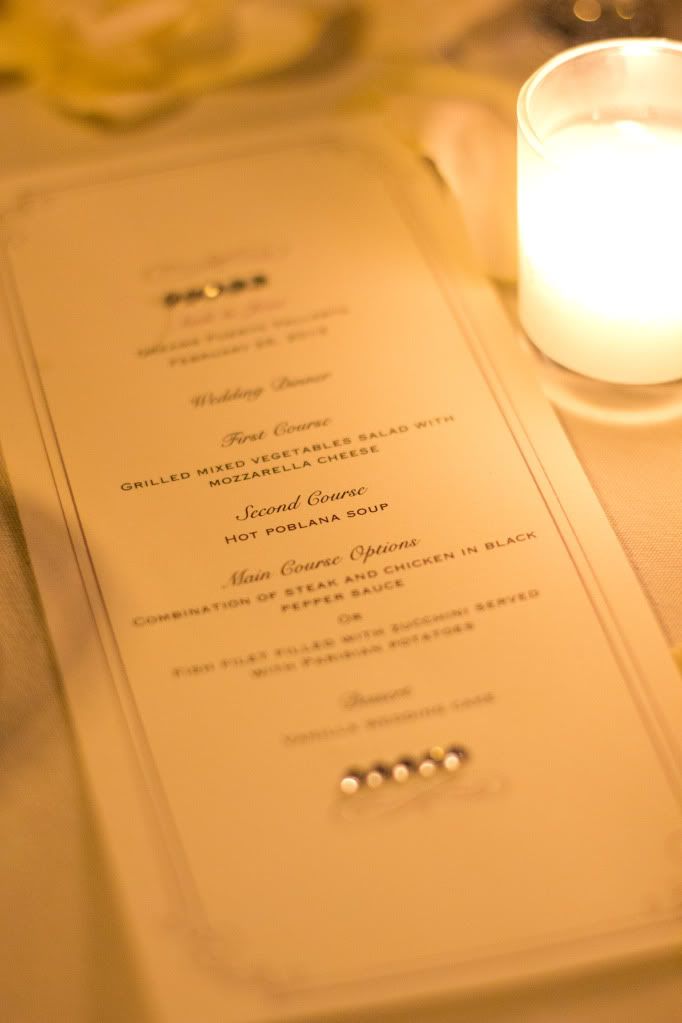 Lighting:
I wanted tons of candles everywhere- a perk of having our wedding outdoors. There were candles on every table, including the lounge area. There were floating lanterns in the pool behind us.
The overhead lighting were twinkle lights. Sometimes I wondered if I wanted an indoor wedding with pretty colored up lighting on the walls, but sometimes indoor weddings start to look all the same! In the end this was more us, and more
our theme.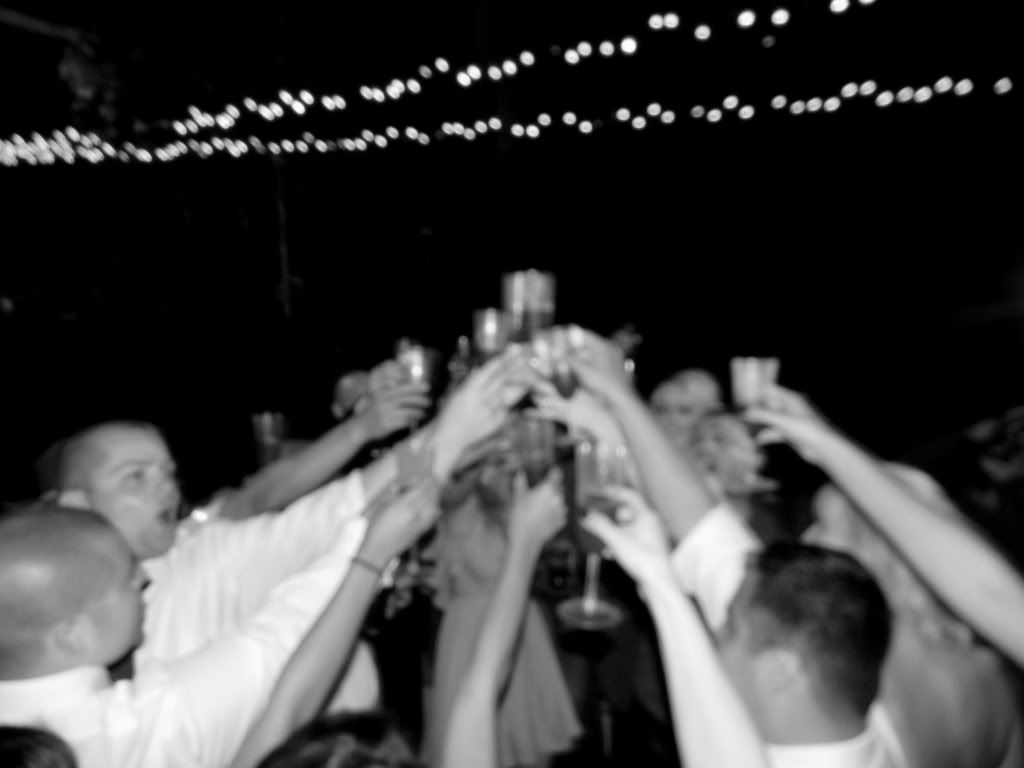 Cake:
Inspiration:
I knew our cake would have to be small for such a small wedding. And to be honest I didn't care/ I wouldn't have even had a cake if we didn't want to get pictures of the cake cutting! Plus I'm pretty sure only my nephew ate it!!!! We had the chocolate fountain as the cake alternative.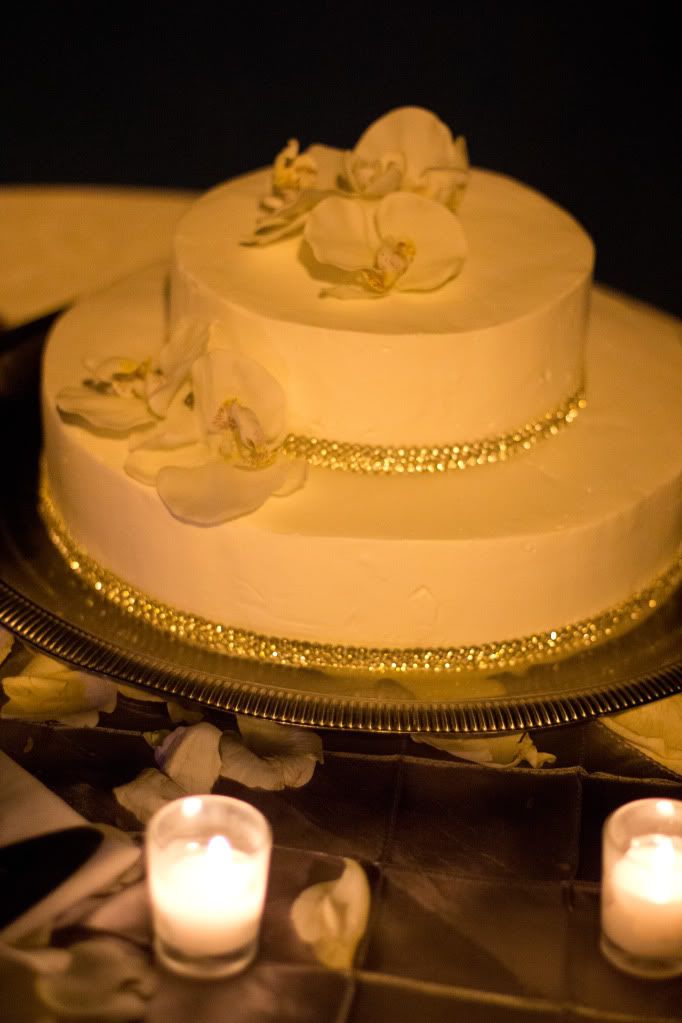 Other Details
Favors:
Our favors were custom shot glasses.
OOT bags:
I didn't go all out on the OOT bags like some brides. I set a budget for them and REALLY stuck to it. We kept them cute and small- and all things people can either keep, or throw away all in a little gift bag with a welcome letter.


Filled baggies with various medications, and drink mixes. All purchased from minimus.biz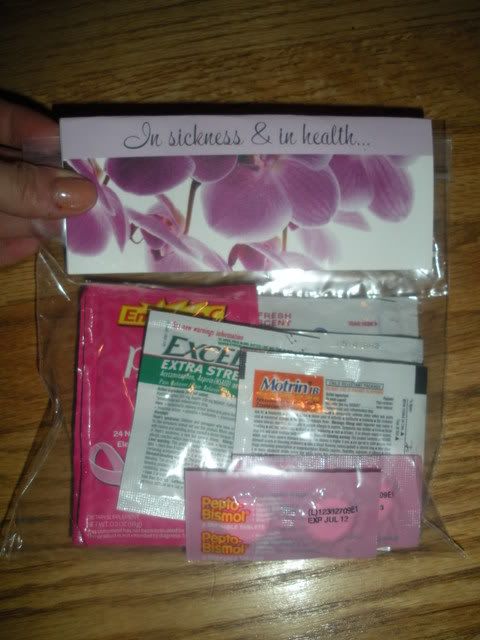 Mini organza bags from oriental trading filled with Hershey's kisses.
Badge holders from oriental trading for holding room keys.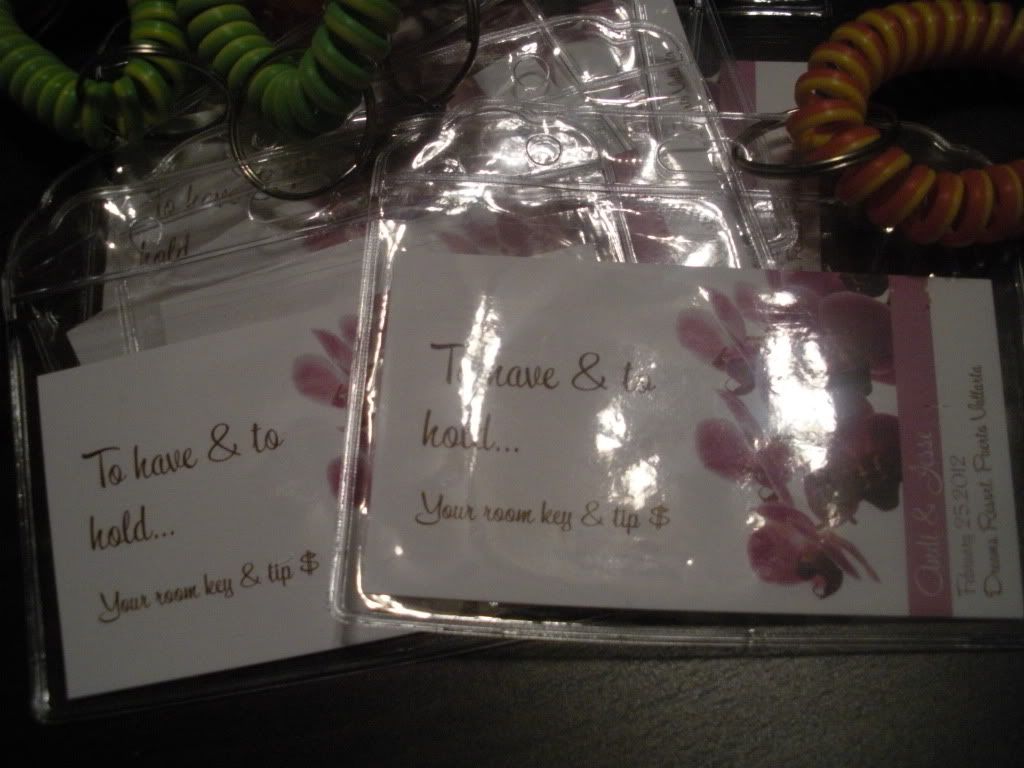 STDs and Invitations- both purchased from wedding paper divas.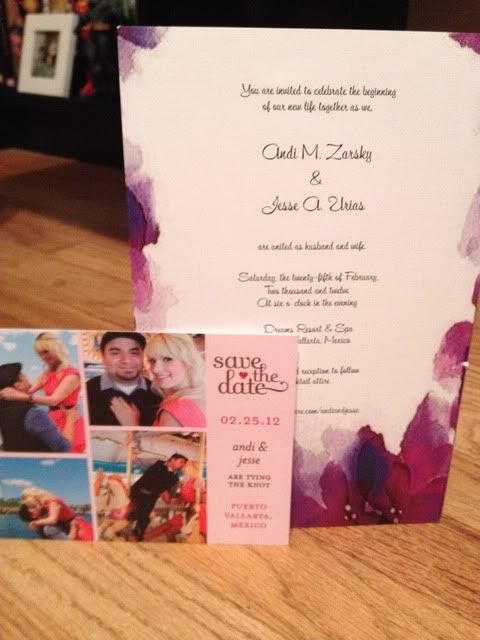 And I think that's it!!!!!! Happy planning, brides!!!! Enjoy every second, because the time FLIES!!!!! Don't settle and make your dream wedding a reality! We did!!
XO