Hey all! I'm going to attempt to start a journal of all the things I've done (and will do) to prepare for my big day. I know for me this site can be a little overwhelming so I hope that by putting all of this stuff down maybe some bride (someday) will find it useful.
Some background - I got engaged 7/1/11, however my Fiance and I had already been discussing dates, locations, etc., and were already settled on the Iberostar Rose Hall Suites. The day after we got engaged, I sent Nicole an email to book the date. At first the date was booked and we got stuck at the Beach (which is great but not what we wanted). We took it in the hopes that maybe the Suites would become available and we could switch over. Well, low and behold, 7/7/12 DID become available! Ladies, if your date is booked, be sure to ask Nicole to put you on the waitlist. This will show her that you are serious about it and she will probably be more likely to think of you if the date opens up.
Since I work full time and go to graduate school at night, I have very little time to plan a wedding. Basically, I can do my wedding stuff between semesters. This means I had to get a lot done over the summer while I was on break and during the winter break. During the summer, I found and ordered my dress (Mori Lee 1602), booked photographer Marcia Roberts, paid for our flights and 50% of hotel, and ordered (and sent out) the save the dates (ordered from weddingpaperdivas.com). Currently, I am on winter break for a couple more weeks and have gotten the following done: ordered and sent out the invitations, my dress came in, ordered bridesmaids dresses, ordered beach wedding collection set (which includes ring pillow, flower girl basket, guest book, etc.) and I've started ordering sample bags for the OOT bag and samples of table runners and chair ties. I've also already ordered my waterproof badge/key/money holders from CreativeIDSupply (only $1.04 each with lanyard).
My dress! So excited to rock this in Jamaica!
My save the dates from weddingpaperdivas.com
I got my boarding pass invitations from Stylish Scribe on Etsy.com. Love, love, LOVE these invites! I had lime green incorporated into the color scheme and had her include a little picture of thisland of Jamaica.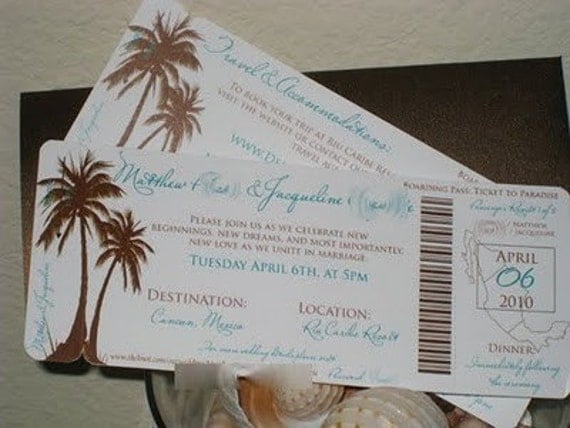 My bridesmaids will be wearing the convertible "Twist" dress by Dessy. I really liked this dress because they actually CAN wear it again as something completely different. The ways to wear this dress seem limitless. One will wear it in the color oasis and the other in apple slice.
I got a beach wedding collection set which includes a keepsake garter and toss garter, cake cutting knife set, toasting flutes, ring pillow, flower girl basket, and guest book and pen. I'm not very fussy (or original) when it comes to stuff like this so this set is perfect for me. At least this way I know I have the basics. Whatever you do, don't buy this for $249+. There are cheaper ones out there. I got my set for $160.
I don't think I will be happy with the chair decor the hotel offers so I've ordered some samples from efavormart. I ordered sample satin chair sashes and table runners in turquoise, sage and apple green. They are much cheaper at $.81 per sash than what Tai Floral is charging ($2.50 per sash). So long as the hotel is willing to set them up free of charge, it would be cheaper to just buy the sashes myself and bring them down.
I plan on including waterproof ID/key/money holders in the OOT bags. I found these on ebay.
http://www.ebay.com/...=item8bb3886ee8
I got the inspiration for the holders from another bride on hear. I plan on copying her "To Have and To Hold: Money, ID and Keys" idea and print that on name badge inserts (purchased at Staples) and slip them into the badge holders.
I am also talking to Peter-Gaye Rose (P.G. Rose) of PrettyFaces for hair and make-up. Her prices are pretty reasonable and they do airbrushing, lash extensions, facials, mani/pedi, etc. http://www.prettyfaces23.blogspot.com/ ; http://www.facebook....facesjm?sk=info
Finally, I am considering hiring the band Irie Connection to play our reception. They charge $460 an hour and can do reggae covers of popular songs. They have videos up online if you just search Irie Connection.
That's all I've got so far. I will continue to update things as I go along. Hope this helps!