Sorry it took me so long to get to this...I just got done with my AHR and now I can finally breathe again!
I'll start at the beginning.
The Dress:
You all know that I had fits about this. I originally ordered a dress made for me in China to copy an Italian dress. I really hated it when it got here, so I went dress shopping again and bought an Anjolique gown. For more about my extended wedding dress dilemmas, you can go to this post: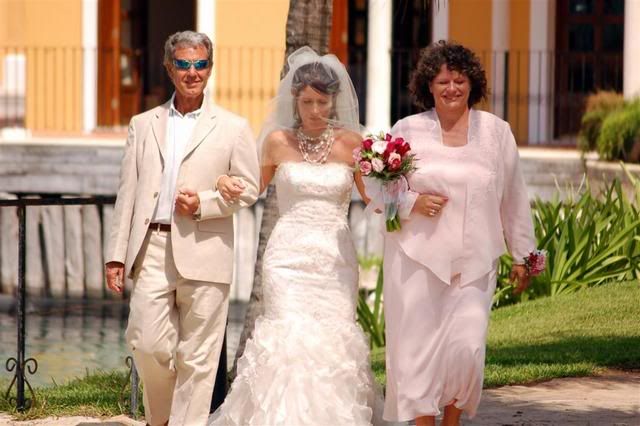 The Invitations:
We were DIYers on this front...they turned out great! Our wedding colors were pink and brown, and we had a hibiscus motif throughout everything.
We ordered our envelopments online and I don't have the name of the place but PM me if you're interested and I'll find out. They were pretty inexpensive. Out of California.
Here's what the invitations looked like, and cost about $200.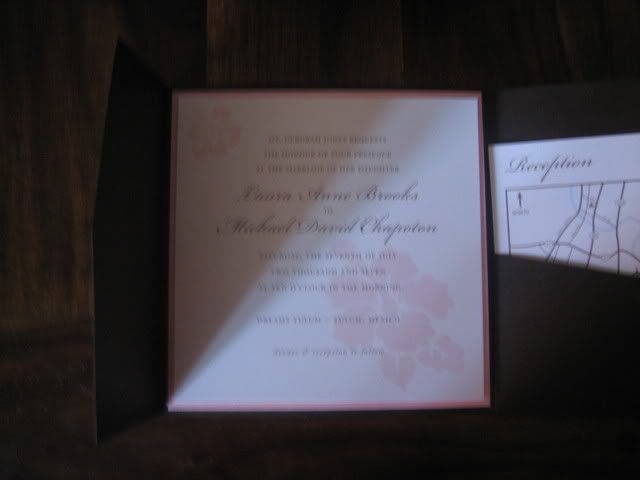 When closed up, I tied a pink ribbon around them. They also included an RSVP card which I didn't have any more copies of.
Here are our thank you cards and cds we made for the OOT bags.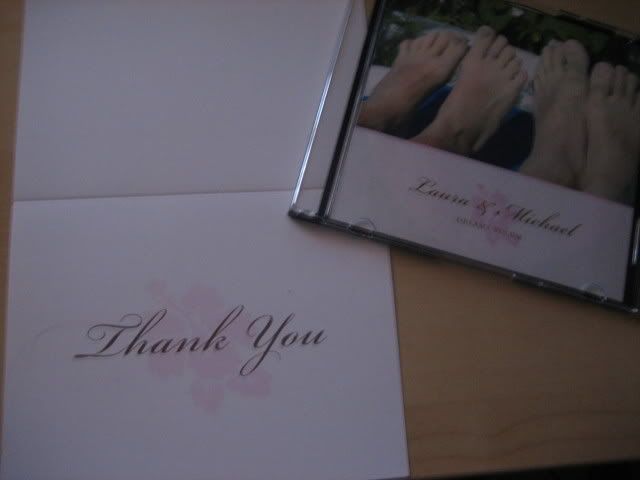 Cups we had made for our guests (they had lids and straws). This picture is a little washed out, but they also had the hibiscus print. We got these basically for free because my DH does freelance for the lady who sells them.
Here are the OOT bags and some of the other goodies. We got them at Dollar Tree and probably spent about $200 all in all for everything in them.
Michael got his suit at Banana Republic outlet for about $200. It was beautiful. My son got a similar suit by Liz Claiborne at Macy's. It was about $100.
Dreams Tulum:
I love this resort and can't say enough good things about it. The food and drinks are excellent and all of my guests had an awesome time. My photographer was the only one who had a problem with her room, in that her a/c leaked, but she got moved promptly once she complained.
The wedding coordinator, Sandra Casillos, is extremely overworked. She does not always get back to you in a timely fashion, but she did everything she could to ensure that we had a beautiful wedding. Those ladies (she and her assistant, Landy) work their tails off and are often there from 7 a.m. to 10 p.m.
The Wedding:
The ceremony was beautiful. We didn't get any rehearsal, which was a little nervewracking, but it all turned out okay. We added parasols and starfish to our decorations, which everyone was happy to have.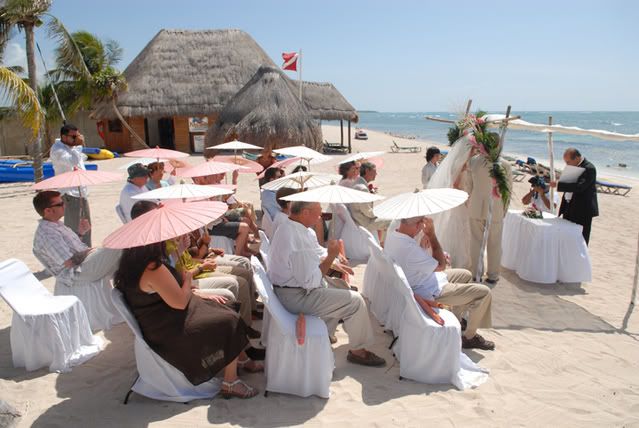 My bouquet was not the prettiest, and they painted the calla lilies and the boys' boutinieres...after which they ran onto their suits and my bouquet got all over my hands...wtf is up with that? But it was okay.
The ceremony started a little late, but this is Mexico, after all. They are on a different, more 'relaxed' timetable. All of my guests loved my minister, and even though we requested a non-religious ceremony, it was quite pray-ey, church-y. But in a sweet way.
The cake they made was great. I ordered a monogram cake topper from eBay for $27...the resort did the rest of the decorations.
To be continued...