Our wedding was Friday, July 16th at the Paradisus Palma Real in Punta Cana. We chose this resort because I stayed there 4 years ago with a large group of family members and absolutely loved it. I was sure if I chose another location I would constantly be comparing it to the PPR. I'm glad I stuck with my decision, because despite changes in the resort (good and bad) our wedding was fabulous!! We had a total of 27 guests attend our wedding. They ranged in ages from about 2yrs-65yrs old.
Flight
We flew from Newark airport on Continental Airlines. My mom had called the airlines 2 weeks before our flight to ask about hanging my dress in the closet, she was assured this would be no problem. Our plane was very small, a 737 I think. When we got on the plane, the flight attendant told us the closet was too small for my dress and it had to go in the overhead compartment. Thankfully, my dress wasn't prone to wrinkling. We also flew first class and there was plenty of room in the overhead compartment. Other than that, our flights there and back were uneventful.
Hotel Arrival
We booked a garden view room in Royal Service so we checked in at the RS Lounge. It was really nice!! There was lunch set up, mimosas, and other kind of drink we would like. The resort had us booked as a regular room but I brought our paperwork from the travel agent that stated we paid for a Royal Service room so that problem was solved quickly. My mom kept asking the person at the desk about upgrading us and eventually they did so instead of a garden view room we got an ocean view.
Here's our view:
Rooms
The rooms were clean and pretty. A few people had difficulty getting their rooms to be as cold as they wanted. Our house cleaner came regularly and we had no problems. I really saw no huge differences between the regular and royal service rooms. I think our sitting area might have been a tad bigger and royal service gets bottles of vodka, rum, and scotch. We took them from my family that didn't want them and gave them to our friends staying in regular service.
Pool
Everyone loved the main pool! The Royal Service pool was smaller but nice and quiet. We went there to get away from everyone. My in-laws used the Reserve pool for kids on our last day. We have two nieces ages 2 and 4yrs old and they were so excited about the slides. I didn't go with them but according to them they stayed for about an hour and a half until they were told they couldn't be there without a special bracelet. According to the staff the Kids Zone pool is only included for the kids and my SIL had the option of leaving her young kids with a nanny at the pool or paying a day pass to use the pool with them. She chose to leave with them and go back to the main pool. This really pissed me off!
Beaches
The beach was beautiful!! There was some seaweed in the water but once you swam a few feet it was gone. The Royal Service beach was not as exclusive as I remember it being 4 years ago. People from the Melia Cribe were coming over at one point and grabbing our towels. Not very classy!! Other than that the beach at the resort was awesome. Also, if you look closely you'll see pink specks in the sand!!
Spa/Hair/Make-up
I made my spa appointments a few weeks before we left by emailing the spa. They responded to my email within a day and set up all of my appointments. I stopped by the spa the day before the wedding (I was next door at the gym working out that morning) to confirm my appointments. We arrived a few minutes late for our appointments because my mom can never be on time for anything! But the girls were very sweet about it. Kayra did my hair, make-up, and nails. She was phenomenal!! I was and still am so very happy with how she made me look. She spoke very good English but I also showed her pictures of how I wanted my hair to look.
I completely forgot to tell the WC I wanted flowers in my hair so when we were at the salon my friend went outside and picked these for me!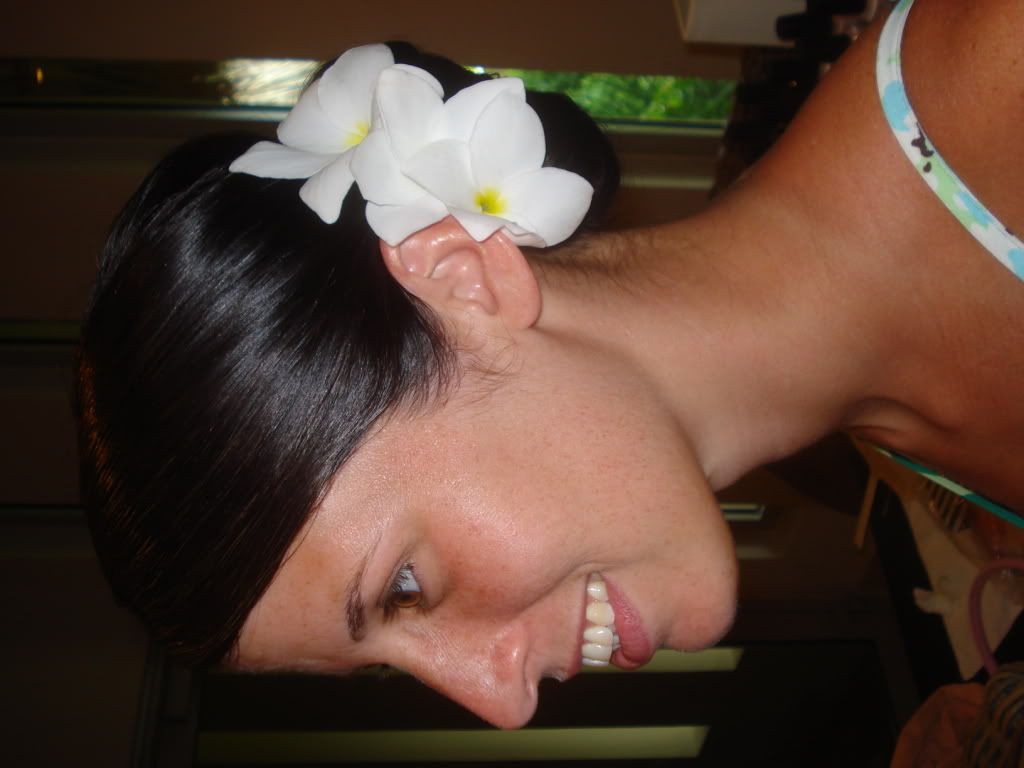 With my veil:
The back of my mom's hair: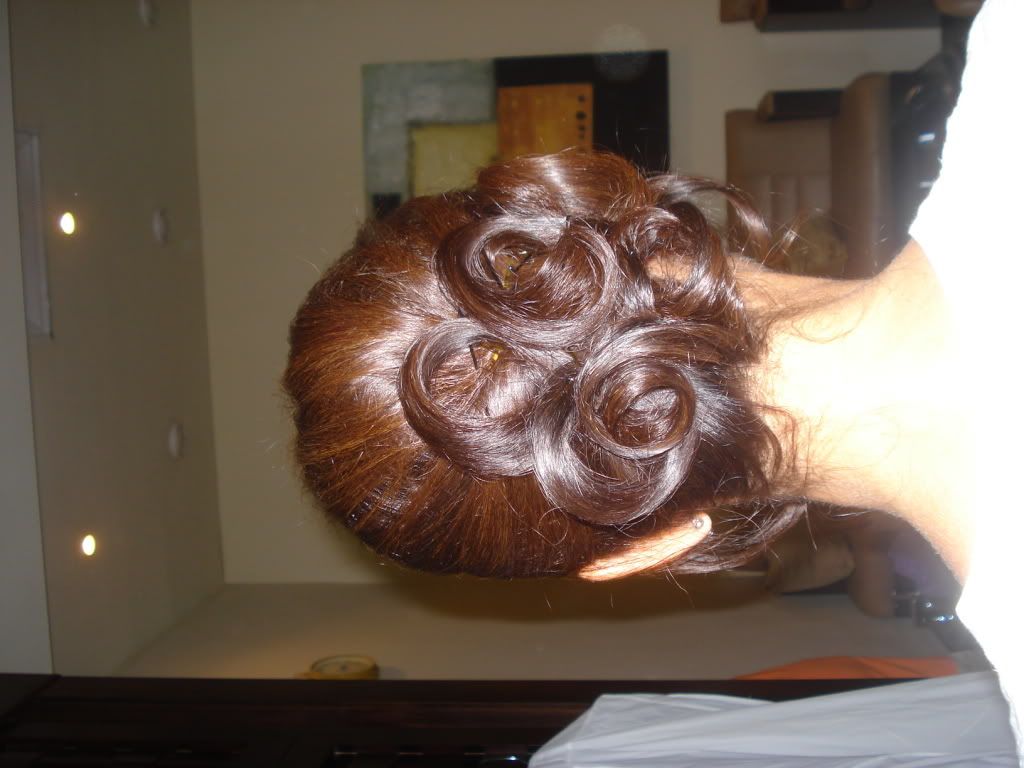 I can't find pics of my sister's hair and make-up but you'll see her if you look through our album (blue dress, MOH). She was really happy with how she looked too!
We had an issue at the salon with my aunt. She is ridiculously picky and made the girls do her hair at least 3 times. I was absolutely mortified by her behavior and felt so bad for the girls in the salon. It was not their fault at all and the only reason I mention it was because all of the girls handled her so well. They did her hair to her standards and did not get flustered at all. I tipped them all well after she left and apologized. My mom called her out on her behavior the next day …
Oh yeah and did I mention it started pouring rain while I was at the salon and the WC came with a waiver for me to sign since we wanted our reception outside, so stressful!!
Ceremony- Garden Gazebo
The location was intimate and secluded. I loved being surrounded by the greenery, water, and beautiful flowers. We added veils to the gazebo and I loved how they came out. I also liked the runner they placed on the bridge. I would also recommend walking over the bridge a few times prior to the ceremony for practice because it is a bit steep. Thankfully I did not fall or trip!!!
The ceremony itself was simple and sweet- exactly what we wanted!! We had a symbolic ceremony. The judge spoke in Spanish and Leni (WC) translated. We simply said, "I DO" when asked and then signed a piece of paper to make it look legit. After we were pronounced husband and wife and kissed, they played "I'm Yours" by Jason Mraz. It was perfect and we did not even ask them to do that. Then we had our champagne said thank you to everyone and headed down to the beach for pics.
The resort worked hard cleaning up the gazebo garden area two days prior to the wedding. They even drained the pond, scrubbed the bottom, and refilled it with clean water. I walked by the day before our wedding and almost died when I saw the water was gone! I ran up to the romance dept. and they assured me it would be filled by our wedding and it was!
The area was small so I cannot recommend this site however for a large wedding. Also, if you are using the garden gazebo forewarn your guests about wearing heels. It rains just about every day (even if for a few mins) and the ground was not firm enough for some guests to wear their shoes. If you look through our photo album you'll notice my mom and aunt standing during the ceremony because their heels kept sinking into the ground.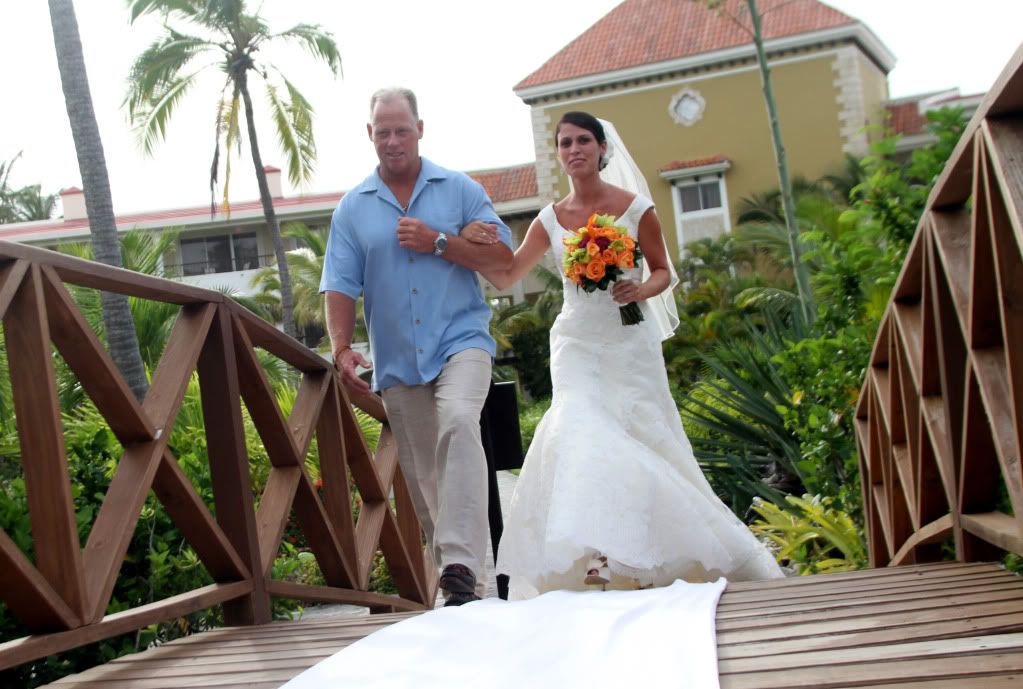 Cocktail Hour- Covered area by flamingos
Originally our cocktail hour was supposed to be in the Plaza Colonia. Due to the weather forecast, we were unsure if we should change our cocktail hour and reception location. I was fine with this spot for the cocktail hour but did not like the available options for our reception (Apollo Theater and Naos Grill). We had three high tables and a private bar set-up. I missed half of the cocktail hour for pictures and in my opinion it was just okay. I wish I stuck with my original decision despite the weather. It was very hot by the flamingos since there was no breeze. Plus, it was not very private! They had a sign announcing our wedding, there were black ropes blocking the area, and of course, me in my wedding dress but people still walked through our cocktail hour to get to their rooms. There was supposed to be someone from the romance dept. to tell people they couldn't walk through but she wasn't there for much of the cocktail hour. I didn't eat any of the food but everyone said it was great. We also had the Dominican Trio- they were fantastic!!
Here's a pic:
Reception- Gabi Terrace
We stuck with our original plan despite a rain forecast of 30% and having to sign a waiver stating the resort warned us it might rain and they won't be able to accommodate our wedding if it does and I'm so happy we did! Our reception was from 7pm-10pm and I swear it didn't start raining until 10:01, and it was only a drizzle! Originally I wanted one long imperial table, like this: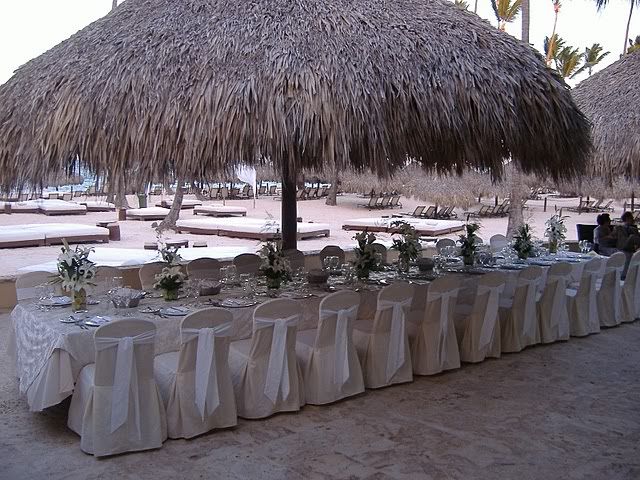 I discussed this with Jennifer and asked her if she thought this would work with 30 people and she said it would. The next day after a meeting with the designer guy he recommended 4 round tables. I didn't care and made a list of people for the 4 tables. This is what our set-up looked like:
Wedding Coordinator
Almost all of my planning and communication was with Noelia or Ana. I did not meet either of them at the resort. I worked with Jennifer and Leni at the PPR and they were excellent! They did everything I asked and even more. They have a great eye for details and made sure everything with the wedding went smoothly.