Hey all
i thought it might help a few UK Brides if i did a planning thread! hope it's of some help!
My H2B and I got engaged in March 2009, after dating for just under 6 weeks!! He's the absolutely man of my dreams and i knew even then he was the man i would spend the rest of my life with!
I knew i wanted a Destination wedding, it's a bit of a tradition in our family! my parents got married in a very Hippy style in Oahu back in 1975, and my brother got married at a Gorgeous hotel in Oahu in 2009 so it was only normal for me to do something similar! I didn't fancy Hawaii so i spent weeks and weeks on my decision. i looked into France, Spain, Portugal, Greece, Cyprus and Thailand, but none really 'hit the spot'. then i came across The Moon Palace and fell in love! it was exactly what i was looking for. I wanted somewhere relatively easy to get to from the UK (and there are sooooooo many cancun package deals!) and that was established in weddings. I also found out i could negotiate 30% external guests, so i knew some people could book cheaper options and still come to our day. I also knew i wanted an all inclusive resort, that way it's paid and done, and no matter how many people we invited it wouldn't be dramatic in the cost increase!! (Although i later found out we could only have a complimentory event for up to 35 people, which worked out well because there are 35 of us!!!)
I booked the Comlimentary package, and once that was done, i could get going on the plans!
the first thing i did was send invites out. I made them myself and loved them. In hindsight i wish i'd made them in my wedding colours, but i didn't know the scheme at the time! but even so, i love my invites and they went down a storm with our guests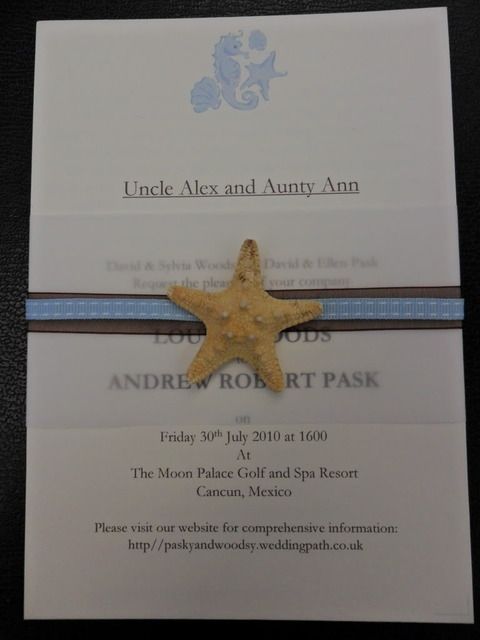 they are three pages in total, front page, info page and rsvp page. they are held together with an acetate sheet and ribbon and a real starfish (my goodness they smelt bad when they were delivered!!)
on the info page i also had a 'save the date' section for our AHR, which actually ended up changing venues/dates! but i recently sent the AHR Invites and they look like this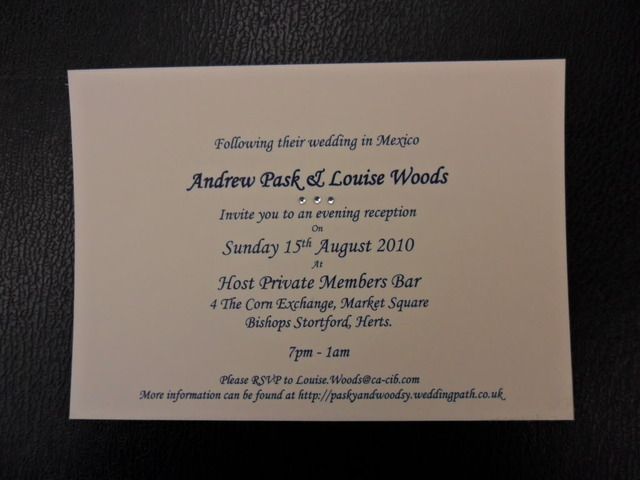 Once invites were out and replies came in i started on the visual things. I went wedding dress shopping early and had my heart set on an 'untraditional' dress. i knew i wanted to get married on the beach, so that was in my mind too. I HATED wedding dress shopping. i was heavier (I've lost 3 stone/19kgs now) and i felt uncomfortable and nothing fitted. The dress i bought was a very pretty lemon dress that covered me up. in hindsight i wish i had waited. Once i lost the weight and re-tried on my dress, i really didn't like it. it just hid my body and didn't emphasize my new shape. i was in tears, so the next day i went out with my mum dress shopping, and got a sample 'traditional' dress off the peg, which i absolutely LOVE!!! i wish i had waited to go dress shopping to when i'd lost weight, but it's too late for that and i now love love love my gorgeous dress!
My old dress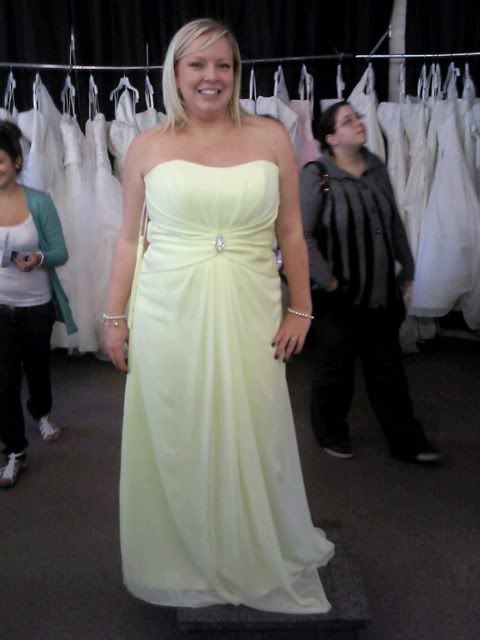 My new dress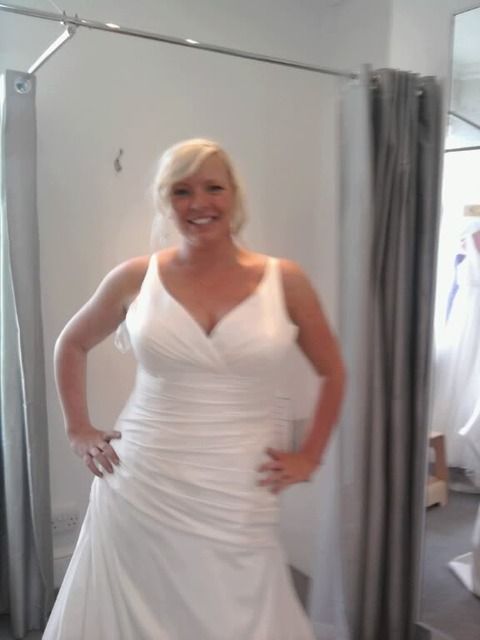 and these are my FABULOUS shoes!!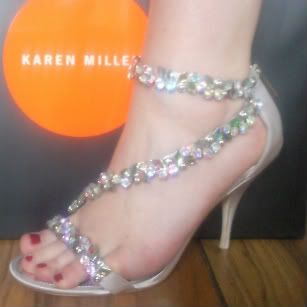 unfortunately i also bought a lemon birdcage veil which set me back £95 which is beautiful, but i can't wear it now!
I asked three girls to be my BM's, only one is able to come. I knew i wanted the boys in Navy so i asked her to choose any dress she wanted and felt good in, as long as it was Navy. My BM is gorgeous, so she'd look good in a binbag to be honest! but she chose this dress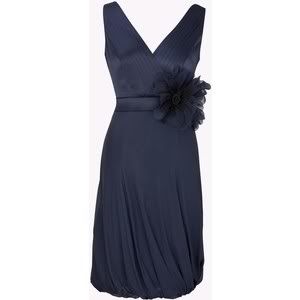 it's so lovely and really suits her! i love it!
i have three flower girls and one page boy. All the boys (the two dads, the best man and my pageboy) are wearing navy slim cut trousers from M&S and white short sleeved shirts (also from M&S) my H2B was adamant he wanted to wear a suit (in that heat? he's mad!!) so he bought the trousers the same as the boys and the jacket to match. we had his shirt made (cost more than the suit!!) from Diverso (
I have asked the MP for my complimentary bouquet to be lemon, but my BM will use that, as i am walking down the aisle with my mum and dad, i won't have a hand free!! Andy will have the complimentary Button hole in lemon.
i have ordered lemon and ivory buttonholes for the boys and two corsages for our mum's from maya diseno floral (marvin@mayadisenofloral.com.mx) he's been amazing. The Moon Palace have no external vendor policies but Marvin is going to deliver them to us at the hotel as if they're a gift from someone back home in the UK! he's such a star! MP quoted us $30 per button hole (WTF?!!) and Marvin is doing them for $8!
we are having the complimentory cake from MP. I don't overly care about a wedding cake, but H2B is into it! we've gone for this one
but i've asked for lemon icing, i have bought a navy ribbon to go round it.
i also ordered a cake topper from Kressies (
for the two little girls (8 and 4) i have got them this