Our boarding pass save the dates are finally finished and in the mail!!!
To be honest, these were much more difficult than I had originally thought they would be! Well, I shouldn't say difficult because it was more just annoying bumps in the road because neither FI or I are super crafty or DIY people.
Here are some of the annoyances we ran into.. maybe they can help some of you out!
1. we had originally bought pearlescent cardstock for the actual boarding passes, however we had the hardest time getting a printer to work well with the cardstock. In the end we returned the pearlescent cardstock and just used plain white 110lb cardstock (saved us a lot of money too!)
2. Cutting the boarding passes out... it wasn't difficult, just time consuming! FI was much more patient with this than me! He did all the straight cutting and I did all the corner punches. We assembly-lined it over a couple nights...good team work!
3. Our printer died in the middle of printing our envelopes. Not the boarding passes fault, just annoying! haha FI thinks the new printer should be included in the total cost of these boarding passes... however I refuse!!
Here is the end result.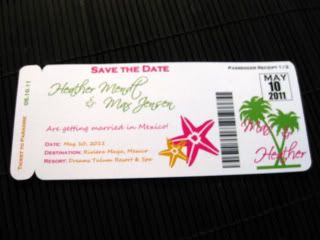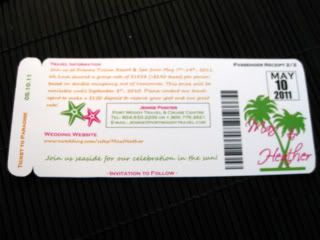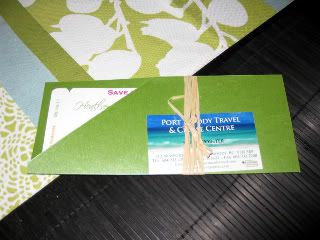 we tucked our TA's business card under the raffia
we had originally planned on buying pearlescent fushia envelopes. I didn't want to spend the $0.30/per envelope, or whatever it was. We ended up using cheap envelopes that FI gets from work and personalizing them. Sorry about the ugly black lines through the addresses!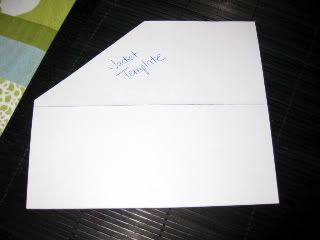 I ended up making my own little jacket template. I traced this template on the cardstock, cut it out and taped the sides together with double sided sticky tape. Since I only used 2/3 of the cardstock I saved the other 1/3 and I'll probably use it for tags or something.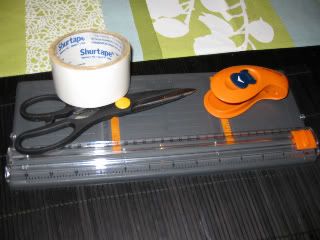 here are the tools we used.
I'll try to add up the total cost for you as well.
We made 35 save the dates.
White cardstock = 250 for $20.00. We used ~25 pages, so ~ $2
Green pearlescent cardstock = $0.68/page = $23.80
Raffia = $4.80
Corner rounder = $20
Envelopes = free
Paper slicer = free (borrowed from my sister)
Double sided sticky tape = free (stolen/borrowed from my dads workshop)
Total = $50.60/35 STDS
so.. $1.44/STD.... I'm pretty happy with that!