Apple Vacations - A
We decided to let everyone book at their own pace and budget. We decided to go through Apple and recommended that everyone else do so as well, and all but one couple did (we had 15 people including us). Looking back I may have utilized a TA, but everything worked out for us and the guests that used Apple. Here's a shot from the plane!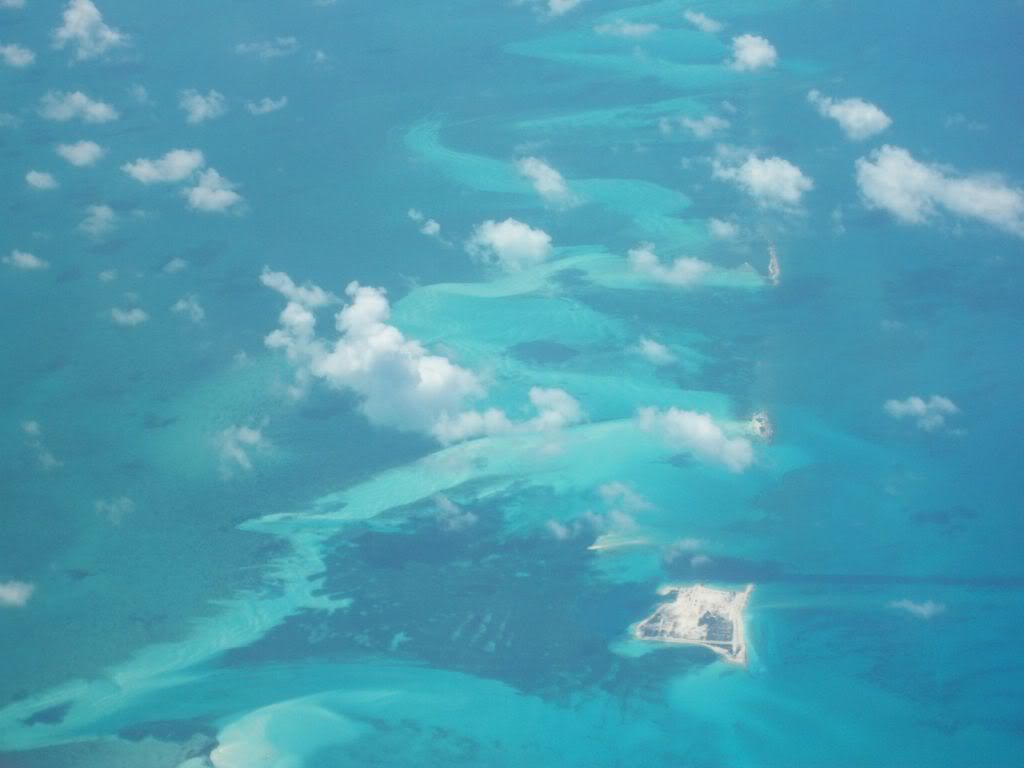 The free transfer to the resort was a blessing, walking right from baggage claim onto the air-conditioned bus was wonderful! Iberostar Bavaro was the first stop from the airport, and that was nice as well. It took about 25 minutes once the bus got rolling. We received a card asking us to come by the next day at 10am to the resort lobby for a meeting with the onsite Apple rep. We went, and we got some good info and some redundant info. Overall, I'm glad we went to the meeting so we could meet the onsite rep Mark.
We booked an excursion through Apple as well, the Marinarium. New husband and I were treating for all of our guests to go, and Mark was able to get a deal for the bride to go for free! So, we paid for 12 and 13 got to go (two people could not make it). That really made my day. =) We loooooved the Marinarium trip, along with the stop at the "pool" and making Coco Loco.
There was dancing, and plenty of decent (but not great) rum! And when we got back, Mark would not accept a tip for getting us the deal... he said to give it to the service staff, which we did!
The one couple that booked through Orbitz did not have a great experience. Their layovers were really long, and when they got into Punta Cana there was no record of them having a transfer to the resort. They had the receipt luckily, and got things worked out in the end, but it ended up costing them two more hours. For their plane home, they had to leave the resort at 4AM. I will say this though, they did book at nearly the last minute so the only real fault of Orbitz was the transfer.
USA3000 - B+
Pros: There was a long line to check in, but the workers were polite, professional, and quick. Both flights were a bit turbulent, but we didn't have any real problems. We did get to pre-board on the way there because I had my wedding dress as a carry-on and he had his suit. =) We are larger people, but the seats were comfortable for us and we had a reasonable amount of room for being on an airplane!
Cons: On the way back, there was a male flight attendant that had a LOT of attitude. Nothing necessarily that anyone could call him out on, but it was obvious he was not happy. Also, Apple/USA3000 played a longish video advertisement for booking on Apple again and for their credit card.
On a side note, some of my family flew with Spirit (before the strike thank goodness!) and were on a flight from FL to MI with no air conditioning. They were charged for drinks (soda pop), and they are still waiting to hear back regarding being reimbursed for at least that.
Iberostar Bavaro Resort - A+
We absolutely loved this resort. It was our first time at an all-inclusive, our first time in the DR, and I am so, so happy we chose the Iberostar Bavaro.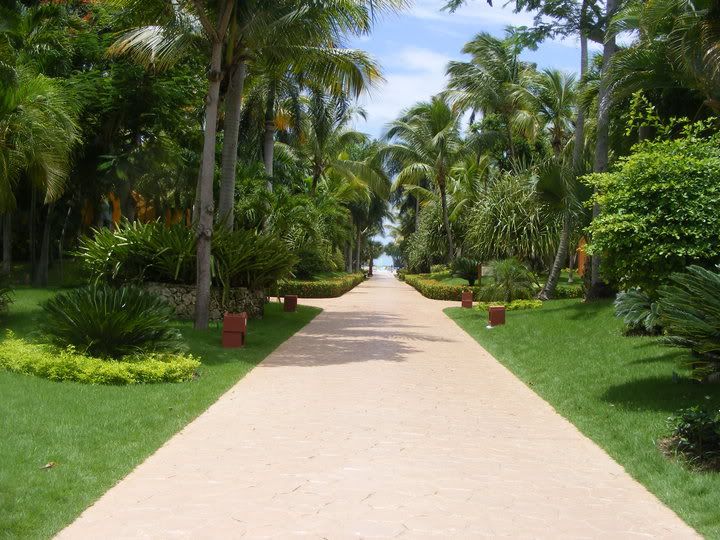 The staff was ALWAYS amazingly friendly and upbeat. The Star Friends always put forth a lot of effort at whatever they were doing. The maid service was wonderful. We got our room changed with no problem (the first one smelled like mildew and cigarettes, but the one we were moved to was MUCH nicer - next to the beach, a few steps from the pool, flat screen TV, good hair dryer, fresh smelling). Our room had a very comfortable king-size bed, all the rooms had a recessed living-room area and all of the basic amenities like coffee and tea. There was plenty of water, pop, and beer in the fridge, and I would leave a note with what we wanted and didn't want (lots of water and fanta, haha, and no carbonated water) and they would take care of it!
We always found something to eat at the buffet, for breakfast, lunch, or dinner. We loved that the pool had a late breakfast and lunch buffet right next to it. The reservation restaurants were a nice change of pace. The Japanese restaurant was our favorite, the Gourmet was good, the Cajun just OK, and the Mediterranean OK. The number of nights you stay determines how many reservations you receive. We were lucky in that we got three restaurant reservations that didn't count against us (first night there, welcome dinner, and reception).
The beach was gorgeous! We were always able to find a palapa (didn't bother "reserving" except for one day when we were up for the sunrise), but it didn't always have the "best" view. It was more difficult to find places in the shade by the pool, but we were usually able to do so. We spent quite a bit of time at the pool bar! We brought a water-ready drinking game and had a lot of fun with that, and met new people. We used our boogie board as a floating drink tray too! My favorite drink by the end of our stay was called Monkey Lunch.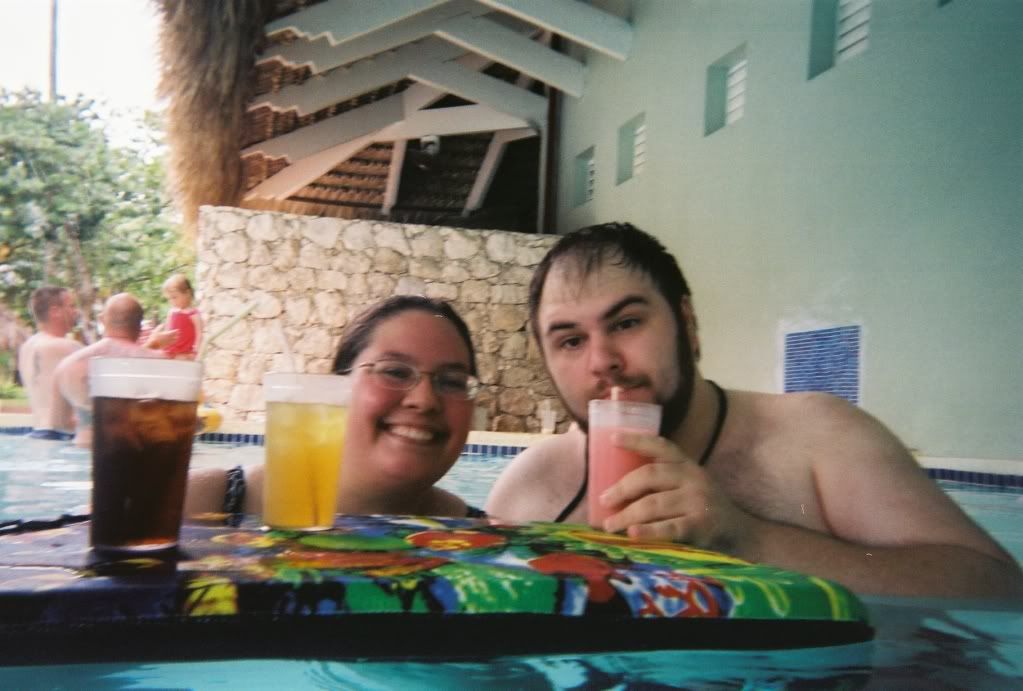 Since we were staying at the Bavaro, we could go to the Dominicana/Punta Cana all we wanted. The Dominicana had the casino and the late-night club. We watched a few evening shows there as well. The cigar shop there was neat (we got to see a guy hand-rolling cigars, and Todd got to smoke a freshly-made one). The Star Cafe was also over there, which is a sit-down North-American themed restaurant that does not require reservations. The nachos there were definitely a taste of home!
Speaking of the shows, they ranged from pretty bad to great. The Michael Jackson show was really good, but the comedy show was completely blah. We participated in the guy-girl show! They were pulling from the audience and Todd got us both on there, four guys against four girls. Us girls won, but Todd won the "sexy dance" part of the competition!! I will never forget it!
The one drawback to this resort is that the walkways are SLIPPERY! I fell twice, the day after the wedding and two days before we left. My aunt fell twice as well. I read through the reviews on tripadvisor and thought to myself that people must be exaggerating, but let me tell you, they are not!! My ankle is still sprained - I even went to the doc after we got back because it wasn't healing, but it was not fractured. Oh, and there was one staff member at the lobby bar that was always surly (Rafael), which was odd given that all the other bartenders were great!