Hi ladies,
It took me forever to do this review because I am practically detail oriented person so i had to write a thorough review!
Wedding – A+++
Where do I start?? We started planning the wedding back July. We were so undecided which resort to pick. Thank god for this forum! We picked the Royal Playa del Carmen because it was gorgeous and it has a sister resort that is more family friendly and economical. We picked Royal Playa del Carmen over Cancun because we wanted more leisurely resort in a small town instead of a big city. I was nervous at first because we were going through this process blind (we didn't have time or money to make a site visit) and I relied heavily on the Royal thread so a big thank you to past/future Royal brides for all of your site visit reviews and wedding reviews. You don't know how much it helped us in the process so I am returning the favor by writing this long but detailed review for you future Royal brides. You can't go wrong with The Royal. We had an amazing and beautiful wedding that we won't ever forget. Our guests absolutely loved it. My mom still talks about my wedding this day and said that it was most beautiful wedding she has been to. Maybe it's because I'm her daughter. Ha! At first, she was really apprehensive about me having a wedding in Mexico because we hadn't been to the royal and she kept thinking we would get ripped off. I'm glad that that wasn't the case.  I will try to remember everything!
Travel Agent - A
We had TA Jennifer from BDW. She was great to work with and our guests had no problems traveling to Mexico and with their rooms. We or any of our guests who booked through her did not get bumped. We got some important travel tips and she also included luggage tags. She would provide me the guest spreadsheet a few times. Early this year, there were a lot of issues with the Royal U.S. wedding dept so she was prepared to contact them if I hadn't heard from them after my original WC quit. She has authorization to work with the Royal wedding dept so that was a definitely a peace of mind. I would definitely recommend getting a TA from BDW, especially Jennifer.
Airline – A
We traveled with about 13 people on the flight to Mexico. We flew with Continental . On the flight to Mexico, I had to put my dress in the overhead bin but it was empty so I was fine with it. On the flight back to Houston, the flight attendant took the dress to store in the closet so it was nice of her to do that.
Arrival in Cancun
There were long lines but it only took maybe a hour to get through immigration and customs. We did not have any problems with the customs. We were in the line with the machine that was broken so I guess we got lucky!
Transfer company – A
Our transfers were done by American Express provided by the TA. Nothing to complain about. It was about a 30 minutes ride.
Hotel – A +++
The Royal is amazing! We absolutely loved everything about the resort. It was our first time staying at all inclusive resort. It was cleanly kept and the staff was so friendly. Once we walked in, we were greeted with cold towels and champagne. Check in was hassle free. We had ocean view jr suite and we were upgraded to ocean front suite for last 3 nights because they were booked full. The royal's architecture was simply beautiful and elegant.
Ceiling in the front lobby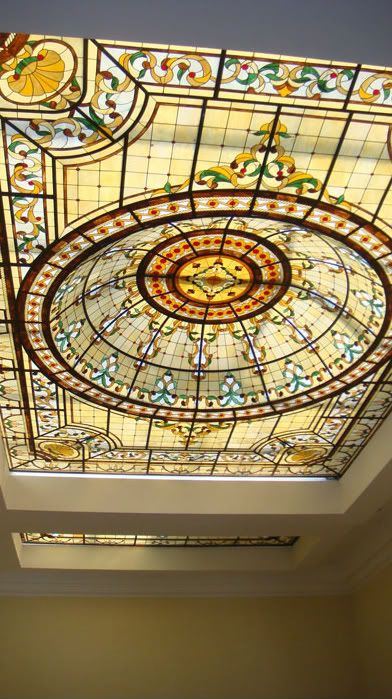 Front lobby entrance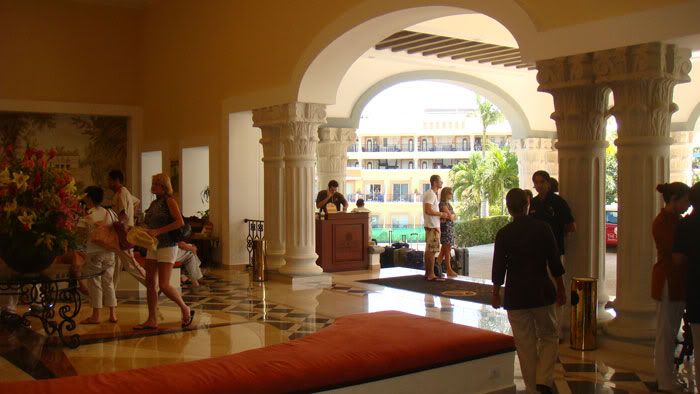 Facing the central garden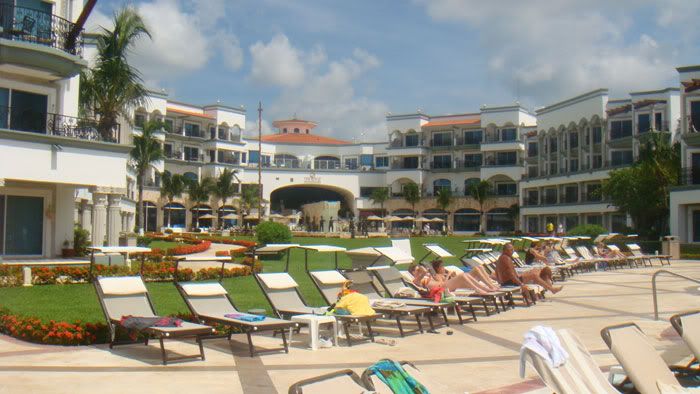 Central garden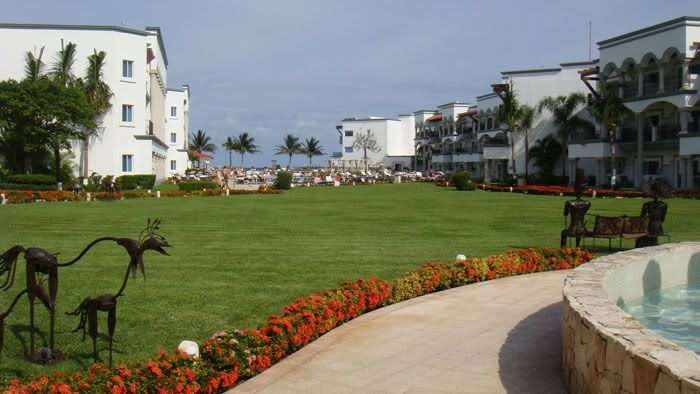 Fountain
Gazebo and gazebo garden