Sorry that it has taken me so long to post the review - I have been so busy at work and home that it's been tough. But finally here it is....
Arrival – The ride from the airport to the hotel was only approx 15 minutes.
Check in
As soon as we got off the shuttle, upon arrival at the hotel we were greeted with mimosas and cold washcloths. Considering the heat we were very grateful for both of these. We were escorted to the front desk for check in where Angel so graciously briefed us on the hotel and all of the amenities, without even having to ask we were upgraded to a honeymoon suite …Yaaayyyy for us!
The room
We arrived in our room which was absolutely awesome and it was right next to the main pool, we had a garden view which was fine with us because we were facing the back of the building and did not have to hear any noise from the pool area. The only issues with our room was that we could not get the air conditioning to cool down the room to our liking and the refrigerator in the room also was not cooling enough. We did call maintenance the next day and they came in fixed the A/C and switched out our refrigerator. No more issues after that!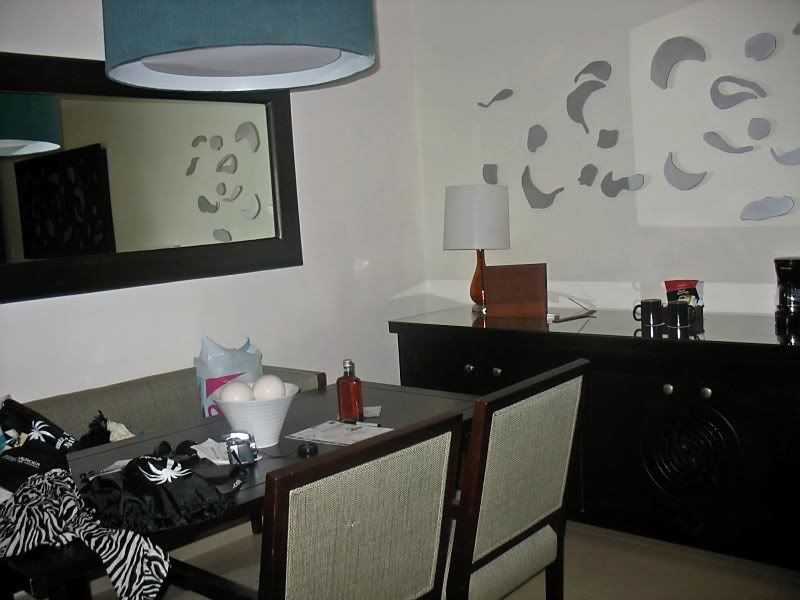 Wedding Coordinator
The day that we arrived we met with Yeisy, the wedding coordinator. I have to say that although I did start my planning process with Melani and she too was great, Yeisy was amazing!!!! From the point where she started working at the resort and took on my wedding she was on top of things. Anytime I emailed her she emailed me back the very same day. I sat with her for about 45 minutes to go over the details of the wedding and basically everything I wanted was done without any questions. She even told me what extras not to spend money on because it was not worth it. She took care of making my appts at the spa for my hair and make-up, and ensured that my hubby got a separate room the night before the wedding. This girl is very detailed, hard working, and most of all very sweet. If you have the luck of getting her as your WC you will have an amazing wedding!!!!! Make sure to tip them afterwards, these girls work so hard day and night to make sure that you have the wedding of your dreams.
The Spa
I went in for my hair and make-up appt the day of the wedding and was so relaxed just by walking into the spa, the aroma therapy alone did it. The young lady who did my hair (sorry can't remember her name) did a phenemonal job. I had a picture of what I wanted and she did exactly that. Now, unfortunately for me the girl who does the make-up was off so my hair girl did my make-up. She was going to attempt to put on some pretty funky colors on me but thank God that I had my own make up with me. She didn't do a bad job by any means but just not what I'm used to, it was a little too intense for me. I didn't want to make her feel bad so just smiled and said thank you. Once back in my room I took the tissues and just rubbed some of it off and it was perfect. I would recommend you bring a picture and your own make-up.
The Ceremony:
What can I say here….. AMAZING…..A DREAM……..everything was perfect. I had a beach wedding near the Seaside Grill. The weather that day was perfect not too hot, not too sunny, just perfect. The person who introduced hubby and I is a dear friend and we asked her to perform the ceremony and marry us. After the ceremony, we set up a cocktail hour on the beach for the guest while hubby and I went off to take some pictures. The theme of the wedding was Damask print with tiffany blue, the Italian restaurant has Damask seating so we asked Yeisy to arrange for us to take pictures there. The restaurant opened for us so that we could do so. I love the pics, I could not have planned it better if I tried. After taking the pics at the restaurant we returned to the beach and took pictures with our guests, did our champagne toast , took our cutting of the cake pictures, some beach shots and then off to dinner.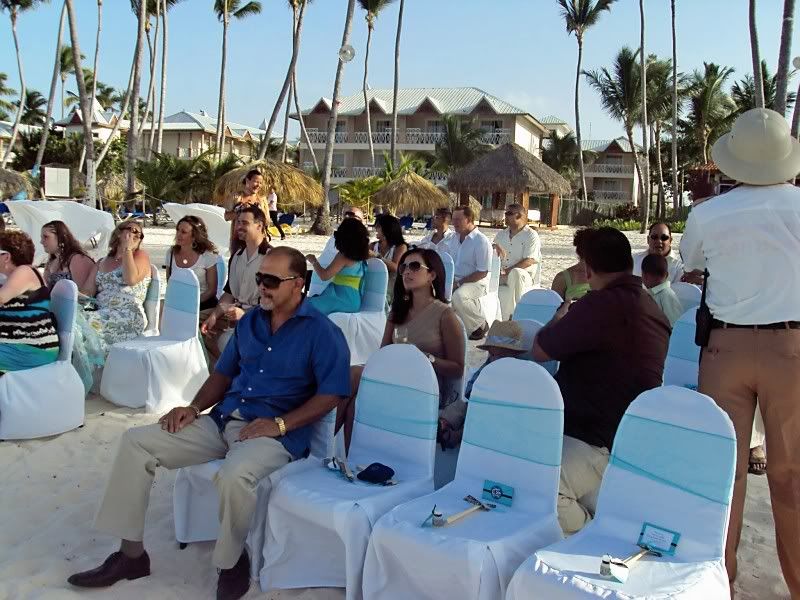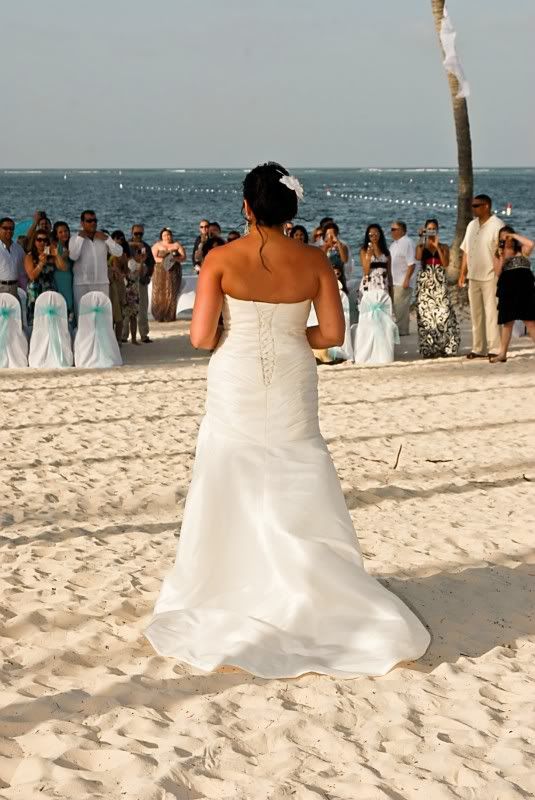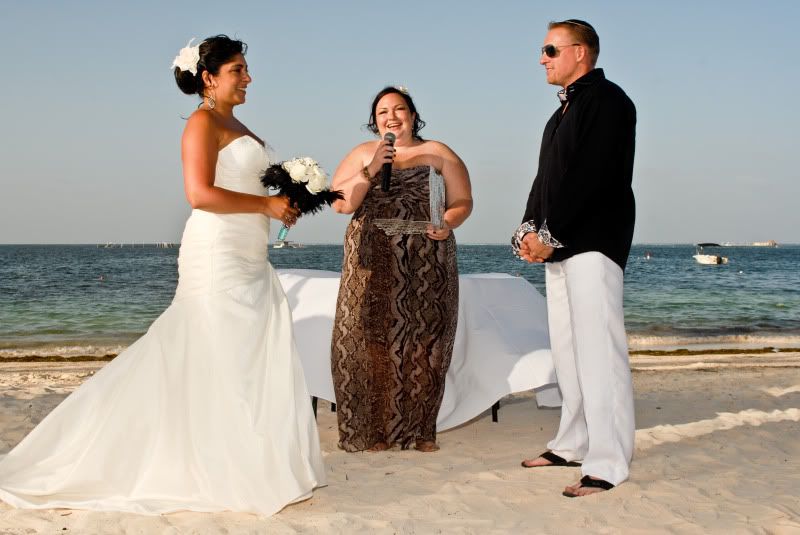 Dinner
We did not do a private dinner/reception as we had 45 people at the wedding. Instead Yeisy reserved an area for us at the World Caf©. We ended up with our own waiters, private area and they even decorated the tables. The cake was brought to the restaurant from the wedding site and after dinner we cut the cake, which was delicious - everyone had a piece. Dinner although buffet was delicious, they had seafood, steaks, chicken, whatever the guests wanted. No regrets on having the dinner at the buffet restaurant.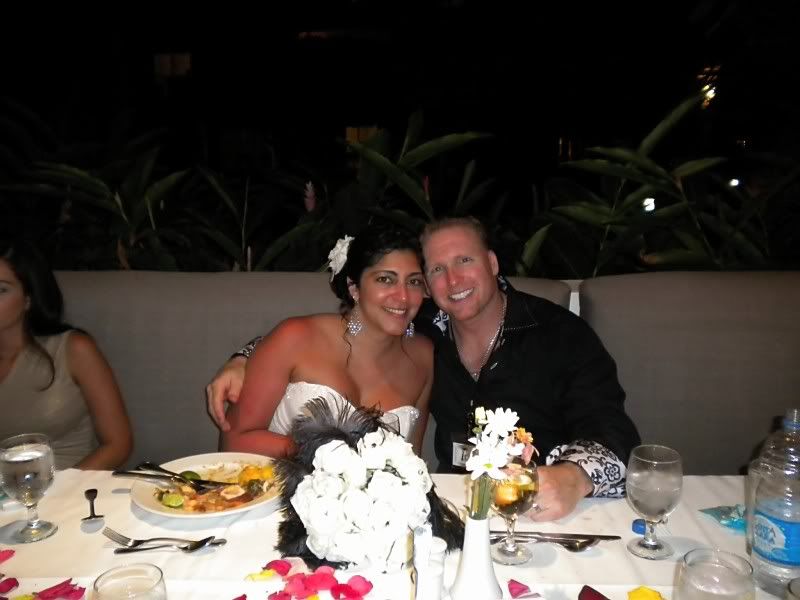 After dinner party
After dinner we all went back to our rooms to change and freshen up. When hubby and I got back to our room we had a surprise waiting for us. I won't ruin this for future brides just know that it was awesome!  We met all of our guests back at the disco around 10ish and partied our butts off. Since I had so many guests it seemed like our own private reception party. The resort's entertainment team was great, they got to know us all and partied with everyone.
The resort
You will not be disappointed the pictures you see online is exactly what you will see when you get there, the pool, the restaurants, everything is just as you see it. The entertainment team especially, Julio and Gasolina are the best. They make sure to keep you smiling and active. Hubby made new BFF's while there (he's now Facebook friends with them). Our group was between the ages of 2-68 and there was something for everyone. The kids had a blast, our parents want to go back, and the single group loved the pool bar.
The restaurants
I was able to try all of the restaurants and I have to say that my favorite was the Seaside Grill. The food was delicious and being next to the ocean gave it a nice ambiance. I liked all of the other restaurants as well, did not have one bad meal. Oh another of my favorites was the Coco Caf©, they serve coffees and pastries which were an excellent little snack in between. I gained 6 pounds from all of the eating while there. Oh well it was worth it.
Excursions
Don't let the guys by the pool fool you by telling you that the horse back riding or dune buggy excursions take 20 minutes to get there. We decided to go horseback riding and it took 45 minutes to get to the place. The horseback riding itself was about 2 hours which was awesome with the exception that the horses looked a little mal-nutritioned. But then to get back in a car for another 45 minutes sucked! If you have 4 hours to spare than it's cool but if not don't bother.

Spa
Hubby and I did a couples massage in the Spa and it was very good. If you like massages go for it, it is well worth it.
Make sure to go to at least one of the shows that the entertainment team puts on every night. They are hilarious and something different to do.
BTW – I used HDC photography which took amazing pics and were very reasonably priced. If you chose to use Tropical Pictures (the resorts photographer) I would recommend them as well I saw some of their pictures and they do very good work, it's just more expensive.
I think this is it, if you have any questions please feel free to ask.