It's taken me a little while to put together this review (or story), but here goes… I have to warn you, it is very, very long. I'll just go through my story, and then put the ratings and lessons learned at the end. So, you can just skim through the pictures and skip to the end if you prefer. I put the details in mainly for future cruise brides so they will be better prepared than I was for their weddings.
I guess I should start by saying that we had an onboard wedding on the Carnival Glory cruise ship out of the Port of Miami on Sunday, 4/25/10. The Wedding Ceremony and Reception were held on the ship before it set sail on a 7-day Eastern Caribbean cruise. This was a good option for us because we were able to invite guests that would not be able to cruise with us (non-sailing guests). We got RSVPs for 13 sailing guests and 40 non-sailing guests; we ended up having 13 sailing guests and 34 non-sailing guests actually attend the wedding.
We left Atlanta, GA on Thursday evening before the wedding and drove to Orlando, FL (halfway point between Atlanta & Miami) and stayed overnight at an Orlando airport hotel, then headed to Miami on Friday morning (11 hour drive total). My husband & I and most of our wedding guests stayed at the Residence Inn in Coconut Grove, Florida prior to the cruise. Friday evening, we had our bachelor and bachelorette parties. The ladies & I went to the Hard Rock-Seminole to hang out; we went to the dueling pianos at the Hard Rock and had a really good time. The guys hung out on South Beach; who knows what the guys did on South Beach.
Saturday afternoon, the ladies and I went to the Exhale Spa in Miami for pedicures (I had already gotten my fingernails done before leaving Atlanta). Then we headed back to the Residence Inn to prepare for our Welcome Dinner/Meet-n-Greet that was scheduled for that evening at the hotel. The Residence Inn management was nice enough to allow us to use their breakfast area for our meet-n-greet at no extra charge and we were even allowed to bring in our own food and music (no alcohol allowed, of course). We decided to host a meet-n-greet the evening before the wedding so that we could spend more time with our wedding guests; cruise ship wedding/receptions are only 1 to 1.5 hours, so there is not much time to mingle with the guests. We also handed out the wedding favors (all guests) and OOT bags (sailing guests only) at the meet-n-greet. At the end, we had a semi-rehearsal with the wedding party just so they could practice walking to the music that we had chosen for the ceremony. My uncle takes photos as a hobby, so he took a lot of photos throughout the weekend. The photos throughout my review are a combo of his, mine, and the ship photographer's.
Gathered at the Meet-n-Greet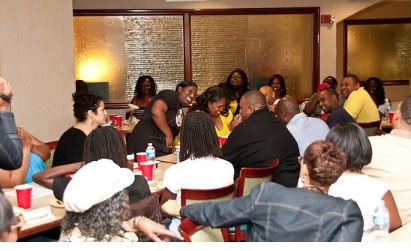 Hubby passing out wedding favor bags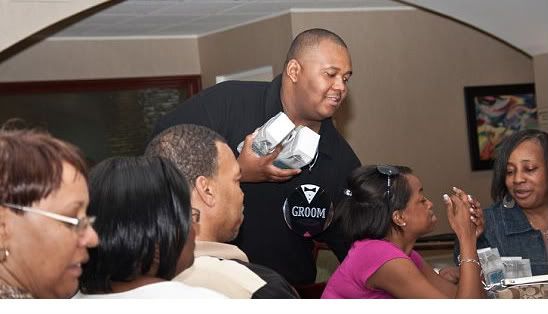 My sister excited about her OOT bag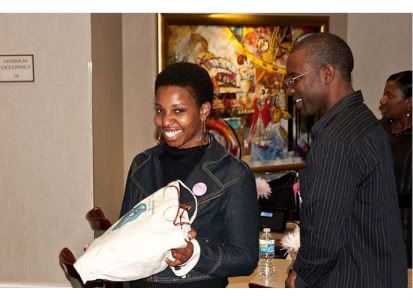 My dad and I practicing our walk
My hubby and I stayed in separate rooms the evening before the wedding. I shared a 2-bedroom suite with my parents and my husband and brother shared a 2-bedroom suite. I did not get to bed until around 2:30am. I woke up around 5:00 am on Sunday morning, after a couple hours of sleep. The makeup artist/hair stylist (Beauty by Noel) arrived at my hotel room around 6 am to do my hair and airbrush makeup. He also did hair and airbrush makeup for my maid of honor and bridesmaid. He finished up around 9:30 am.
Getting makeup & hair done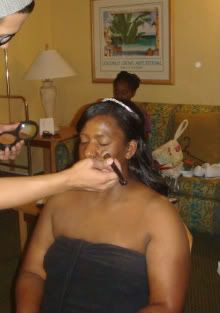 We had arranged for a charter bus to pick us and our guests up at the hotel at 9:30am to take us to the Port. We had to be at the Port of Miami by 10:30am to meet with the wedding coordinators. The charter bus arrived at the hotel right on time.
Getting on the charter bus at the hotel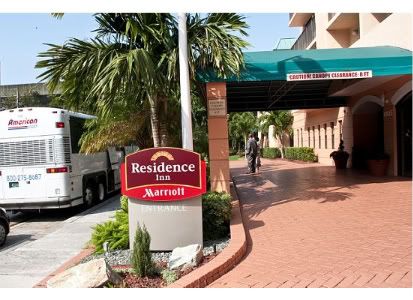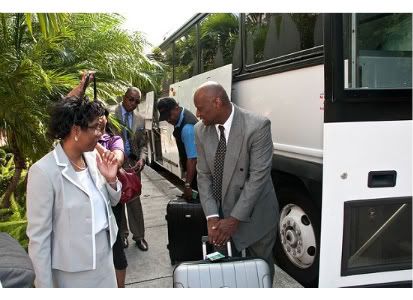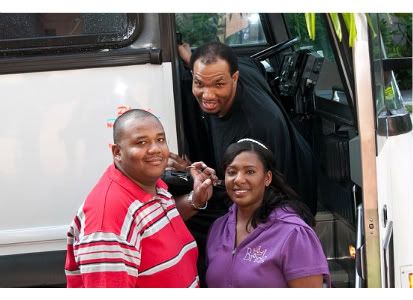 More to come…