Well, the wedding is only 3 weeks away so I sent the invitations out quite awhile ago but never made it around to posting pictures. My invitations ended being a combination of ideas I got from the wonderful ladies on this forum. I would never have been able to do it otherwise! I hope that by sharing my invitations I can help another BDW Bride create her own.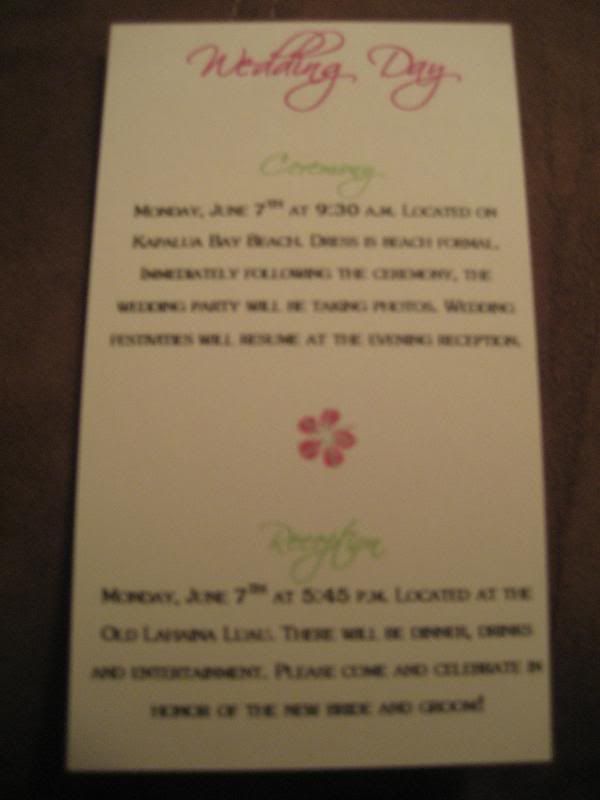 I had a hard time getting good pictures of the different pieces of the invitations but I hope they are good enough to help.
Like many others, I used Cards & Pockets for the pocketfolds, envelopes and cardstock. Their website can be a little hard to navigate but with a little patience you can find what you're looking for. They have invitation kits, which are great because you can get exactly what you want and in the correct quantity, plus they are extremely affordable. I think my kit was around $35 for enough supplies to make 15 invitations. I couldn't find anything that I would have been happy with for such a reasonable price so, in that aspect, they were awesome! However, I did have some shipping issues with them. I ordered my supplies and their website says that unless they contact you with different information, they will ship your order in two weeks. Well, two weeks came and went without a word so I emailed them. I received a quick response but it was to tell me that they didn't know why my order hadn't shipped because it was sitting there ready to go!! I'm glad I contacted them or I might never have received it! Anyway, they shipped it the next day and everthing was great. The odd part was that a few weeks later I received another package from them...with my order again! I don't know what happened there but my only complaint would be with their lack of organization with their orders and shipping. Enough said about that.
I designed the invitations with Powerpoint as I do not have Photoshop or any other design program. However, Powerpoint worked great! I had to play around with it a lot to figure out how to do everything I wanted but that would have happened no matter what program I used.
I used our HP printer to print everything out and that was probably the most stressful part. I didn't order a lot of extra supplies so when the printer made mistakes, it was an issue. I highly recommend ordering plenty of extra card stock. My FI brought home a paper cutter from work to cut everything out and I found that the best adhesive for the cardstock were glue dots. I went through about three rolls of those! For the ribbon on the outside, I found that a hot glue gun worked best.
Overall, I love them and I think they turned out great! I know I wouldn't have been as happy with anything someone else did and still stay within my budget. I hope this helps other BDW brides. You guys have been a wealth of information for me!