I'm so excited to do this review and put a good word out there for this resort!! There aren't many reviews of AB on BDW because the resort is small and does no more than one wedding a day. The ones that do exist are older and possibly outdated.
Let me just say that this hotel fit the bill for what we were looking for in every way! We wanted:
a boutique-style, intimate resort (AB is only 98 rooms)
a wedding location not on the sand
FYI, most of the pictures of the resort on Karisma's website are extremely old from when the resort first opened. A lot of beach beds and foliage have been added and the palm trees are full grown. We were surprised (in a good way) to see the resort had been filled in and in no way looked sparse.
Pre-Wedding Planning:
DestinationWeddings.com- B:
Our TA was through DW.com, and there are a lot of mixed reviews about them on here. I've put in my two cents on them elsewhere, so I'll keep it brief here. We certainly had our ups and downs with using them, and our TA caused us trouble at times by giving misinformation or mixing things up. However, when things got bumpy with Karisma, it was helpful to have our TA fighting for us.
Lomas Travel- F:
We only used Lomas to book our transportation to and from the airport. Transport was already included for us through American Express, but we wanted private transport and Lomas had the better deal. What a mistake!! Our flight into Cancun was delayed by 3 hours and when we finally got there, they didn't have a car for us. We waited for 20 minutes in the pouring rain, and when no car came, they finally just paid for us to take a cab to the hotel. The group van that left 10 min. before we did pulled up to AB right before us, so we would have just been better to stick with shared transportation. We're still waiting to find out if they'll give us any of our $$ back.
Miami WC- C:
All wedding planning for any Karisma resort is done through their Miami office. They then send all your info to the onsite team right before you go. Unfortunately, this means that you have NO CONTACT with the onsite team until you get down there. We had two different WC's: the first was terrible and gets an F, the second was awesome and gets an A. I've heard this said many times but it's true: If you can hack it with the Miami office and know going in that they are a pain in the *** to work with, it will all be worth it once you get to the resort!
Okay, on to the good stuff!!
Azul Beach Overall- A++++++++
Would we have our wedding their again? In a heartbeat!!! We cannot imagine our guests having a better experience anywhere else! Some have already written letters to the resort expressing their gratitude for the wonderful, customers-get-whatever-they-want experience!
Customer Service- A+++
Every single person at this resort went above and beyond to accommodate us and our guests. From the moment we checked in we knew we were in good hands. Because the resort is so small, much of the staff knew us after just a couple days. The servers, the beach butlers, the concierge, the front desk, the room service people, everyone was incredibly nice and helpful. Our guests couldn't stop commenting on how great the staff was. Just a couple examples of the great service:
This was completely our fault for not using the safe, but we had money taken from our wallets the second day we were there. They were sitting on the desk in the room in plain view of the maid. It was a lot of money and the resort was under no obligation to do anything about it b/c it was truly our fault. They ended up giving us a choice of either getting the money back in cash or giving us resort credit to use during our stay! They found out who it was and let them go, and we had ZERO problems with anything after that.
My sister wanted to do a bridal luncheon for me and to accommodate us, they set up and decorated one of the restaurants and left it open just for us after it was supposed to have closed down after lunch. I posted some pictures below.
We wanted each guest to receive a program and itinerary at check-in. The Miami team said we couldn't do that and that the programs could only be delivered to the rooms (for which we would be charged a per-room fee). Once we got there, the front desk willingly agreed to hand them out for us as people arrived. No questions, no problems.
There was a beach BBQ one day and we were going to miss it b/c we were going out snorkeling. One of the beach butlers offered to keep plates of food for us until we got back.
We wanted to do the Couple's Moonlit Massage. Since they don't schedule a massage to start after 6pm and the sun in April doesn't set until 7pm, our massages would have been in daylight. To accommodate us they kept two masseuses on staff until 8pm so that we could have a true moonlight massage. It comes complete with strawberries and champagne when you're finished—it was one of the best Swedish massages I've ever had!
My bridal luncheon in Chil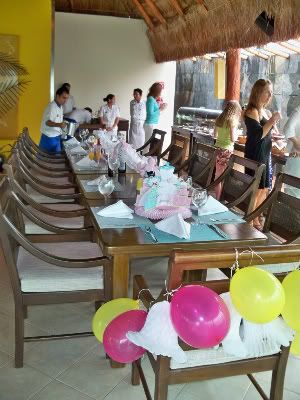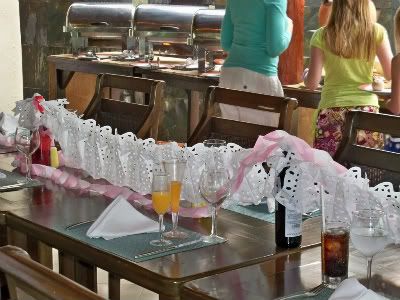 All-Inclusive- A+++
At AB, the AI includes everything but spa services and wine by the bottle. All premium liquors, the mini bar in the rooms (restocked daily, btw), 24 hour room service, the beach BBQs, the fish fry—all included. I can't tell you how many times we had champagne delivered to our room!
Food/Restaurants- A+++
I've never eaten so well on vacation! As the hotel states, it really is gourmet-inclusive. The restaurants are all a la carte. The only time there is a buffet is during breakfast, and you have a choice between ordering off the menu or going to the buffet. The resort was at capacity while we were there but we never had to wait for a table.
Ambiance- A+++
Being such a small resort, you would think it might feel crowded, but absolutely not! The grounds are spacious and well-maintained. There's foliage and flowers everywhere. Soft music plays as you walk around the grounds. You really feel like you're in your own quiet, intimate space.
The resort is divided into two different sections by room type: the Deluxe half (the better rooms) and the Superior half. In terms of ambiance, the Deluxe side has more space, is more lush and has a lot more palm trees. I've posted pictures below, but it's not the best one of the Superior area (I was really trying to take a picture of Chil, the Mexican restaurant). On the Superior side, the rooms are closer together with plainer facades.
Superior Side
Deluxe Side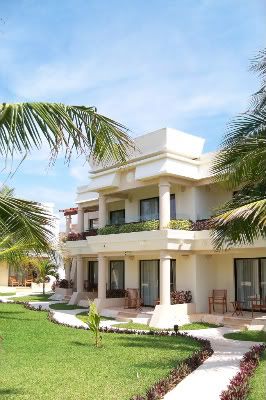 Rooms- B
We all had Deluxe rooms, so I can't speak for the Superiors. The resort claims that all the Deluxe rooms are the same size, but I would have to disagree. We were in a center room, and ours was definitely larger than the rest of our guests who were on the ends. Our only complaint is that there's no tub in the rooms. I really wanted the resort we stayed at to have jacuzzi tubs, but AB had everything else we were looking for so I let that go. Our room was spacious and clean—no complaints other than not having a tub, but we knew that going in.
Oh, and every room at the resort has a view of the ocean, so there's not a bad seat in the house!
Pools- B:
There are 3 pools at AB, all very small. But, just like not having a tub in the room, we knew this going in. We never had a problem getting a lounge chair and the pool butlers are incredibly nice and attentive. Except for the kids' pool, the other two are relatively quiet and empty—very pleasant! Most guests are on the beach.
Beach- A:
What the resort lacks in pools it makes up for in beach! It's a beautiful stretch of sand, often not crowded at all. You can snorkel right off the beach. There's hardly ever people walking down the beach from other resorts since AB is a bit off the beaten path. There aren't any large resorts next to it.
Since there were huge storms while we were there, quite a bit of seaweed rolled in. However, the resort was always quick to clean it up and we never had any problems.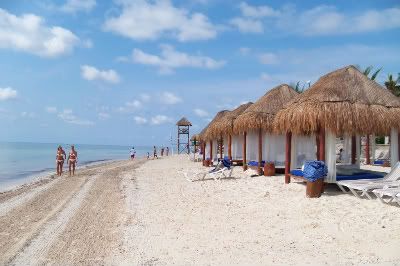 Nightlife- B:
The resort is very quiet at night, and for us this was perfect. If you're looking for dancing, then AB is not for you. There's nightly entertainment in the Aquanox Bar (pool bar) until 11pm. After that most people head to the Agavero Lounge (tequila bar). Officially they close at 1am but they'll be happy to stay open longer if you're in there having a good time. The Agavero Lounge is definitely where things are most likely to get rowdy.
Kids' Services- A+
This resort does so much for families! Basically you don't need to bring anything with you b/c they've got it all—cribs, playpens, strollers, changing tables, toys. They even serve Gerber baby food in the La Mancha snack bar! Every day they had something different going on for the kids: painting pottery, making personal pizzas, etc.
More to come...